News & Politics
5 Pennsylvania elections to watch for outside of Philadelphia
From state courts to county council, here are the most significant races in the state.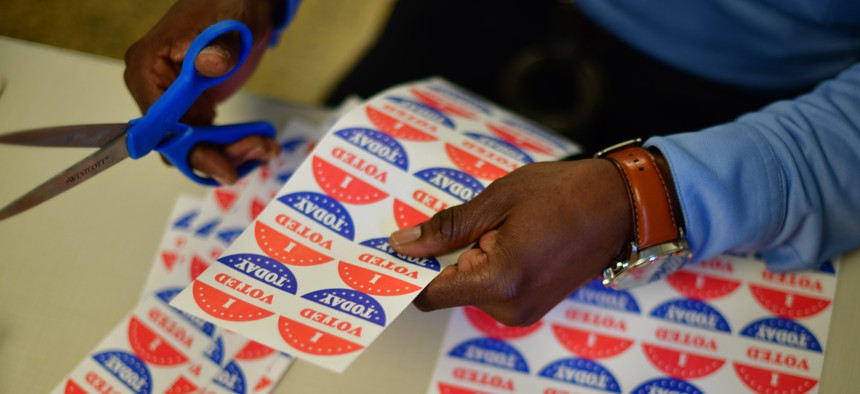 While the marquee races in Philadelphia may be getting the most attention this primary season, candidates across the commonwealth have been on the campaign trail this year in pivotal tilts for local school boards, county commissioners and more. 
Here are five major elections outside of the City of Philadelphia to watch out for on Tuesday. 
Allegheny County
On the western side of the state, all eyes are on Allegheny County as voters will pick their nominees to replace Allegheny County Executive Rich Fitzgerald, who is term-limited. 
In the Democratic primary, former school board member Theresa Sciulli Colaizzi, lawyer Dave Fawcett, state Rep. Sara Innamorato, Pittsburgh City Controller Michael Lamb, entrepreneur Will Parker and Allegheny County Treasurer John Weinstein are eyeing the nomination. 
Fitzgerald has endorsed Lamb to succeed him, while Innamorato appears to be gaining momentum – at least according to a recent poll that showed her with a double-digit lead in the primary. Meanwhile, Republican Joe Rockey is the only candidate running in the GOP primary, all but ensuring that Rockey's name will be in the conversation as the general election nears. 
There will also be a Democratic primary for district attorney between incumbent District Attorney Stephen A. Zappala Jr. and chief public defender Matt Dugan. 
Voters will also choose between County Council member Bethany Hallam and Joanna Doven in an at-large race for Allegheny County Council, and other races for county treasurer, county controller and Pittsburgh controller will be held on Tuesday.
Statewide Judicial Races
Tuesday will determine the general election matchups for state Supreme Court, Superior Court and Commonwealth Court. 
Two Democrats and two Republicans are running for one open seat on the state Supreme Court. Superior Court Judges Daniel McCafferty and Deborah Kunselman are both seeking the Democratic nomination, while Commonwealth Court Judge Patricia McCullouch and Montgomery County Court of Common Pleas Judge Carolyn Carluccio are seeking the GOP nod.
There are two openings on the state's Superior Court up for grabs in this year's elections, as well. Attorney Maria Battista and Westmoreland County Court of Common Pleas Judge Harry Smail Jr. are seeking the Republican nomination, and three Democrats – attorney Jill Beck, Philadelphia Municipal Court President Judge Patrick Dugan and Philadelphia County Court of Common Pleas Judge Timika Lane – are seeking their party's nod. 
As for the Commonwealth Court race, attorney Josh Prince and former state Senate secretary-parliamentarian Megan Martin are seeking the GOP nomination, and attorney Bryan Neft and Philadelphia Municipal Court Judge Matt Wolf are doing the same on the Democratic side. 
House Legislative District 163 - Delaware County
Control of the Pennsylvania House of Representatives is on the line in this special election. Democrat Heather Boyd and Republican Katie Ford are facing off in a race that has gained national attention and could ultimately determine which party holds the majority in the chamber. 
The race is so consequential that President Joe Biden made a rare state-level legislative endorsement on Monday, backing Boyd for the vacant seat. 
Meanwhile, others have looked to help boost Ford. The House Republican Campaign Committee has donated $45,000 to Ford, state Rep. Seth Grove contributed $20,000 to her campaign, and Pennsylvania Rising, a political action committee linked to former Senate candidate Dave McCormick, donated $10,000 to her coffers, according to a spokesperson for the committee. 
While this race falls during a primary election cycle, it is not a primary: the winner will be the next state representative for the 163rd House District. 
Lehigh County Board of Commissioners
A crowded primary race in Lehigh County has seven Democrats vying for four at-large spots on the board of county commissioners. Three of the four incumbent Democrats who swept the race in 2019 – giving Democrats their first majority on the board in 30 years – are not seeking reelection, leaving their spots and the board's majority up for grabs. 
The Democratic candidates on the ballot include Sheila Alvarado, an aide to state Rep. Peter Schweyer; Michael Blichar Jr., an administrator at Northampton Community College; incumbent Dan Hartzell, a retired Morning Call journalist; Jon Irons, a data manager for the nonprofit Communities in Schools of Eastern Pennsylvania; Victor Martinez, owner and DJ of La Mega 101.7 FM; April Riddick, a longtime community organizer and volunteer in Allentown; and real estate broker Joe Setton. 
The top four vote-getters will face Republicans Gary Fedorcha, Paul Moat, Jacqueline Rivera and Rita Sisselberger, who are running uncontested in the GOP primary. 
Northampton County
County Council and district attorney are two intriguing races to keep an eye on in Northampton County. Northampton County Council President Kerry Myers switched political parties and is seeking reelection on the Republican ticket after getting booted from the Democratic primary ticket in March for turning in a flawed candidate petition. 
The former Easton Area School District member is completing his first term on council but was kicked off the primary ballot after more than a third of his ballot petition signatures were found to be from people not registered to vote, not registered as Democrats or not registered in District 2, where he is running. He now needs to collect at least 250 write-in signatures in the Republican primary to make it on the ballot in November. 
Another newsworthy Northampton race is for district attorney, where incumbent Terry Houck is looking to fend off Democratic primary challenger Stephen Baratta in one of the most expensive races in county history. Houck and Baratta together spent more than $250,000 in the past five months, with Baratta spending more than $115,000 and raising another $49,500 to oust Houck, who has spent nearly $90,000 in search of a second term. 
Baratta served 25 years as a judge on the Northampton County Court and Houck has worked as a prosecutor for 17 years, including four years as district attorney and 13 as chief assistant district attorney under former District Attorney John Morganelli. And with no Republican write-in candidate of note, Houck is mounting a write-in campaign on the GOP side, saying he hopes to sew up the election by winning the nomination from both major parties.