Capitol Beat
Joe Biden endorses Democrat Heather Boyd in high-stakes PA House race
The endorsement came just a day before the special election, which will determine control of the state House.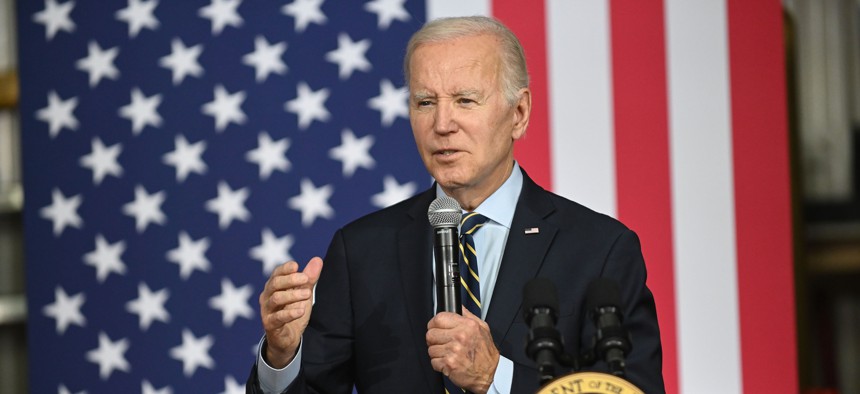 President Joe Biden has thrown his support behind Democrat Heather Boyd in Tuesday's special election for Pennsylvania's 163rd House District, a move that comes just a day before voters head to the polls for a race that could determine control of the state House.
"With control of the Pennsylvania House of Representatives on the line, this race will determine the future of so many fundamental freedoms that Pennsylvanians hold dear," Biden said in a statement. "That's why I am incredibly proud to endorse Heather Boyd for Pennsylvania House District 163."
The news of Biden's endorsement was first reported on Monday morning by The Philadelphia Inquirer. In his statement, Biden said Boyd will protect abortion access, support gun law reforms and expand access to voting. 
"Electing her could not be more important," the president said. 
Boyd, who worked as a district director and senior adviser to U.S. Rep. Mary Gay Scanlon, is facing off Tuesday against Republican Katie Ford, an Army veteran and special instructor for early intervention, for the vacant seat. 
The two participated in a televised debate on May 6 hosted by ABC 27, and the race has also attracted considerable attention from donors – with hundreds of thousands of dollars flowing into the race during its final weeks, per Politics PA.
Biden's decision to get involved in the race underscores the magnitude of the special election for House District 163, as the race will likely determine whether Democrats retain their slim majority in the chamber, or relinquish it back to Republicans, who controlled the chamber last session. 
Democrats currently hold 101 seats in the 203-seat chamber, while Republicans have 100 seats. Two seats are up for grabs on Tuesday, in the 163rd and the 108th House Districts. 
The 108th House District, which covers Montour, Northumberland and Snyder counties, has been in Republican hands since 1973, according to the Pennsylvania House of Representatives Archives. The 163rd House District – which covers part of Delaware County – has historically been more competitive, as it was held by a Republican before Democrat Mike Zabel won the seat in 2019. 
Democrats regained control of the state House this year after spending 12 years in the minority, though their majority will be on the line in Tuesday's special election in the 163rd. 
If Democrats win one of the two special elections held on Tuesday, they'll stay in the majority. But if Republicans sweep the special elections, they'll be the ones with a one-seat majority in the state Capitol.
The 163rd House District seat was last held by Zabel, who won reelection by a 33-point margin in November. He resigned in March following allegations of sexual harassment.