Campaigns & Elections
Cherelle Parker talks health emergency, policy proposals in first post-primary public appearance
The Democratic nominee for Philadelphia mayor met privately with Gov. Josh Shapiro before speaking to the press.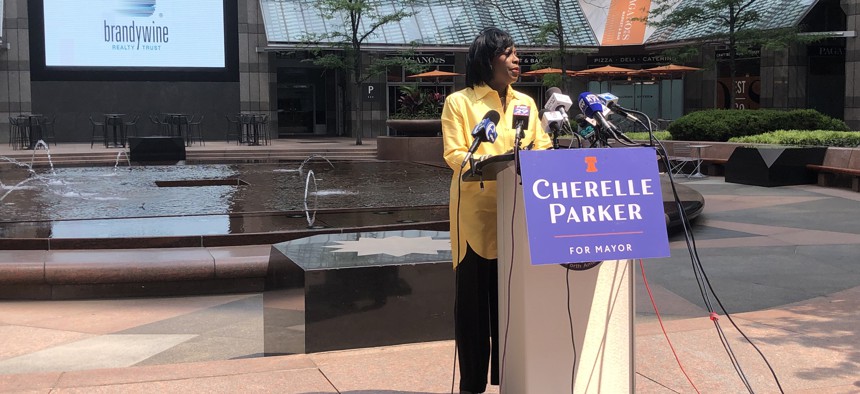 Covering everything from palates to ballots, Cherelle Parker spoke with the media Monday for the first time since winning the Democratic nomination in Philadelphia's mayoral primary, discussing her dental emergency and her historic election win last week. 
Parker, who relied on many areas most impacted by gun violence for her primary win, said those communities are now "closest to the power."
"Our message has taken hold across the city – most importantly, in the neighborhoods and the communities who are closest to the pain of gun violence, neighborhood blight, struggling schools, and quite frankly, a lack of economic opportunity," Parker told reporters in Center City Philadelphia Monday morning. "I had the audacity to believe Philadelphia can be the safest and cleanest big city in America and that we can close the gap between the haves and the have-nots."
Parker, who met privately with Gov. Josh Shapiro before addressing the press, touched on policy proposals and went into detail regarding the emergency room visit that kept her from her Election Night party and out of the public eye in the days since. 
Leading up to the election, Parker said she didn't give herself enough time to rest following oral surgery that took place the Friday before Election Day. She said "everything literally caught up with me" on election night, causing her to check into the University of Pennsylvania hospital because her "jaw was throbbing."   
Parker said she's back to "nearly 100%" after taking the days following the election to rest and recover, but that follow-ups will be needed to ensure issues won't continue. 
Parker met with an old colleague prior to the press conference in Gov. Shapiro. The two served as state representatives in Harrisburg from 2005 to 2012. That intergovernmental experience was one of her main pitches to voters throughout the primary election campaign. 
Parker said she spoke with Shapiro about public safety, economic and education initiatives centered around the need for collaboration between City Hall and the state Capitol. 
"We talked about ways to find bipartisan support to fund some of our biggest initiatives," Parker said. "I literally had to do things the old-fashioned way (in Harrisburg), sit down and have a conversation with people to figure out how we get together. And that didn't stop during our campaign."
Having won the primary race with about 32% of the vote – roughly 80,000 votes in a city of more than 1.5 million residents – Parker spoke on the city's low voter turnout and how she would seek to unify Philadelphia's electorate. 
"Low turnout to me equates to apathy, frustration, lack of hope, of believing in government," she said. "Too many Philadelphians don't believe that government can work for them, and we're going to be working very hard to change that narrative."
Parker also discussed policy specifics related to stop-and-frisk, year-round school and more. She will face Republican mayoral nominee David Oh in Philadelphia's general election on Nov. 7.