News & Politics
The next stage in the fight against antisemitism
As the Tree of Life trial begins almost five years after the deadly shooting, protective measures for Jews in Pennsylvania are still a work in progress.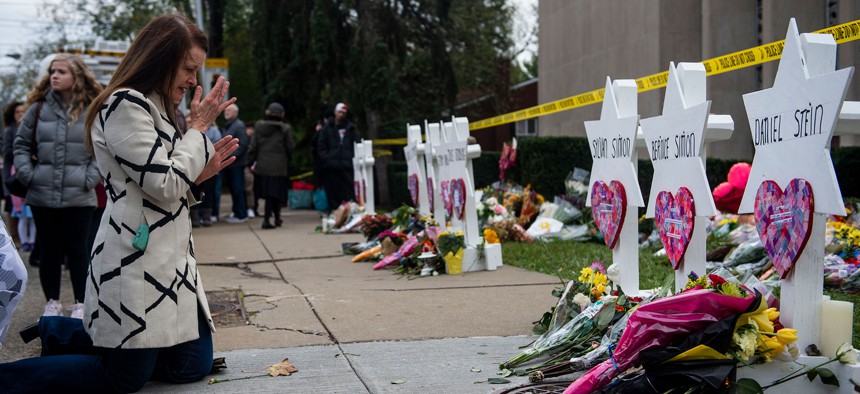 From the time that the first recorded group of Jews arrived on these shores – in New Amsterdam, in 1654 – they have been both welcomed and targeted. In the 17th century, the Dutch West India Company encouraged the embrace of the new arrivals, while the New Amsterdam governor, Peter Stuyvesant, tried to have them removed from his colony. But in the following 369 years, there had never been as deadly an attack on Jews in America as on Oct. 27, 2018, when a lone gunman entered Pittsburgh's Tree of Life synagogue.
That mass shooting, which left 11 worshipers dead and is currently the subject of a federal death penalty trial, remains the deadliest attack against Jews in U.S. history. 
Research has shown that the number of antisemitic incidents has only increased since the Tree of Life attack – and Jewish leaders say the spike underscores the need for a more proactive approach to combating antisemitism. 
The Jewish community isn't alone in dealing with increasing attacks: According to data from the Federal Bureau of Investigation, overall hate crimes and bias incidents have increased each year since 2019. 
According to the FBI, in 2021, there were 10,840 hate crime incidents impacting 12,411 victims – a number that rose significantly from 2020 levels, though at least some of the increase can be attributed to an expanded dataset that includes more law enforcement agencies, the bureau says. 
Nearly 65% of victims were targeted because of their race, ancestry or ethnicity, according to the 2021 data, while almost 16% of incidents reported were related to sexual orientation. Of the 10,840 incidents in 2021, 14% were incidents that targeted a person's religion. 
"We're definitely seeing a significant increase in antisemitic comments, statements, remarks, vandalism – and it's not stopping," said Hank Butler, the executive director of the Pennsylvania Jewish Coalition, an organization that advocates on behalf of Pennsylvania's Jewish community and lobbies state officials. 
The Anti-Defamation League, an organization devoted to combating antisemitism and acts of hate against other minorities, collects data each year on antisemitic incidents that occur in the U.S., with the incidents split up into three categories: harassment, vandalism and assault. 
In 2018, 89 antisemitic incidents were reported in Pennsylvania – a figure that included 50 reports of harassment, 37 reports of vandalism and two reports of assault. In 2019, the total number of incidents rose to 109: 68 reports of harassment, 40 vandalism reports and one report of assault. 
The annual total of antisemitic incidents has remained above 2018 levels in each of the following years, with the exception being in 2021, when the number of incidents reported in the state dropped to 69.
At times, Pennsylvania's own public officials have been targeted by antisemitic messages and vandalism. 
Democratic state Rep. Dan Frankel, who is Jewish and represents the district where the Tree of Life synagogue is located, was the target of antisemitic posts on Gab, a right-wing social media platform, in August of last year. Republican state Rep. Aaron Kaufer, who is also Jewish, had one of his own campaign mailers defaced with swastikas and references to the Holocaust and stuck in the door of his district office in 2020, according to WNEP. And Gov. Josh Shapiro, who is Jewish, was also targeted with antisemitic comments on Gab while running for governor.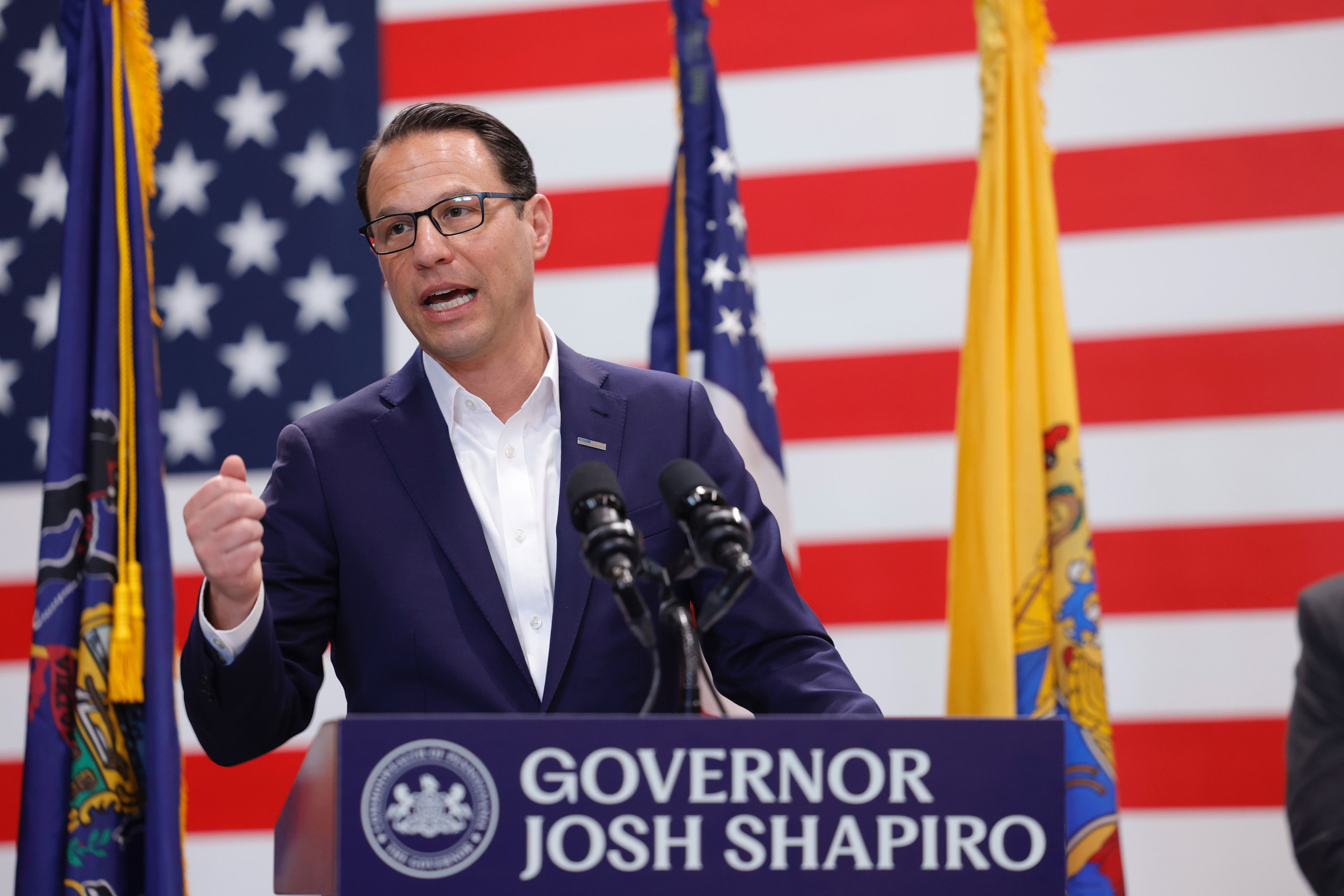 In 2022, with 114 antisemitic incidents reported in the commonwealth, Pennsylvania was one of 10 states to report more than 100 antisemitic incidents in the calendar year, according to the ADL.
That may not even paint the whole picture, Butler opined. "We believe it's a lot more than what we're seeing in reports – we don't believe that secondary schools, businesses, local governments are even reporting enough," he said.
After the Tree of Life shooting, Butler said Jewish community leaders and government officials realized that the state needed to be more proactive to confront and prevent antisemitism.
Butler said the creation of the state's nonprofit security grant program in 2019 – which provides grants to nonprofit organizations, including synagogues, to purchase security enhancements and fund threat awareness training – was a good step in that direction, but that more needs to be done. 
Butler also said one of the coalition's biggest priorities is the creation of a statewide database that tracks acts of hate and antisemitism, both criminal and not. He said a database that improves information-sharing among the Pennsylvania State Police, the U.S. Department of Homeland Security, the Anti-Defamation League and the Pennsylvania Human Relations Commission would allow public officials and community leaders to identify areas that need more resources. 
"We need to bring everyone together and compare notes and work together to try and stop this," Butler said. "I think that's a critical step to moving forward."
Experts say that ensuring students receive proper education about the Holocaust – the persecution and murder of 6 million Jews by the Nazis between 1933 and 1945 – is key to rooting out antisemitic beliefs. 
"I firmly believe that whether it's antisemitism, anti-Black racism, anti-Islam, anti-LGBTQ – the only way through is education," said Alon Milwicki, a senior research analyst for the Southern Poverty Law Center. "The only way through is honest, open, discursive education about topics in history that would be considered hard histories."
Andrew Goretsky, the regional director for ADL Philadelphia, told City & State that antisemitic beliefs often proliferate due to conspiracy theories like the so-called Great Replacement Theory – a conspiracy theory based on the false premise that Jews are orchestrating a plot to replace white populations.
"It's a conspiracy theory. It's completely false," Goretsky said. "One of the reasons that antisemitism persists is, it is a set of conspiracy theories that have existed for centuries that evolve over time. The reality is that when there's anxiety in society, when there's stress, people are looking for scapegoats, and often minority groups are those scapegoats – whether it's Black people, brown people, Jewish people, Muslims – whoever it might be in any particular situation."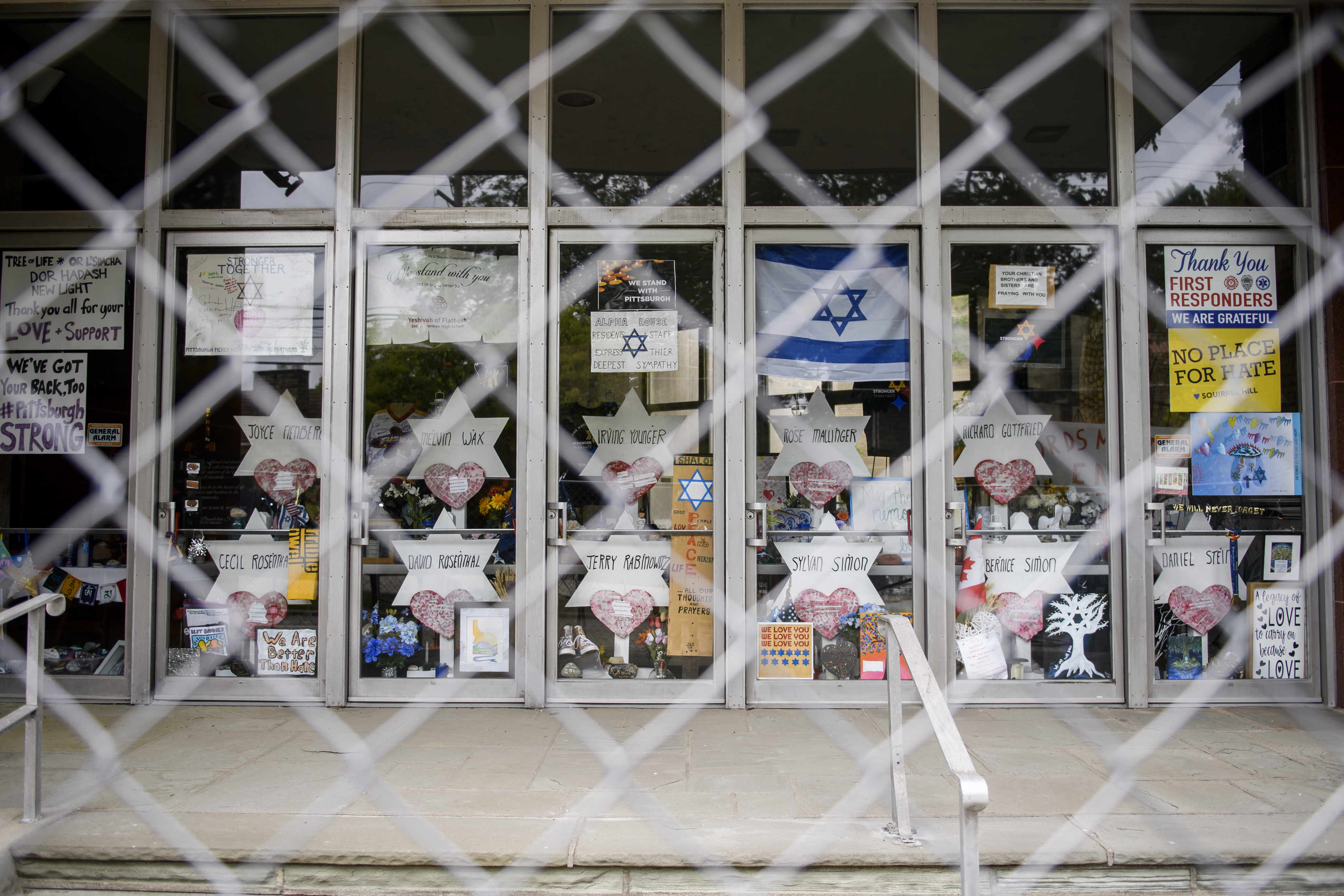 Goretsky said that at times, celebrities and public figures have contributed to the conspiracy theories and false narratives about Jewish people.
Ye, the rapper formerly known as Kanye West, sparked a wave of outcry after publicly praising Hitler and defending the Nazis. Goretsky said Ye's remarks fueled a spike in antisemitic incidents reported to the ADL. 
"I'm aware of at least one K-12 situation where a kid was being harassed and another student was saying how Hitler, and then Kanye, was right," Goretsky said.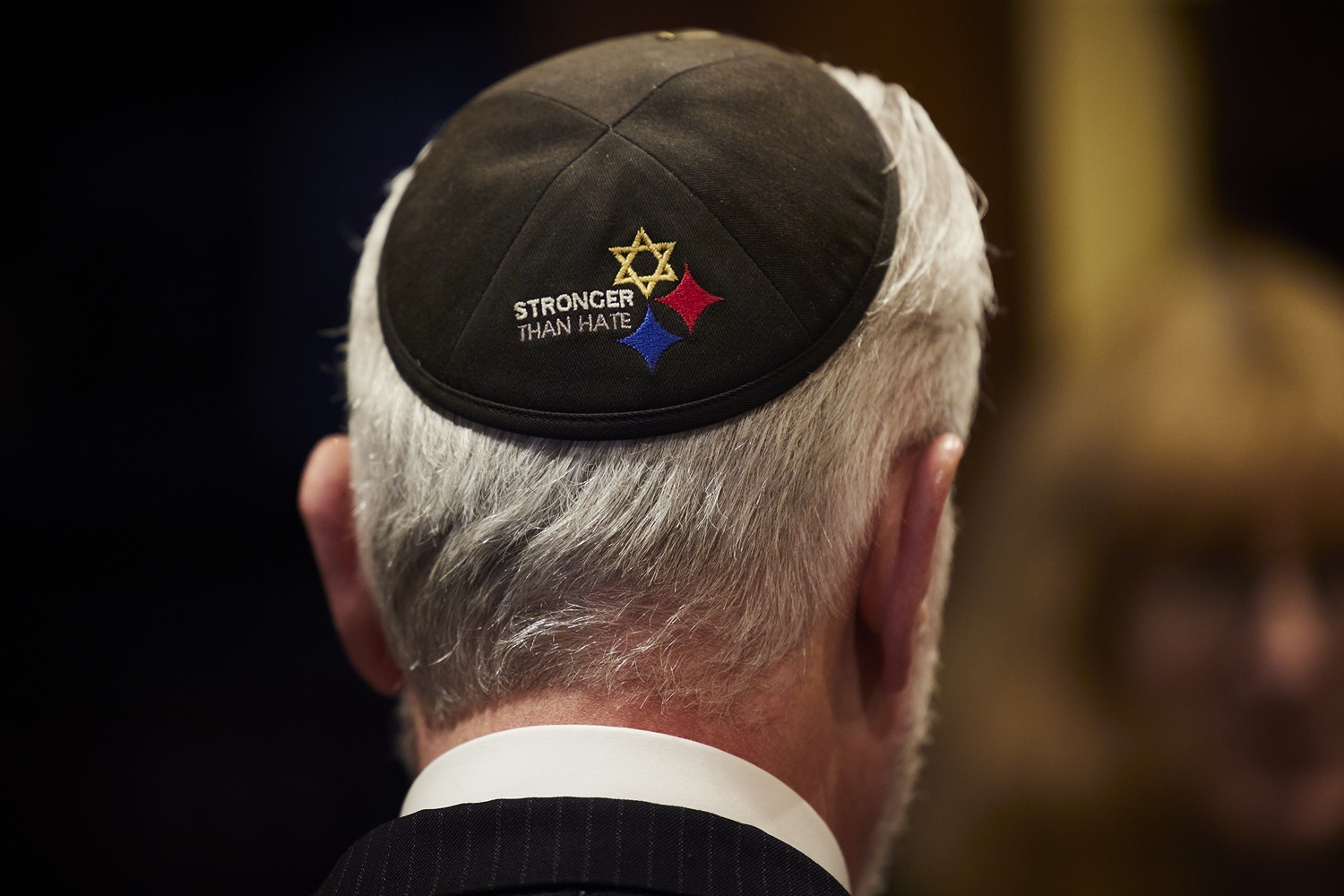 Milwicki said addressing more subtle forms of antisemitism – like dog-whistle references to George Soros, "globalists" and "international bankers" – is critical to making sure more overt, dangerous acts of antisemitism like the Tree of Life shooting don't proliferate. 
"The overt doesn't happen until the subtle bursts," Milwicki said. "It can't just go from zero to 10. There has to be a backdrop. The reason why there are these spikes every few years is because that subtle undertone is always there."
Goretsky urged Pennsylvanians to report all antisemitic incidents – as well as other hate crimes and incidents – to the authorities and the ADL. He also stressed the importance of education and workplace training about antisemitism. 
"It also has to be age-appropriate. So what needs to be done for elementary school, versus intermediate school, versus high school, versus in businesses are different things," Goretsky said. "Each place needs to figure out how best to integrate this into their work based on their folks, based on their community in how to do this."
Goretsky said he worries that book bans at the local level could have an impact on education about the Holocaust and antisemitism. He pointed to a new policy in the Central Bucks School District in Bucks County that prevents teachers from participating in "advocacy activities."
The overt doesn't happen until the subtle bursts.
– Alon Milwicki
According to a report from WHYY, a librarian in the district was forced to remove posters with quotes from author and Holocaust survivor Elie Wiesel. The decision was later reversed following outcry on social media, WHYY reported. 
In a statement to City & State, Shapiro said he will do everything within his power to combat hate and antisemitism, and urged all Pennsylvanians to work together to do the same.
"My own faith teaches me that no one is required to complete the task, but neither are we free to refrain from it. I believe everyone has the power to take a stand against hate – and we all share a responsibility to confront bigotry head on in order to make our communities stronger and more welcoming for all," Shapiro said. 
"As long as I'm governor, I will do everything in my power to ensure that everyone has a place here in our commonwealth – no matter what you look like, where you come from, who you love, or who you pray to," the governor added.
Shapiro, who spoke often about his Jewish faith on the campaign trail, was sworn in on a Bible from the Tree of Life synagogue. Speaking during his inaugural address, Shapiro expressed optimism that the commonwealth can reject all forms of hate – including antisemitism.
"Pennsylvanians can indeed find light in the midst of darkness and drown out the voices of hate and bigotry," Shapiro said. "You see, in every chapter of this Pennsylvania story, we got better. We got stronger. We got more tolerant."
Building on that tolerance isn't easy. Butler recalled his daughters coming home from grade school in tears after their friends made antisemitic comments. He has since had many conversations with his children about how they may be treated differently. 
Butler said such incidents create "a lump in your throat" when they happen.
Goretsky recalled a similar feeling the day after the Tree of Life synagogue shooting as he prepared to send his child to Hebrew school. "I had to give my son an extra hug. It's like – I'm putting him in synagogue where he could just be targeted because he's Jewish," he said. 
"We just need everybody to speak out more and push it back to the fringes. Hate has existed for as long as humankind – I don't know that we'll ever eliminate it, but we can sure as heck push it back to the fringes." 
The trial against the man accused of killing 11 people inside the Tree of Life synagogue began Tuesday, with prosecutors giving their opening statements, according to WESA.
This story has been updated.