Capitol Beat
A stocked cabinet: Keeping track of who's joining the Shapiro administration cabinet
Stay up to date on who's making it through the Pennsylvania Senate confirmation process and losing their "acting" titles.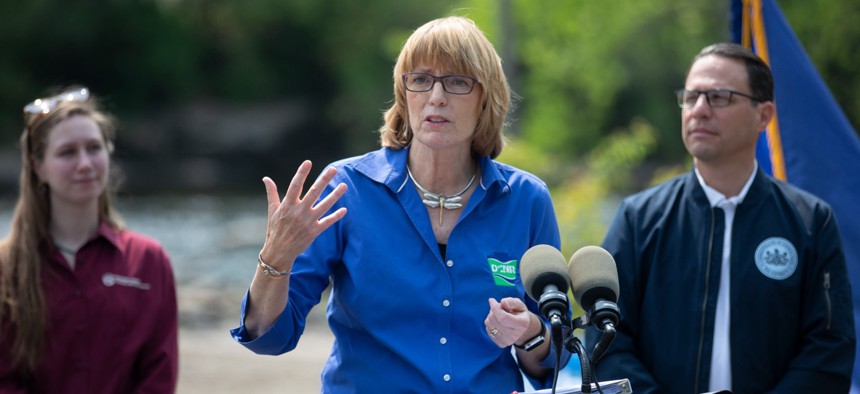 Gov. Josh Shapiro officially nominated his slate of cabinet nominees back in January, beginning the process of getting his picks through the state Senate. 
To date, several of Shapiro's cabinet members have been confirmed by Senate lawmakers, while others are still awaiting their confirmation hearings. Below, City & State is keeping track of all the cabinet nominees that have been confirmed by lawmakers – a list that will continually be updated as more nominees receive their long-awaited confirmation vote. 
June 7
Two more cabinet nominees were confirmed by the state Senate on June 7. Department of Conservation and Natural Resources Secretary Cynthia A. Dunn will return to her post at DCNR after being reconfirmed by the Senate by a 49-1 vote.
Senate lawmakers also confirmed Reginald B. McNeil as the state's secretary of General Services. McNeil received a 50-0 vote from members of the Senate.
May 10
Lawmakers in the state Senate voted unanimously on Wednesday, May 10 to confirm Russell Redding as secretary of the Pennsylvania Department of Agriculture. With his confirmation, Redding officially returns to the department to continue serving as secretary – a post he has held since 2015.
May 3
The state Senate voted 49-0 to confirm Jason P. Kavulich as secretary of the Pennsylvania Department of Aging, Frederick C. "Rick" Siger as secretary of Pennsylvania Community & Economic Development and Michael B. Carroll as secretary of the Pennsylvania Department of Transportation. 
April 26
Mark J. Schindler was confirmed as Pennsylvania's adjutant general by the state Senate with a 49-1 vote. 
March 8
The Senate confirmed Christopher L. Paris as the commissioner of the Pennsylvania State Police with a 49-0 vote. 
And while she's not in Shapiro's cabinet, Attorney General Michelle Henry – whom Shapiro nominated to replace him as attorney general after he was sworn in as governor – also received a 49-0 confirmation vote from the Senate on March 8.
This story will be updated as more nominees receive confirmation votes.