Capitol Beat
A stocked cabinet: Keeping track of who's joining the Shapiro administration cabinet
Stay up to date on who's making it through the Pennsylvania Senate confirmation process and losing their "acting" titles.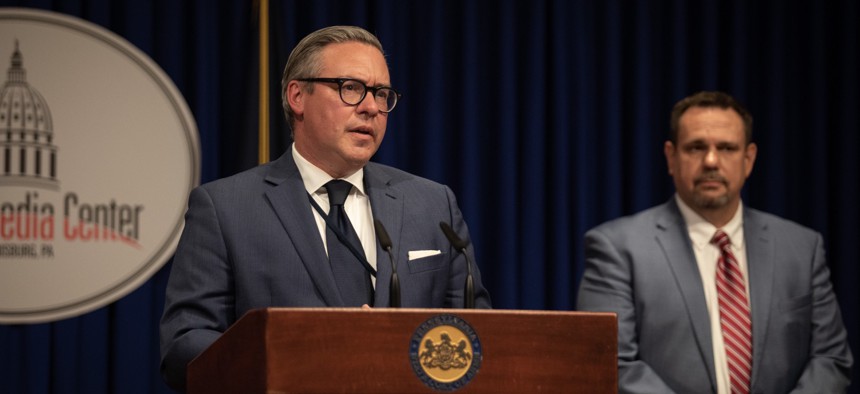 Gov. Josh Shapiro officially nominated his slate of cabinet nominees back in January, beginning the process of getting his picks through the state Senate. 
To date, several of Shapiro's cabinet members have been confirmed by Senate lawmakers, while others are still awaiting their confirmation hearings. Below, City & State is keeping track of all the cabinet nominees that have been confirmed by lawmakers – a list that will continually be updated as more nominees receive their long-awaited confirmation vote. 
June 29
The state Senate did not hold votes on three of Shapiro's nominees within 25 legislative days – a requirement in the state constitution. This applied to Acting Secretary of State Al Schmidt, Acting Secretary of Human Services Dr. Val Arkoosh and Acting Secretary of Revenue Pat Browne. 
Because the Senate did not act on their nominations, all three – Schmidt, Arkoosh and Browne – take office "as if the appointment had been consented to by the Senate."
Meanwhile, Shapiro recalled the nomination of Dr. Debra Bogen, his pick to lead the Pennsylvania Department of Health, this week. However, a spokesperson for Shapiro told Politics PA that the governor's office would have "more to announce in the coming days" regarding the future of Bogen's nomination.
June 27
In an evening vote on June 27, Senate lawmakers voted 48-1 to confirm Rich Negrin as the state's secretary of the Department of Environmental Protection.
June 26
June 26 may have been the busiest day of the year to date for nominees in Shapiro's administration. In addition to several committee hearings to consider cabinet nominees, the state Senate voted to confirm three of Shapiro's nominations. 
Khalid Mumin was confirmed as secretary of education with a 46-3 vote.
The Senate voted 49-0 to confirm Thomas Cook as state fire commissioner, and the chamber also voted to confirm Mike Humphreys as insurance commissioner with a 49-0 vote.
June 22
Laurel R. Harry was confirmed as Secretary of Corrections by the state Senate with a 48-0 vote on June 22. The vote is a historic one: Harry, a 24-year employee of the Department of Corrections, becomes the first woman to lead the agency.
June 21
Senate lawmakers approved two more of Shapiro's cabinet nominees on Wednesday, June 21. Nancy Walker, a former deputy chief of staff for the Office of Attorney General's Fair Labor Section, was confirmed as the next secretary of the Department of Labor & Industry with a 49-1 vote. 
Latika Davis-Jones, who most recently served as the senior director of behavioral health at Highmark Wholecare, was confirmed as secretary of the Department of Drug and Alcohol Programs with a unanimous vote.
June 7
Two more cabinet nominees were confirmed by the state Senate on June 7. Department of Conservation and Natural Resources Secretary Cynthia A. Dunn will return to her post at DCNR after being reconfirmed by the Senate by a 49-1 vote.
Senate lawmakers also confirmed Reginald B. McNeil as the state's secretary of General Services. McNeil received a 50-0 vote from members of the Senate.
May 10
Lawmakers in the state Senate voted unanimously on Wednesday, May 10 to confirm Russell Redding as secretary of the Pennsylvania Department of Agriculture. With his confirmation, Redding officially returns to the department to continue serving as secretary – a post he has held since 2015.
May 3
The state Senate voted 49-0 to confirm Jason P. Kavulich as secretary of the Pennsylvania Department of Aging, Frederick C. "Rick" Siger as secretary of Pennsylvania Community & Economic Development and Michael B. Carroll as secretary of the Pennsylvania Department of Transportation. 
April 26
Mark J. Schindler was confirmed as Pennsylvania's adjutant general by the state Senate with a 49-1 vote. 
March 8
The Senate confirmed Christopher L. Paris as the commissioner of the Pennsylvania State Police with a 49-0 vote. 
And while she's not in Shapiro's cabinet, Attorney General Michelle Henry – whom Shapiro nominated to replace him as attorney general after he was sworn in as governor – also received a 49-0 confirmation vote from the Senate on March 8.
This story will be updated as more nominees receive confirmation votes.