News & Politics
The Jan. 6 criminal case tracker
An in-depth chronicling of the ever-growing number of Pennsylvanians charged and convicted of crimes committed during the 2021 insurrection.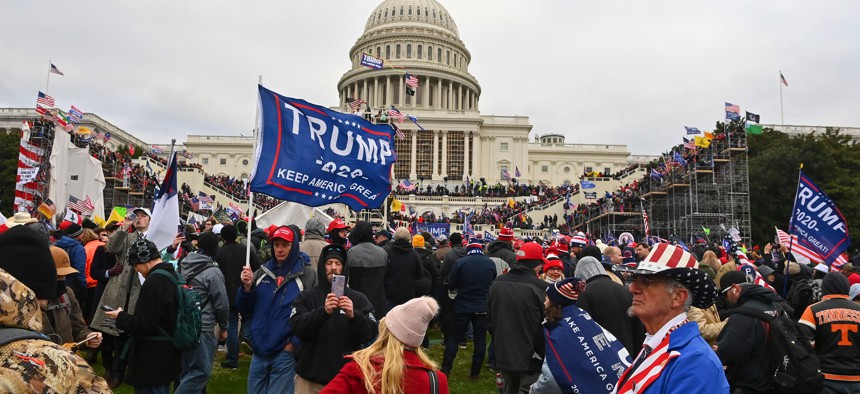 In the aftermath of the Jan. 6, 2021 attack on the U.S. Capitol, dozens of Pennsylvanians have been arrested for their role in the 2021 riot.
Supporters of then-President Donald Trump flocked from all corners of the state, from Pittsburgh and Palmyra to Harrisburg and Havertown, to Washington, D.C. for a Trump rally that later turned violent. To date, 72 Pennsylvanians have been charged to date for their role in the insurrection, which disrupted a joint session of Congress dedicated to certifying Joe Biden's 2020 presidential election win. 
Pennsylvania ranks third among U.S. states for the total number of residents charged with Jan. 6-related offenses, according to an analysis by Stacker. 
Charges levied against Pennsylvania defendants include the destruction of government property, obstruction of an official proceeding, violent entry and assaulting law enforcement officers.
Some cases have drawn considerable attention – including the case of Riley Williams, a Harrisburg-area woman who was sentenced to three years in prison for entering then-House Speaker Nancy Pelosi's office. Montgomery County resident Howard Richardson was sentenced to nearly four years in prison after beating a police officer with a metal flag pole. There was also "JackTheTripper" – a moniker given to Mikhail E. Slye, who pleaded guilty this year to tripping a U.S. Capitol Police officer with a bike rack. 
The attack also prompted a congressional investigation, and a special prosecutor continues to investigate efforts to illegally overturn the 2020 presidential election. 
In the weeks to come, City & State will be taking a closer look at Pennsylvania's individual Capitol riot cases and where they stand as the country approaches the three-year mark since the attack occurred. 
According to the FBI, more than 1,069 people have been charged with insurrection-related offenses to date.