News & Politics
Internal document sounds the alarm for Democrats in Bucks County Commissioners race
A polling memo expresses concerns with voter registration and fundraising numbers for Democrats in the county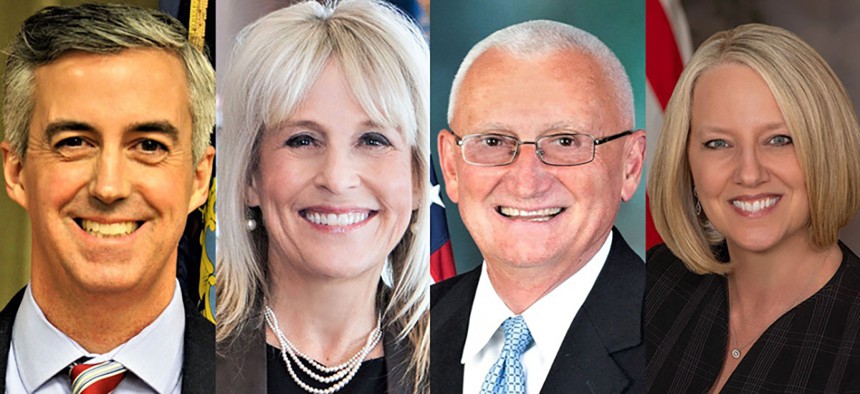 In an internal polling document obtained by City & State, members of the Bucks County Democratic campaign for county commissioner expressed concerns about voter registration trends and fundraising numbers in the race. 
Democratic County Commissioners Bob Harvie and Diane Marseglia are seeking reelection, as is Republican Commissioner Gene DiGirolamo. In Bucks County, where the minority party holds one seat, each party has two nominees and the top three vote-getters earn spots on the board. In this year's race, the third and final spot is expected to be contested between Harvie and Republican Pamela Van Blunk, the county controller. 
Last week, a leaked internal memo revealed the "challenging environment" the Democratic campaign believes it needs to overcome in a county where Republicans are expected to overtake Democrats in voter registration if recent projections continue into next year. 
"The Marseglia-Harvie campaign has a plan and has built an operation to withstand a potentially difficult year – but we will not be able to sustain our current level of activity or follow through on our paid media strategy at our current fundraising pace," the document read. 
The document noted that the campaign raised about $1 million toward its $2.5 million goal and mail and digital plans for the Democratic candidates will have to be scrapped if future funding goals aren't met. Recent internal polling showed a tight race across the board, with Harvie at 39% and Van Blunk at 36% for the third and final board seat, with single digits separating all four candidates.
Democrats held a 10,500 voter registration advantage over Republicans in September 2021, according to the internal memo. As of August, the advantage has shrunk to under 5,000. 
"We are the only Philadelphia collar county getting redder, and at current pace Republicans will eclipse Democrats in registration by next year," the memo said. 
Jordan Abelson, communications director for Bucks United, told City & State the trends "should be a concern" going into 2024. 
"At our current fundraising pace, we look to be outspent by our Republican opponents," Abelson said in a statement. "We know we have a message that can and will win, focusing on Bob and Diane's record as the most bipartisan administration in Bucks history, funding law enforcement, holding the line on taxes and protecting a woman's right to choose."
The race can be viewed as a barometer for Philadelphia's collar counties and purple districts ahead of the 2024 elections. 
National political conversations have made their way into the county's school boards, election discussions and more. This fall's elections will determine which party controls the Board of Commissioners, as well as the Bucks County Board of Elections, which is responsible for overseeing election administration in the county.
Eric Stern, a Democratic strategist, said the importance of Bucks County and the commissioners' race cannot be overstated. 
"The path to winning the (state) Supreme Court this year, retaining our state House majority and winning the presidency next year runs through Bucks County and through this election," Stern told City & State. "I don't think anyone's lighting their hair on fire…(but) I would hope that donors and other folks would take notice."
Lindy Li, a national Democratic political strategist, told City & State the internal memo isn't a cause for concern for Democrats statewide and that above all else, abortion rights have brought out voters in close elections. 
"As we've seen in Wisconsin, Ohio, Kansas and elsewhere, every time abortion rights are on the ballot Democrats win," Li said. "There are plenty of top donors who are ready and eager to open up their wallets. Some scream that the sky is falling. Professionals know where to look."
Pat Poprik, the chair of the Bucks County Republican Committee, called Democratic policies a "failure" and that voters want public safety, the economy and inflation addressed. 
"We are talking to voters every day across this county, and it is clear that they have serious concerns about public safety, the state of our economy, and the continued cost of out-of-control inflation," Poprik told City & State in a statement. "The voters want elected officials who will support law enforcement, hold the line on taxes, and keep politics out of county government.  With their vote on November 2nd, they can set the course for our county over these next four years."