First Read
First Read PA
McCormick expected to announce Senate bid … Philadelphia City Council approves ban on safe-injection sites … Rockey announces jobs plan … and more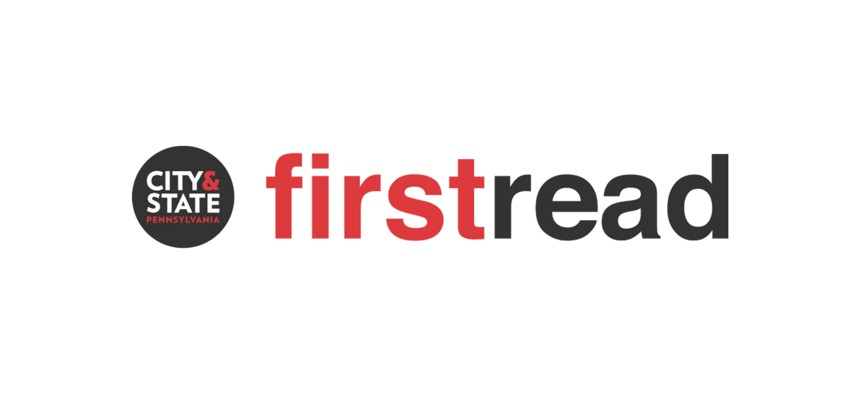 WEATHER: Philadelphia: sunny, high of 75; Harrisburg: sunny, high of 76; Pittsburgh: sunny, high of 74.
FROM CITY & STATE:
* Philadelphia City Council kicked off its fall session with an agenda item that could have a major impact: a bill to ban supervised injections sites in most of the city.
* In this week's Winners & Losers, a 4-year-old Belgian Malinois finds statewide fame following the search for an escaped murderer, a Delaware man is sentenced over his role in a high profile Philadelphia carjacking – and more. 
NEW THIS MORNING:
* Republican David McCormick is expected to announce a second campaign for U.S. Senate next week as he eyes a matchup with Democratic U.S. Sen. Bob Casey in the 2024 general election, The Associated Press reports. 
* U.S. Sen. John Fetterman and Republican U.S. Rep. Matt Gaetz traded shots on the social media platform X over the Biden impeachment inquiry and Fetterman's clothes, The Hill reports.
* Joe Rockey, the Republican nominee for Allegheny County executive, is calling for a county-wide "economic renaissance," adding that the county needs to take advantage of federal funding and natural gas reserves, welcome immigrants, and address regulatory barriers in order to create new jobs, the Pittsburgh Tribune-Review reports.
* Congress passed legislation from U.S. Rep. John Joyce this week that, if approved, would prevent the U.S. Environmental Protection Agency from issuing waivers for states that look to ban or limit the sale of internal combustion engines, the Altoona Mirror reports. 
* Ahead of the nation's 250th birthday, three former governors of the commonwealth recently discussed the significant role Pennsylvania has played in the nation's history, Your Erie reports. 
* Gov. Josh Shapiro praised the work of law enforcement officials who helped capture escaped murderer Danelo Calvacante, with the governor saying the response efforts represent the "best in law enforcement," PennLive reports.
 * The development team behind a Philadelphia 76ers arena relaxed its timeline for winning approval from Philadelphia City Council hours before council leaders gaveled in for their fall session, The Philadelphia Inquirer reports.
* The commonwealth's student aid agency is asking for a 13.2% increase in state funding in order to allow students to receive record-high grant awards of $5,933 – a move proponents say is needed to keep the awards in line with inflation, PennLive reports. 
* The state Supreme Court heard arguments this week in a case challenging the state's gun preemption law, which prohibits local governments from passing stricter gun laws than those in effect at the state level, PoliticsPA reports.
* A fired Starbucks barista who emerged as a vocal organizer in an effort to unionize the chain's Pittsburgh stores has returned to work for the first time since the National Labor Relations Board ruled she had been illegally fired, the Pittsburgh Union Progress reports. 
EDITORIAL PAGES:
* The Inquirer has an op-ed from Temple University student Gopiga Dass, who urges state Senate Majority Leader Joe Pittman to call a vote on legislation that would allow nutrition assistance recipients to use the benefits to purchase menstrual hygiene products.
* The Tribune-Review has an op-ed from U.S. Rep. Mike Kelly, who examines conversations around government spending and the federal budget.
NATIONAL POLITICS:
* United Auto Workers members formally went on strike at plants in Ohio, Michigan and Missouri today after the union's contracts expired without a new deal, Politico reports.
* Hunter Biden, the son of President Joe Biden, was indicted yesterday on three charges tied to false statements he reportedly gave regarding the purchase of a firearm, a move that comes weeks after a plea deal for the president's son fell through, The Messenger reports.
HAPPY BIRTHDAY: To state Rep. Mike Schlossberg… to N. Alexander O'Hara, executive director at The O'Hara Group & Associates Inc. … and on Saturday: to U.S. Rep. Dwight Evans … and to Jenna Geesey, chair of Pennsylvania Young Republicans … Want to wish someone a happy birthday in our newsletter? Email their name, job title and upcoming birthday to editor@cityandstatepa.com.
TODAY'S SKED:
9 a.m. – The Senate Republican Policy Committee meets for a public hearing on innovation, Pittsburgh Technology Council, Nova Place, 100 S. Commons Room 172, Pittsburgh. Watch here. 
11 a.m. – Shapiro, PennDOT, City of Erie to mark beginning of Bayfront Parkway Improvement Project, Corner of Sassafras and West Front Streets, Erie. Watch here.
To have your events included in Today's sked, please email the information to editor@cityandstatepa.com.
KICKER: 
"We need to be selling to them on why they need to stay in Pittsburgh and not moving jobs elsewhere." – GOP Allegheny County executive nominee Joe Rockey on keeping businesses in the county, via the Tribune-Review