News & Politics
PA senators call on Bob Menendez to resign
U.S. Sens. Bob Casey and John Fetterman are in the vanguard of Democrats seeking to get their colleague to step down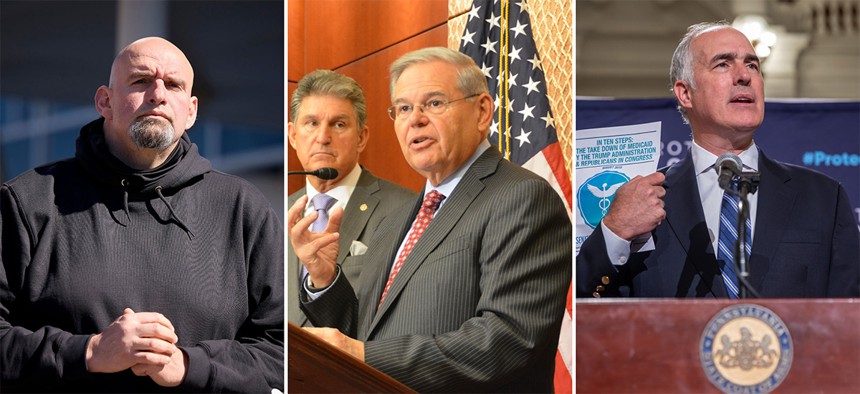 Both of Pennsylvania's U.S. senators are calling on Sen. Bob Menendez to resign after the New Jersey senator was indicted on federal bribery charges late last week. 
On Tuesday, U.S. Sen. Bob Casey joined a growing chorus of lawmakers pushing Menendez to resign after federal prosecutors accused Menendez and his wife of taking hundreds of thousands of dollars of bribes over a four-year period. 
In a statement released Tuesday, Casey, the commonwealth's senior senator, said that while Menendez is entitled to a presumption of innocence, he should resign his seat in the Senate. 
"Public service is a sacred trust. The specific allegations set forth in the federal indictment indicate to me that Senator Menendez violated that trust repeatedly," Casey said. "While he is entitled to the presumption of innocence, serving in public office is a privilege that demands a higher standard of conduct. Senator Menendez should resign."
Prosecutors say Menendez and his wife, Nadine Menendez, accepted cash, gold bars and a Mercedes – among other gifts – in exchange for Menendez using his influence to benefit three New Jersey businessmen. A search of Menendez's home in the summer of 2022 found more than $480,000 in cash that was hidden in clothing, closets and a safe – as well as $100,000 worth of gold bars, according to the indictment. 
Menendez has steadfastly denied the allegations. In a press conference on Monday, Menendez said the picture painted by the indictment is only one side of the story, and asked both his Senate colleagues and the public not to rush to judgment. "The court of public opinion is no substitute for our revered justice system," Menendez said. "We cannot set aside the presumption of innocence for political expediency, when the form is irrevocable to those who have rushed to judgment you have done so based on a limited set of facts framed by the prosecution to be as salacious as possible. Remember, prosecutors get it wrong sometimes."
He also defended himself against the large sums of cash found in his home.
"For 30 years, I have withdrawn thousands of dollars in cash from my personal savings account, which I have kept for emergencies and because of the history of my family facing confiscation in Cuba," Menendez said. "Now this may seem old-fashioned, but these were monies drawn from my personal savings account based on the income that I have lawfully derived over those 30 years."
This isn't Menendez's first run-in with federal prosecutors. The sitting senator was indicted in 2015 for allegedly accepting gifts from a Florida ophthalmologist in return for using his Senate influence to benefit the person's financial and personal interests. The department later dropped the case after Menendez was acquitted of seven of 18 criminal counts and the case resulted in a hung jury, according to NJ.com. 
Fetterman, who was the first Pennsylvania legislator – and the first Senate colleague to call for Menendez's resignation – released a statement Tuesday saying he hopes the rest of the chamber will follow suit. 
"This week, I hope to see my colleagues fully address the alleged systemic corruption of Senator Menendez with the same vigor and velocity they brought to concerns about our dress code," Fetterman said in a statement." 
The senators aren't the only commonwealth lawmakers to call for Menendez's resignation. U.S. Rep. Summer Lee, the first-term lawmaker from Pittsburgh and Pennsylvania's first Black congresswoman, came out with a statement Monday saying Menendez "must resign." 
"Corruption is corruption. Bribery is bribery. We can't talk about holding (Supreme Court Justices) Thomas and Alito accountable for selling out our freedoms for luxury vacations and private jet flights if we fail to hold a senator accountable for selling out his chairmanship to a dictator gifting gold bars and cash to keep military aid flowing to Egypt as its government violates human rights," Lee said in a statement. "Menendez is of course owed due process, but the American people are owed trust in our institutions"
While Lee and Fetterman's statements weren't unexpected, Casey's move to join them comes as a growing number of U.S. senators ratchet up pressure on the New Jersey Democrat. Axios reports that at least six U.S. senators have called on Menendez to resign, including U.S. Sens. Tammy Baldwin, Jon Tester, Peter Welch and Sherrod Brown. New Jersey's other senator – U.S. Sen. Cory Booker – also called for Menendez to step down on Tuesday.