News & Politics
Innamorato, Zappala find victory in Allegheny County
Innamorato is the first woman ever elected Allegheny County executive.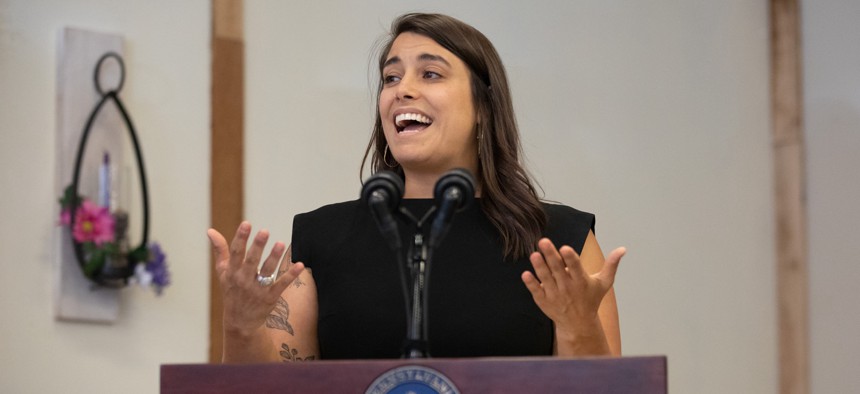 Former state Rep. Sara Innamorato defeated Republican Joe Rockey Tuesday night in a race to decide Allegheny County's next chief executive, ensuring the office will remain in Democratic hands for the next four years. 
The race was called in favor of Innamorato just before 10 p.m. on Tuesday by The Associated Press, with Innamorato leading by more than 8,000 votes at press time, according to unofficial county totals. Innamorato – who served in the Pennsylvania House of Representatives from 2019 to 2023 – will become the first woman to serve as county executive. 
In a speech to supporters on Tuesday night, Innamorato thanked voters and community members for their support. "I stand here tonight in awe of the trust that you've placed in me, and I am confident that together we can build an Allegheny County for us all."
The county executive-elect pledged to work with local leaders at all levels for the betterment of the Greater Pittsburgh region. "This is a new era of partnership between the city and the county, and I know when we work together, we will deliver great things for people throughout this region," Innamorato said.
Innamorato will succeed Rich Fitzgerald, who has spent the last 12 years as county executive after being elected for the first time in 2011. 
Pittsburgh Mayor Ed Gainey and Lt. Gov. Austin Davis both congratulated Innamorato on her victory on Tuesday. 
"The best experience you can ever have is lived experience," Gainey said. "When you've had somebody that has had life struggles and get up and come again, when you see somebody that has lost a loved one and get up and come again, when you see somebody that understands and has compassion for people that are weak … that's the type of leader we need in Allegheny County."
Davis said Allegheny County voters "made history" by electing Innamorato to the office, and that voters "sent the governor and me a partner here in the county executive's office to make sure we protect our fundamental rights and freedoms."
Innamorato said Rockey called her to concede before she took the stage on Tuesday night. 
In another high-profile race in the county, incumbent District Attorney Stephen A. Zappala Jr. was able to fend off a challenge from former county chief public defender Matt Dugan, who defeated Zappala for the Democratic nomination in May. 
However, Zappala was able to secure enough write-in votes in the primary to capture the GOP nomination, allowing him to continue to the general election and ultimately win another term in the district attorney's office on Tuesday. 
The AP called the race for Zappala shortly after 11 p.m. on Tuesday. Zappala led Dugan by more than 11,500 votes at press time with 99% of precincts reporting.