News & Politics
School board elections show clear gains for Dems, underwhelming results for GOP
Republicans were able to win a smattering of seats in central Pennsylvania.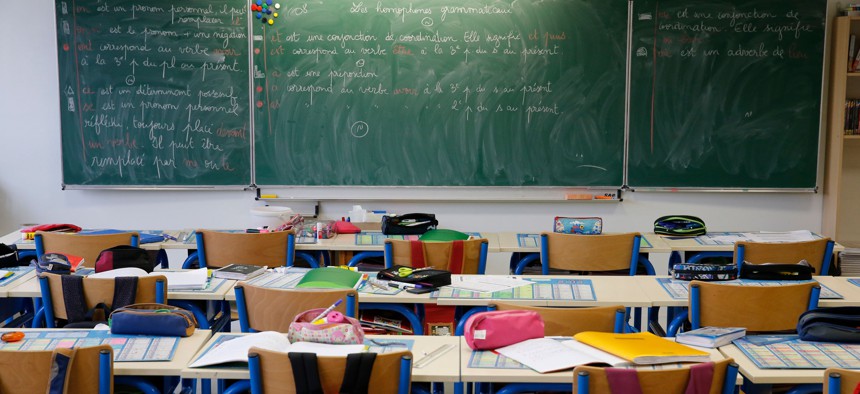 Much like in races for the statewide appellate court seats and for executive roles in the state's two largest counties, Democrats found a lot of success on Tuesday in school board races.
According to unofficial returns, Democrats swept school board races in several areas across the state, from the high-profile Central Bucks School Board races in the Philadelphia suburbs to contests in central Pennsylvania. In other areas, however, it was Republicans who found victory in local board races. 
The wins for both parties come amid a growing culture war over education issues, driven in part by a conservative push for more parental control over school policies and decisions that has ignited debates over LGBTQ+ issues, teachings on race and book bans. 
In Central Bucks, Democrats won all five seats up for grabs on the school board. With 100% of precincts reporting, Democrats Karen Smith, Heather Reynolds, Dana Foley, Rick Haring and Susan M. Gibson each won their respective school board races, knocking off GOP candidates Stephen Mass, Dana Hunter, Glenn Schloeffel, Aarati P. Martino and Tony Arjona – and flipping the board to Democratic control. 
Bucks County's school board races have attracted national attention and big money. The Philadelphia Inquirer estimated that political committees active in the Central Bucks board races raised more than $600,000 this cycle.
Republicans took control of the Central Bucks School Board in 2021, and in 2022, the board approved a policy that allows community members to request that books be removed from school libraries for "inappropriate" content. 
School boards have the power to approve budgets, establish curriculum requirements and set district health and safety protocols, according to the Pennsylvania Public School Code. 
The rise of self-described parental rights organizations like Moms For Liberty, which endorses candidates running for school board elections across the country, was fueled in part by COVID-19 pandemic restrictions, and in the years since, such organizations – both at the state and national level – have drawn new attention to local school board races. 
Democrats in Centre County similarly swept races for five seats on the State College Area School Board, though Republicans appear poised to win at least four seats on the Bellefonte Area School Board, according to the Centre Daily Times.
In other parts of central Pennsylvania, Republican school board candidates saw mixed results.
In Cumberland County, with 100% of precincts reporting, candidates endorsed by a conservative political action committee won big in the Big Spring School District and the East Pennsboro Area School District. 
In the Big Spring School District, Republican Seth Cornman beat Democrat Mary V. Franco. Frank E. Myers ran unopposed as both a Democrat and Republican; and Republican David Fisher won with no Democratic challenger. Republicans Julie S. Boothe and Lisa Shade defeated Democrats Donna Webster and William L. Piper, respectively. Republican Michael J. Hippensteel also won his Big Spring election unopposed. 
Cornman, Fisher, Boothe, Hippensteel and Shade were all backed by the conservative Take Back Our Schools PAC, an organization opposed to critical race theory that vows to "fight the woke agenda" on its website. (To date, there have been no examples provided of critical race theory being taught in public schools in Pennsylvania.)
In East Pennsboro, a suburb of Harrisburg, Take Back Our Schools candidates won five of six school board seats up for grabs, though Democrat Carol Steinour, who wasn't endorsed by the PAC, was able to pick up one seat, according to unofficial results from Cumberland County. 
Democrats were able to sweep other boards in Cumberland County, including the Carlisle Area School Board, where five Democrats – Paula Bussard, Jon W. Tarrant, Joseph Shane, Bruce R. Clash and George H. Stroud – defeated five GOP challengers.
The Camp Hill School District races also brought good news for Democrats, as blue candidates defeated Republicans Stephanie Johnson and Jesse John West, who were endorsed by Take Back Our Schools.
Pittsburgh voters reelected First Vice President Devon Taliaferro, a Democrat, to the Pittsburgh Public Schools Board of Directors, while also electing three new members – Yael Silk, Emma Yourd and Dwayne Barker – to the board. All three ran as Democrats, though Silk also secured the GOP nomination in the primary.