Capitol Beat
Shapiro's first press club luncheon address: working with a divided legislature, RGGI, school funding and more
The governor said his 'get stuff done' attitude helped his administration hit the ground running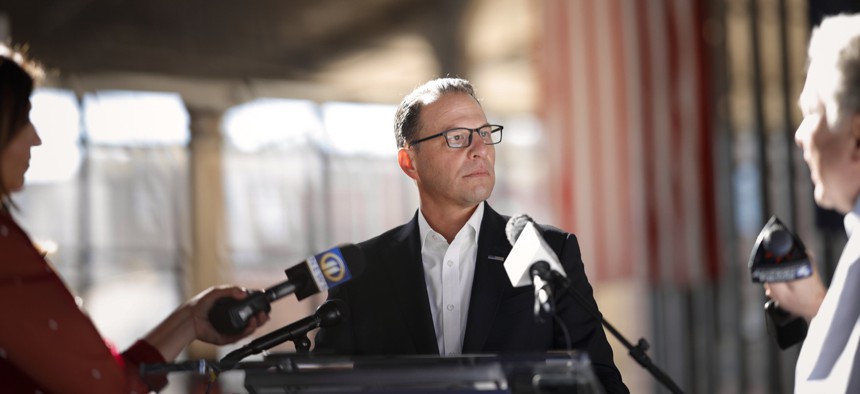 Just over one year after Josh Shapiro ran away with the gubernatorial election, the first-term Democratic governor spoke on his administration's successes and offered a glimpse of his vision for the commonwealth during a press club speech Monday. 
In what resembled a campaign speech or budget address, Shapiro touted legislative and executive accomplishments during his remarks at the Pennsylvania Press Club's November luncheon at the Hilton Hotel in Harrisburg Monday afternoon. After emphasizing the importance of a free press and the work of media members in attendance, Shapiro turned toward his first several months as governor and highlighted priorities related to workforce development, education investment and more. 
"My administration came into this office with a 'GSD' attitude – a 'get stuff done' attitude," Shapiro said Monday, using the reopening of I-95 just 12 days after the highway collapsed as an example. "That shouldn't be the exception. It should be the norm – getting big things done."
In the traditional speech for a governor coming up on the end of their first year in office, Shapiro said he's remained focused on campaign promises related to workforce development and addressing shortages in the areas of nursing and teaching. He also acknowledged executive orders, such as the one authorizing automatic voter registration, and bipartisan legislative work, such as education funding that included free breakfast for public school students, as key actions that set the commonwealth up on a better path forward.
"Although we may have our differences, although we may be registered in different parties, although we may come from different walks of life, the truth is, most Pennsylvanians want the same basic things," Shapiro said. "Pennsylvanians work hard and they deserve a government that works just as hard as them to help them succeed."
In closing, Shapiro recognized the work that remains to be done and the unique position he sits in as the lone governor in the country working with a full-time, divided legislative body. He said there's plenty of "unfinished business" but that "we've gotten a lot of shit done over the first 10 months" of his administration. 
"As we move rapidly to make progress, know that I am also quite impatient about the work that we still need to do to address violence in our communities, to give every child of God a quality education, to build a more fair and just society and to defend real freedom," he said. "I would hope that all the people in this room, whether you agree with me or not on a particular issue, would not feed into the cynicism and the division that surrounds us. And instead, I hope you would honor and appreciate and fairly question the work that Democrats and Republicans – people who have been in this building for decades and those who are just arriving – are doing to try and make this commonwealth a better place."
Shapiro then answered questions from the audience, including ones about environmental and education investments. Shapiro said he rejects the "false choice" that you cannot protect the environment and energy economy at the same time but fell short of offering specifics on what he will do regarding the cap-and-trade program known as the Regional Greenhouse Gas Initiative. 
"We'll have more to say about (RGGI) in the coming days," Shapiro said, adding that stakeholder discussions resulted in a general agreement that "a cap and invest strategy that was unique to Pennsylvania was a good way forward."
Shapiro also said the topic of school vouchers is amongst the "unfinished business" he hopes to address in the near future. He added that he hopes the Basic Education Funding Commission will issue its recommendations in early January so he can include that input in his budget address next year. 
"The leaders of both those chambers need to find ways to work together and I, of course, need to collaborate with them – something that we have certainly been willing to do," Shapiro concluded. "We're clearly putting significant points on the board and delivering for the good people of Pennsylvania. I think we've set the stage for a really productive 2024."