Capitol Beat
'Today is a day to celebrate': PA officials tout universal school breakfast program
All schools in the commonwealth will be able to provide free breakfast to students beginning this year.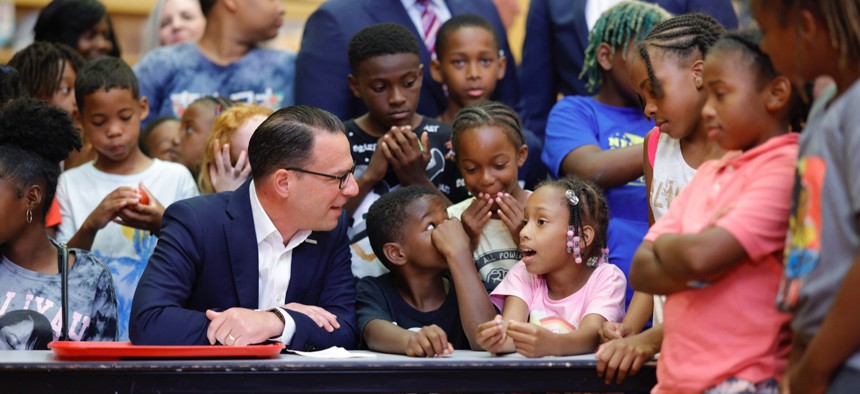 Flanked by Democratic lawmakers, members of his administration and elementary school students, Gov. Josh Shapiro on Tuesday celebrated new funding for universal school breakfast in this year's state budget, which he said will allow all public K-12 schools in the state to provide free meals beginning this academic year. 
"It's common sense," Shapiro said during a visit to Penn Hills Elementary School in Pittsburgh to promote education funding increases in the recently signed state budget. "Students can't learn on an empty stomach. Heck, I know when I'm hungry, it's hard for me to make decisions. I think we all can appreciate that, and we should make sure our students have what they need to be able to be successful."
Last week, Shapiro signed a $45.5 billion budget bill, which includes funding increases for basic education, special education and career and technical education.
The universal school lunch program was made possible due to a $46.5 million funding increase in the budget signed by Shapiro. Breakfast will be available to students regardless of their income level, according to the administration. 
The Democratic governor said the universal breakfast program will mean 1,200 students in the Penn Hills Elementary School will be able to receive free breakfast. Across Allegheny County, that number increases to 146,000 students. In total, 1.8 million Pennsylvania K-12 students will be able to take advantage of the program and receive free meals. 
According to Feeding America, one in every eight children in the state faces hunger. And of all the households in the state that receive Supplemental Nutrition Assistance Program benefits, 33.9% of them have children. 
Some GOP lawmakers have pushed back on the idea of including funding for free school breakfast in the state budget. In a March op-ed, Senate Appropriations Committee Chair Scott Martin questioned whether the state should be the one to fund the program since it was previously handled by the federal government. 
"Programs like Supplemental Nutrition Assistance Program enhancements and universal school breakfasts were funded entirely by the federal government during the pandemic," Martin wrote. "If the Biden administration believes that these initiatives should be funded going forward, then it has the responsibility to provide the money to do so. But the elimination of this funding is a clear signal that the administration feels the programs are no longer necessary."
In response to a tweet from Shapiro promoting the concept, Republican state Rep. Dawn Keefer, who chairs the Pennsylvania Freedom Caucus, suggested that the universal school breakfast program turns the state's "education system into another welfare program."
In his visit to Pittsburgh, Shapiro also touched on his decision to veto $100 million in funding for a private school scholarship program that he supports, saying that he needed to veto the funding to move the budget through the politically divided General Assembly. 
Jason Gottesman, a spokesperson for the House Republican Caucus, criticized Shapiro for the line-item veto, as Penn Hills Elementary School students would have been eligible for the scholarship program that Shapiro vetoed. 
"Today's event, held at a failing school, is nothing but a reminder of the biggest missed opportunity in this budget: the failure to transform our education system so that it will truly be a child-first, family-focused experience," Gottesman said. 
"Instead of showing up at this school to celebrate more spending, Gov. Shapiro should have been there to deliver the hope he promised in his campaign – that students and families will not be held captive to schools that by all reasonable measures are failing," Gottesman added. 
Shapiro reiterated his support for the private school voucher program, known as the Pennsylvania Award for Student Success, or PASS, program, and said he's hopeful that lawmakers in the state House and state Senate will return in the fall to work on that and other issues. 
"It's certainly a concept I support," Shapiro said. "I think it's important that we fully fund our schools, and that we give children who are struggling and in difficult situations more opportunity to learn.
"To be sure," he added, "there is some unfinished business, but I am committed to working together with people from both sides of the aisle to do right by our children in this next budget. Today? Well, today is a day to celebrate our collective progress."