Winners & Losers
This week's biggest Winners & Losers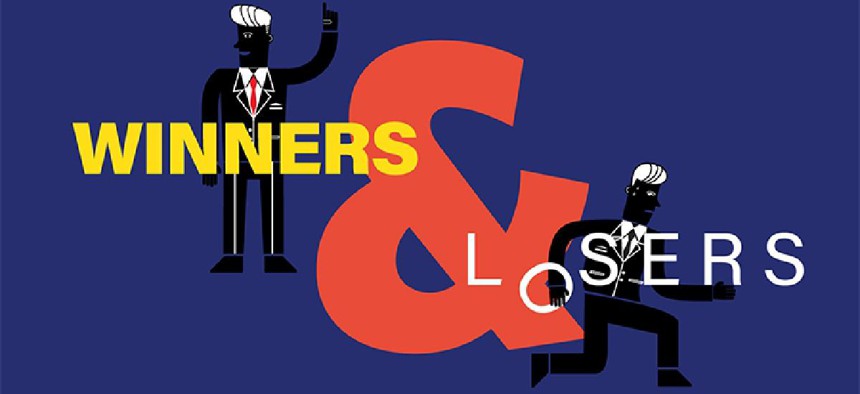 The City of Brotherly Love seemed to be the center of attention this week as the world dealt with the aftermath of the slap. Philadelphia natives Will Smith and Questlove made headlines after winning Oscars this past weekend, but everyone's eyes and ears were on the Fresh Prince after he waltzed on stage and smacked Chris Rock in the middle of the 94th Academy Awards for telling a joke (probably in poor taste) about Jada Pinkett Smith. Like Smith, this week's edition of Winners & Losers has some first-time honorees and some who'd probably like to say "keep my name out of your f*cking list!"
Scroll down for more of this week's winners and losers!
WINNERS:
Bill McSwain -
McSwain is pulling a McSwitch on us, going from loser to winner in a matter of a week. Just days after he was part of the group of gubernatorial candidates being blasted for setting strict debate rules, the former U.S. attorney saw his campaign get a boost. The Republican candidate for governor picked up two major endorsements this week, from York County Republican Chair Jeff Piccola and former U.S. Senate candidate Sean Parnell, as he tries to set himself apart in the crowded GOP field.
Frank Snyder -
At the Pennsylvania AFL-CIO's state federation this week, Frank Snyder (formerly the union's secretary-treasurer) was elected the organization's next president, succeeding Rick Bloomingdale, who announced his retirement earlier this month. Snyder and his running mate, Angela Ferritto, ran unopposed, and their election kicks off a new chapter in Pennsylvania labor.
Keith Gillespie -
State Rep. Keith Gillespie is spearheading an effort to make state legislative expenses available to the public – a move that is already garnering support from both sides of the aisle. Gillespie's bill requires the chief clerk in both the state House and state Senate to post a list of legislative expenses each quarter on a publicly available website. More transparency is always a good thing and Gillespie deserves credit for leading the charge.
LOSERS:
E. David Christine Jr. -
The fallout from the police shooting of Christian Hall in 2020 continues in the Pocono region. The parents of Hall, a Chinese American teenager who was shot by state troopers while holding a pellet gun with his hands above his head, have filed a federal lawsuit against the state police and Monroe County District Attorney E. David Christine Jr. for trying to "thwart public oversight." The lawsuit alleged troopers used excessive force and the district attorney misled the public and refused to release full video of the incident.
Robert Schneiderman -
Robert Schneiderman, a Langhorne man, pleaded guilty this week to conspiracy to commit health care fraud for a pharmacy compounded medication scheme he was running through a New Jersey pharmacy. Schneiderman allegedly ran a fraud and kickback scheme in which the pharmacy created prescription pads identifying drugs that yielded exorbitant reimbursements. He should've known people would start to catch on after the 50 first crates.
West Chester Area School Board Democrats -
Democrats on the West Chester Area School District Board of Directors had a rough week. A Chester County judge on Tuesday ordered five Democratic members to be removed from their elected roles after a parent petitioned the court over the members' votes on a school mask mandate in 2021. You know what they say, if you can't beat 'em, get 'em removed from office over one vote because that's how democracy works. Or something like that.