Opinion
Some solutions for a better, safer Philadelphia
Philadelphia mayoral hopeful Allan Domb vows to make public safety his top priority.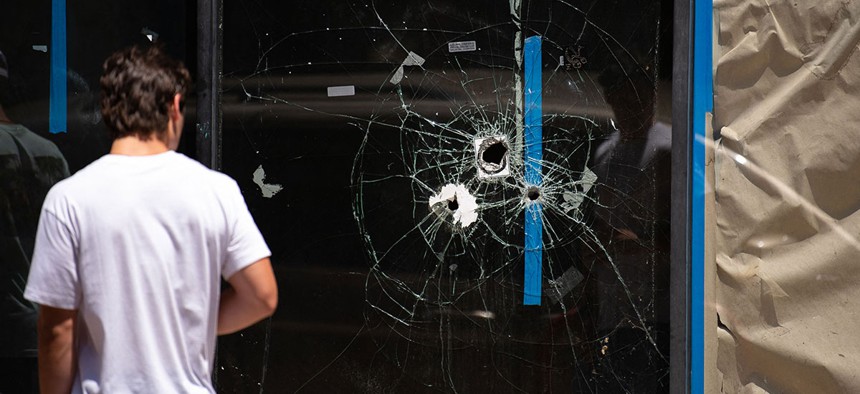 I have lived my entire adult life in the City of Philadelphia, and I truly believe our city is the greatest in the nation. Our diverse neighborhoods, incredible institutions of higher education and small businesses make us who we are – a city of fighters and believers. But our city is facing tremendous challenges right now that threaten our futures – the greatest of which is public safety.
When Philadelphians don't feel safe, nothing else matters. And this is the reality families sitting around their table these days are facing. People don't feel safe on our streets. Businesses are closing early or deciding to shutter their doors altogether because they're worried for their safety and the safety of their customers. Families are leaving at devastating rates. It's not right, and it's not the future Philadelphia's children need and deserve.
That's why public safety is my number one priority. Our current administration has failed to deliver and we need leaders who will stand up for our future and who will never give up on the fight for a better, safer tomorrow.
I grew up with my parents and brother in a small, cramped apartment. When I was 12 years old, my mother complained of no hot water for two weeks. Then the landlord evicted us and the only other two Jewish families in the building. I learned the value of hard work early on, and from a young age, I had big dreams for my future. I worked multiple jobs to make ends meet, rushing from high school wrestling practice to make my evening shift as a janitor. I also served as a paperboy, dishwasher and short-order cook. I worked my way through college and took night classes. At age 21, I moved to Philadelphia with little in my pockets but big plans. Philadelphia took a chance on me, and I worked tirelessly to establish the life my younger self dreamed of.
In the city that I love and proudly call home, I started and grew a successful business. I entered public service because I felt driven to give back and to help ensure others have access to the jobs, education and the opportunities they need to succeed. 
This city has given me everything, but unfortunately, many Philadelphians lack access to all the opportunities it has to offer. Philadelphia is the poorest big city in the country with the highest rate of children in poverty. We are staring down the highest murder rate in our history. But while the challenges we face are great, so, too, are the opportunities we have to be the city our people deserve and that we are capable of being.
Our current administration has failed to deliver and we need leaders who will stand up for our future and who will never give up on the fight for a better, safer tomorrow.
- Allan Domb
Philadelphia desperately needs new leadership. We need a leader who lives, sleeps and breathes our city – someone who recognizes our reality, and has the long-term vision to deliver a future that lives up to its promise to all. We don't need rhetoric; we need commonsense, practical solutions. We need a problem solver. We need a leader who wants the job, and who will never stop fighting to get the job done.
I am proud of the meaningful change I worked to secure for Philadelphians during my time on City Council, tackling some of the biggest issues plaguing our city. I reduced the wage tax and business taxes to the lowest in decades. I worked tirelessly to root out tens of millions of dollars in wasteful government spending that could be better used to combat crime or invest in education. I fought to keep our local economy afloat during the pandemic through expanded outdoor dining. And I invested in our children, devoting much needed resources –  and donating my Council salary – to support education initiatives, such as giving students the tools they need to manage their finances, start a business and more. Nevertheless, there is more work to be done.
Philadelphia is a city of fighters and believers, and I am heartbroken at the reality we face today. Children are being left behind by a system that doesn't provide the necessary tools for teachers to teach and for our students to thrive. Businesses are fighting to make payroll and keep their doors open. Philadelphians struggle to find affordable, accessible housing, instead feeling the weight of the rising cost of living while quality of life deteriorates. We need leadership with a record of bringing people together and delivering real solutions to tackle our toughest challenges.
Philadelphians deserve a better, safer tomorrow with greater opportunities than they have today – and it's on us to create that future. Our work starts with supporting Democratic candidates this November that share a vision for our future and have a record of producing results. It continues on our streets and in our businesses, and it also means looking to 2023, a year that will have undeniable implications on our city's future for generations to come. It means putting in the work to deliver the tomorrow we all deserve.
I learned the value of hard work in that kitchen scrubbing dishes; in that office building mopping floors – and it's something I have taken with me throughout my life, throughout the growth of my business and my years in public service. It is my love for our city – and every community in it – that first inspired me to get into public service. It's this same commitment to Philadelphians, dedication to our city and passion to tirelessly fight for a better, safer tomorrow that has now led me to seriously consider a run for mayor. 
Today, our city is at a crossroads. We can't afford not to act, and just as Philadelphians will never give up on our city, neither will I. It's time to move forward. Now, more than ever, we need to enact commonsense, practical and fiscally responsible solutions to improve the lives of all Philadelphians, prioritizing public safety in a meaningful way and delivering much needed leadership in times of crisis. Together, I know we can do it.
Allan Domb is a community and business leader who formerly served as a member of Philadelphia City Council. He is currently exploring a run for mayor.