News & Politics
The crisis with Crisis Pregnancy Centers in Pennsylvania
'We must take measures to safeguard abortion access and reproductive health services at the statewide level.'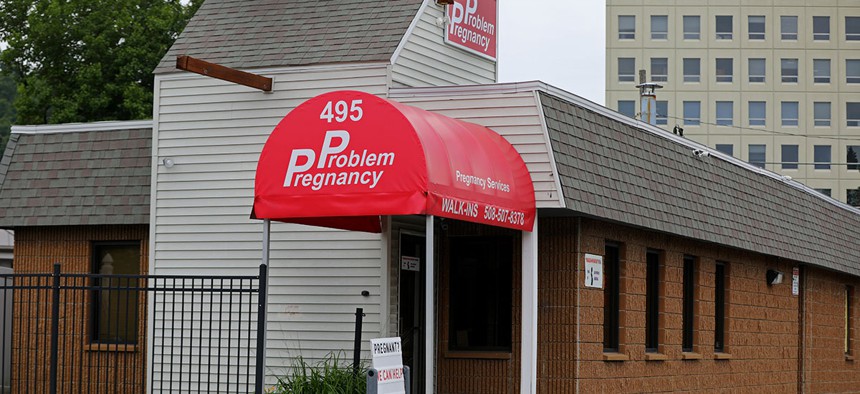 Imagine you're desperately trying to access an abortion. You search for resources that may be available to you locally, and see an organization by the name of the "Women's Help Center" – a so-called reproductive "resource center" right in your neighborhood. You make the first available appointment, only to find when you arrive that the Women's Help Center doesn't offer any "resources'' at all. They're a crisis pregnancy center, part of a nationwide network of organizations that misleadingly represent themselves as legitimate medical practices to people seeking abortion care. In Pennsylvania, they currently outnumber abortion providers by a margin of 9:1. 
Let's be clear about what crisis pregnancy centers are: They exist for the singular purpose of preventing women from getting abortions. And for too long, they've been allowed to flourish in our state with ample assistance from the government. Real Alternatives, Pennsylvania's state-funded crisis pregnancy center network, has received more than $100 million in public money since the 1990s, according to the Women's Law Project.
Just as we need to codify Roe v. Wade at the state level to ensure that Pennsylvanians have access to reproductive health care regardless of what happens in Washington D.C., we need to do more to root out crisis pregnancy centers for good.
Currently, there's legislation on the books to ban state funding for crisis pregnancy centers across the state. This is direly needed, and must be passed immediately.
To take additional, necessary measures against CPCs, I would introduce legislation in Harrisburg that would prohibit crisis pregnancy centers from using false or misleading language about the services provided by these centers. Under the proposed legislation, modeled off existing law in Connecticut, such advertising would be subject to enforcement action.
For too long, we've allowed our representatives in Harrisburg to call themselves pro-choice in the absence of real advocacy and leadership. In November, it's time for that to change. We can and must take all necessary measures to safeguard abortion access and reproductive health services at the statewide level here in Pennsylvania. There is too much at stake to wait.
Melissa Cerrato is the Democratic candidate for House District 151. She has raised her family in Horsham for the last decade. Her husband, John, is a member of the UA Local 420 and her four daughters go to public schools. She has been everything from a nanny to an Uber driver to a housekeeper to provide for her family. She is a working class mom who understands what it means to worry about the next paycheck, but also what it means to build herself into a person she is proud to be.