News & Politics
Philadelphia mayoral candidates: Listen to the city's Muslim community
It's a solid voting bloc capable of wielding great influence this election cycle.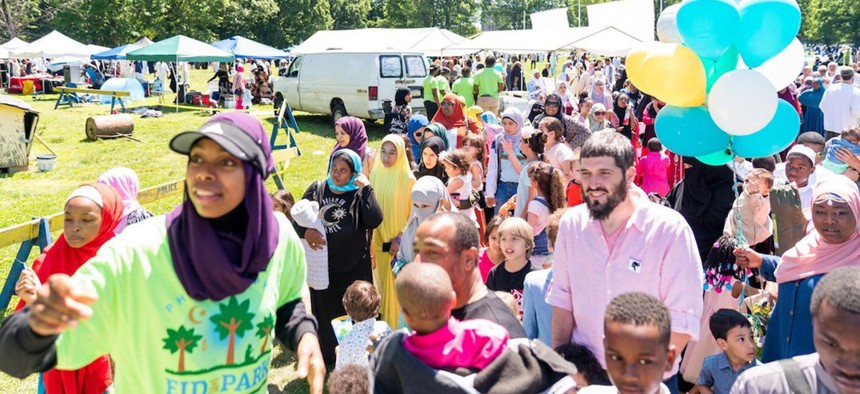 The Philadelphia mayoral election is fast approaching – and it is critical that Muslims in Philadelphia have their voices heard.
Philadelphia has an estimated 300,000 Muslims – a solid voting bloc capable of wielding enormous influence in this election. The community isn't just sizable – it's also growing in strength and representation. Philadelphia's most powerful union official, Ryan Boyer, the Majority Leader of City Council, Curtis Jones, Jr., Sheriff Rochelle Bilal, and City Commissioner Omar Sabir are all Muslims – to name just a few.
The voices of Muslims matter in this – and in every – election.
– Salima Suswell
The strength of the community is supported by many hardworking organizations. Groups like Emgage, Muslim League of Voters, CAIR Philadelphia, and Muslims 4 Humanity are doing the necessary work of engaging and educating Muslim voters. Their work has paid off: they have a proven track record of increasing Muslim voter turnout. Other faith-based voter support organizations like POWER recognize the the value of the Muslim vote and have included outreach to Muslim populations in their campaigns.
The power of this community is not limited to the city. In the 2020 presidential election, Philadelphia was key to swing Pennsylvania to President Joe Biden – and a crucial component was the Black Muslim vote. In the 2022 midterms, with our support, John Fetterman prevailed over Dr. Mehmet Oz in the race for one of the U.S. Senate seats for Pennsylvania. The Muslim population in the U.S. continues to grow, with some predicting that Islam will be the second-largest religion in the country by 2040.
The voices of Muslims matter in this – and in every – election. I write today to affirm the power in the Muslim community: we have the ability to decide winners of elections, and it is time to ensure that we are choosing candidates that have our interests at heart.
I urge every Muslim in Philadelphia to get involved ahead of the May 16, 2023, election. Research the mayoral candidates, contact them, and tell them what you want to see in their policy stances. Attend town halls and candidate forums. Talk to your friends, loved ones, and neighbors, and ensure that they are registered to vote. Make plans to get to the voting booth on Election Day or send in your mail-in ballot ahead of time. Stay tuned to the work of Emgage's Pennsylvania chapter, which will be providing voter resources for the community throughout the election season. Remember: your vote is crucially important in the civic process.
To the candidates, I say: Be sure to address this group's interests – those of justice for all, fair and reasonable accommodation in all areas of life, and peace amongst neighbors. 
Make sure you are paying attention to the Philadelphia Muslim community. They may just determine if you will be elected.
Salima Suswell is Emgage's National Senior Advisor and Emgage Pennsylvania's Executive Director. She is regionally and nationally recognized as an expert in advocacy campaigns and policy initiatives, particularly for affairs pertaining to Pennsylvanian Muslims and communities of color, women, and faith.