Interviews & Profiles
'A one-stop shop for home repairs:' Nikil Saval talks up Dems' $125M new program
Saval's Whole-Home Repairs Program was included in this year's state budget.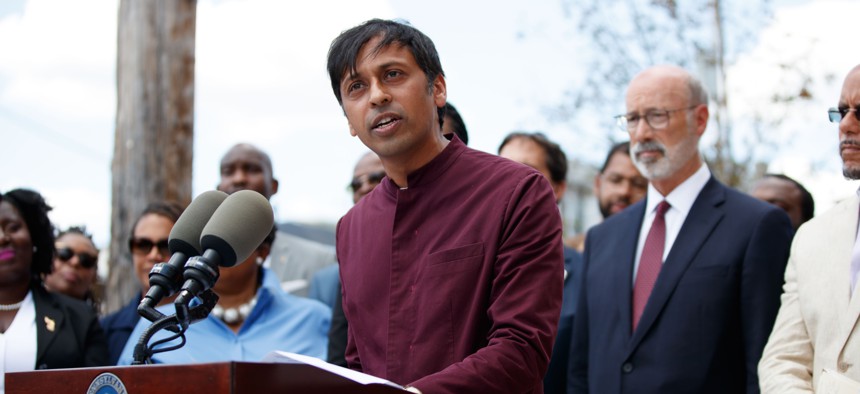 One of the biggest victories for both Democrats and Republicans in this year's state budget was the inclusion of a $125 million home repair program – better known as the Whole-Home Repair Program – that will provide grants of up to $50,000 for people to repair, improve and weatherize their homes. 
One of the chief architects of the idea, state Sen. Nikil Saval, was able to help shepherd the bill through the legislative process in his first term, despite being a self-described Democratic socialist lawmaker in a Republican-controlled legislature. Saval recently spoke with City & State about the program, how it came to fruition and his plans for building consensus despite division in politics. 
This conversation has been edited for length and clarity.  
You helped secure $125 million for the Whole Home Repairs Program in this year's state budget. Before we get into how this got across the finish line, could you walk me through what this program will mean for everyday Pennsylvanians?
It basically is a one-stop shop for home repairs and weatherization and all these kinds of existing home repair programs, but (it) also creates job training. If you are a homeowner, or a tenant in a smaller building, or if you're a small landlord who has a small number of apartments, and you have a need for critical repairs – and critical repairs can be (that) your roof leaks – you have outdated electrical systems or appliances that don't function that well, you have a disability or you have changing physical needs and you need to adapt your home. 
If you have all of these things – or versions of these things apply to you and you meet the income requirements – you will be able to apply for up to $50,000 to repair, update and adapt your home. That's one of the key things. 
The second thing is you will get help in navigating existing programs. A lot of people have trouble – they want to get their home weatherized, but they don't know how to do it, and they need to get their repairs made first before they get their home weatherized to reduce their utility bills. This will allocate money for support staff to help people access that assistance they need and the order they need it. 
Finally, it'll help people get trained in the workforce. If you're interested in entering home repair industries or getting involved in the industry that we're supporting through this money, this would help with stipends and help fund training programs for home repair needs. It is repairs, it is support, and it is jobs. So that's what it is – what it's meant to do. 
In terms of how people can go about taking advantage of these benefits and these expanded programs – is it simply a matter of applying through the state?
It's been adopted in the budget, but it hasn't been implemented. We're still in the implementation phase. But once that implementation phase is complete, in a given county, there will be a particular entity or agency that is in charge. Assuming that the county is interested in participating, an entity would be in charge of administering the program so you would apply to your designated county entity.
You're a first-term state senator who is a self-described Democratic socialist. Given your short time in Harrisburg, coupled with your ideological leaning, how were you able to build bipartisan consensus around this idea – and especially in such a hyper-polarized political environment?
We did a number of different things. We started with a policy that we we had an intuition was important across the commonwealth, not just in our in (the) district I represent, not just the city I that I represent, in part, but something that is needed across geographies and across political leanings – that is the need for critical repairs to help stabilize homes. We held a number of hearings to investigate this. We did this in Democratic policy hearings. We did this, eventually, through bipartisan hearings in the Urban Affairs Committee. And we would hear from residents in every county about their struggles to stay housed. 
Underlying each of these experiences was the fact that renters and homeowners were physically unsafe in their homes, and this was again across political boundaries and across kinds of geography – rural, urban, suburban. So, that was a kind of stable basis – we had testimony for people across the commonwealth. 
We also had testimony from people who do existing home repair work or energy-efficiency work, who pointed to the kinds of gaps in existing programs that made it difficult for them to actually fully repair (their) homes. Of course, we spoke to our fellow legislators about these same needs and found that they had these, again, across political boundaries – that they had these issues in their districts, as well. 
We eventually built to a point where – through residents, through organizations – we were able to have a week of action across Pennsylvania – Philadelphia, Reading, Allentown, Lancaster – these are red and blue districts where people came and testified and spoke to the way that this would help them in their communities and how transformative this policy would be.That, I think, brought it to the attention of more and more people, including legislators – Republican legislators, more conservative, just across the political spectrum. It brought it to the point where it felt like this would satisfy real material needs for constituents across the board. 
I remember reading something where you stressed the importance of developing rural and urban coalitions. Could you speak to the importance of using that as a tool to advance legislation and where your focus on that method came from?
I represent a particular district and serve the constituents in my district. I also am a legislator for a state. I'm a legislator for a political entity that is urban and rural. Not only do these things just happen to coexist, they depend upon each other – they're related to each other. Cities and the countryside are connected through agriculture, through climate, through transportation. 
We have a very diverse commonwealth in many respects, but in the ways that people experience hardships, they can often cut across urban-rural lines. Poverty and housing insecurity is one of those key issues where you see it. 
You got this proposal enshrined in state law. What are some of the other big priorities that you want to focus on looking in the future?
Frankly, I would say that we are really intent on ensuring that, as we move into the implementation phase, that this is implemented as fully and as efficiently as possible so that we can get the money, such as it exists, to people in need.
I think that is as important as any kind of legislative task we can devote ourselves to – is ensuring that this program works and rolls out and everyone knows about it, and that it's funded again. That is our main goal.