Labor
A Q&A with John J. Dougherty
The longtime labor leader and controversial kingmaker reflects on what it took to get to the top – and where he goes from here.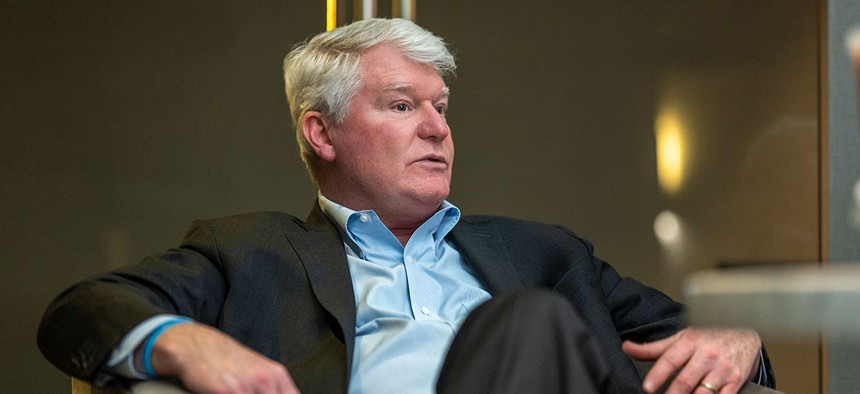 For decades, no political conversation or power move could be considered truly legitimate, viable or worthwhile unless it had the endorsement of one John J. Dougherty. As the longtime business manager of IBEW Local 98, "Johnny Doc" became synonymous with Philadelphia's building trades and the election of several Democratic lawmakers around the commonwealth. Now, as the self-made kingmaker has faced legal troubles over the past three years, Dougherty finds himself on the outside looking in: He resigned as business manager shortly after his November 2021 conviction on charges of conspiracy and wire fraud. Sitting on the sidelines during one of the most consequential election seasons in recent memory, Dougherty still has a lot to say even as he spends most of his time caring for his wife, Cecelia, who has been dealing with a serious medical condition for years. 
To find out what he has been up to, what his future plans are, and what he thinks about the current political climate, City & State sat down for an exclusive one-on-one interview. Due to pending litigation, none of his legal issues were discussed.
This interview has been condensed and edited for length and clarity.
How does someone get into labor leadership and work their way up to the top?
You do your job. If you're effective at your job, people see that and say "OK." Not every labor leader gets asked to be on a committee. I didn't go looking for too many of these appointments that came at me. For example, when I went to the (Philadelphia) Redevelopment Authority, I only took it because I could be chairman. The minute I had Mayor (John Street's) blessing, I pursued it because he had his neighborhood initiative and that was a market in which the unions – primarily the Philadelphia Building Trades – didn't have too much control. And when I say control, I mean not having too much interest in and relationships with it. It was a cash-driven business. When I got there, I helped facilitate a lot of development and I made sure there was the first legitimate minority contractor inclusion initiative around. 
You have a long list of achievements from your career. What's one that stands out to you the most?
Taking care of my wife. I don't talk about it. It's been very challenging, very complicated and very expensive. It's been a long haul. The last five years have been the most difficult, but it's what you're supposed to do. It's what I do. 
The union stuff … I always looked at it as a people business. I tried to be a people person. I wanted to make our industry a brand and Local 98 a brand. When you say 98 now, what do people think? It's like Coca-Cola … My goal was to make it a brand and transition the building trades into a corporation-type operation, and I was pretty comfortable at the end of it with what I did. 
My whole world, for years, has always revolved around my wife.
- John J. Dougherty
What does it mean to have strong union leadership in a city like Philadelphia and across the state?
It's really important. You need strong leadership. Building trades in Philadelphia – almost every single labor leader has a large group of people – chunks of real estate and funds that they have to represent. I had a lot of people who were kings of their own castle. For me, I treated them as if it were an umbrella organization and everyone had a role. I was more of a cheerleader than a business manager. I ran around the city letting people know what each individual union did well. So, when you have 20 or 25 active unions, it's easy. 
Who in labor is seeking your counsel now? Is there anyone in leadership that's caught your eye as a rising star?
When I started, five or six of the guys became international presidents or officers. The group of guys we have today like Jimmy Snell, he's on the zoning board, he's on all types of committees. He's a young guy and just replaced a man by the name of Anthony Gallagher who was a superstar. (Gallagher) already went down and is the number two or three guy nationally for the (plumbers and steamfitters) United Association. Jimmy Snell was his partner and was extremely close. Snell is someone who probably has as much ability to go nationally as anyone we have in Philly. He can go to D.C., Chicago, Harrisburg – all these places where big business happens – and represent us well. 
And Ryan Boyer. The problem that (Boyer's) going to have is because he's articulate, he has the ability to raise funds, and he comes from this background, Boyer will always be on the tip of someone's tongue for the next move. I would not be surprised if he wound up in the halls of Congress someday. 
Can IBEW continue to be the political force you made it or will its influence wane without you? 
I left them enough money that they just have to take the learning curve and make it work. I was in the process of making changes when I left. The core principle of the IBEW is still intact. Mark (Lynch) spent two years with me during COVID. I thought he did a really nice job as our safety director and had a real interest. 
If I had to pick someone for tomorrow, it may not have been (Lynch). But when I was going through the big picture – three, four, five, even 10 years from now – he's 35 years old, a great dad and has a great family. He's an electrician at heart and is a better electrician than I was. 
My goal was to make it a brand and transition the building trades into a corporation-type operation, and I was pretty comfortable at the end of it with what I did.
- John J. Dougherty
What do you miss most about the day-to-day operations of Local 98?
I still get a tremendous amount of calls and emails … I've had about 20 members letting me know about the weekend because there were parties. And then I get the normal, "Call me later, just checking in on Cecilia."
People are good. The people in the labor movement and in the Philadelphia Building Trades are good. They were great to me and appreciate what I did during my time. 
There has been a resurgence in unionizing – Amazon, coffee shops, some media organizations – do you see a resurgence of unionizing continuing or is this a blip?
Before I had my little hiccup, the next avenue for me was going after them. I had GoPuff people come to me wanting representation and Amazon people come to me … I always try to stay in my own lane so I would call either the Teamsters or whoever else and give them the heads-up that these people have an interest. My goal was to put in a new organizing field to go after them. 
How does that benefit construction? When the world went wireless, I didn't get upset. I went after all the wireless companies and did well. I put strong successorship language in these contracts and put exclusivity language in the contracts. 
My advice to most people includes two things: helping them get the best product for the best price and laying out where they should be in three years. And that part's more difficult.
You had a lot to do with getting Jim Kenney elected mayor. He's faced some public criticism lately, but how do you think he's doing at the job? 
Every big-city mayor has the same crime issue. George Floyd affected every big town. I think (Kenney) handled it as well as any other big-city mayor. The crime here is a combination of multiple things … The people who were expecting something else from Kenney and (District Attorney) Larry Krasner didn't read their resumes when they voted for them. They are who they are. 
If you take a look, the Navy Yard is booming. Drexel and all the colleges are booming and the waterfront for the first time has a concise program. We have as many cranes and union jobs under Kenney as we had under anyone. If you ranked mayors for union development, it would probably be Kenney, Street and Rendell in the top three. 
After the Fourth of July, of course, Allan Domb, Helen Gym and everyone else is going to be saying 'I want to be mayor." So did (Kenney), that's why he ran. He got a lot of votes and still polls well …  Every time we did a poll, he polled really well. He was never under 48%. He polls extremely high with African Americans and unbelievably off the charts with senior African Americans. 
What kind of qualities do you look for in the next mayor? Are there any major talking points that you think will dominate the primary? 
The next person is going to have their hands full. They have to be able to capitalize on the Democratic leadership, getting their share of the infrastructure money and getting things done right away. It's going to be a pretty intense primary. 
There were some questions whether (Domb) would pull the trigger. With him resigning that sets the tone.
Any favorites at this point?
In some of the numbers I saw early on, Jeff Brown polled a little better than I expected and Helen Gym seemed to be the obvious frontrunner. When almost all Council members want to run, they're all elected officials and that seems to be a negative. People are not looking for experience, they're looking for fresh faces. The early polls I looked at were convoluted, but Gym, Brown and Domb were a few points ahead of the Rhynharts, Parkers and them. 
I think people will be focusing on the four Council seats … I think that this next Council could be the most important Council in the history of Philadelphia. I think that you can't give away everything. It's great to give free college and health care to everybody but somebody's going to pay for that. You have to take a look at inflation, interest rates, guns, and crime. You're going to have to make the city attractive. 
How have you been spending your summer? Do you have any future plans you're willing to share?
My whole world, for years, has always revolved around my wife … From 10 p.m. to 1:30 a.m. every night, I put four loads of wash in, I fold them and I put them away. I clean three bathrooms. I do a load of dishes every night and put them away. That's what a retired labor leader does.