Entertainment
Thanksgiving may be over, but we're still having fun with the holiday
Harvesting, stuffing, curing … We imagine what Pennsylvania pols are grateful for this season.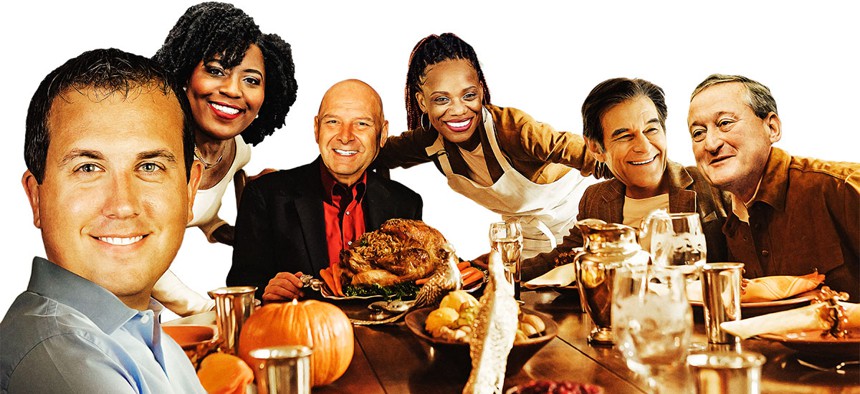 You may have just finished polishing off your leftovers, but in our book, Thanksgiving doesn't get enough love, so we're going to continue the season of giving thanks right here. 
November marked a landmark month for Pennsylvania politics. We elected a new governor and U.S. senator, women ascended to historic heights at the state and federal levels, the power balance in the General Assembly shifted and other political power players are preparing to leave office after lengthy careers.
So, what exactly is everyone thankful for this year? The company of family, a bountiful feast – and a few other things were imagined … 
Doug Mastriano
The block feature
Mastriano is likely happy he has a block feature on social media right now. While the last thing he needs is another echo chamber to share memes and spout new conspiracy theories, he can at least find some peace and quiet from all the trolls by blocking the people hounding his campaign accounts over his double-digit loss. 
Dr. Mehmet Oz
Home sweet home(s)
Oz conceded quickly and graciously in the state's U.S. Senate race – a decision that was probably made easier knowing he has several luxury homes to rest his head. Does he go to Palm Beach? His old stomping grounds in New Jersey? There's always Pennsylvania, but something tells us he won't stick around for long.
Joanna McClinton
Fox News Decision Desk
Now, hear us out – while, on its face, this seems … unlikely, it makes sense. The conservative cable channel's Arnon Mishkin bucked his co-workers, bosses and the entire Republican universe on Election Day 2020 by calling Arizona for Joe Biden over Donald Trump before any other outlet. What seemed like getting way too far out over his skis proved instead to be on the money. By claiming that Democrats had retaken the state House majority days before the chamber's final races had been determined, McClinton was channeling that same DGAF energy – and got a similar result.
Jim Kenney
His calendar 
Would you look at that! The calendar year is almost over already, bringing Kenney one step closer to the end of his term. Kenney is likely clinging to his trusty office calendar right now, which gives him more hope each month as he turns another page. We just want to know – does Kenney have his last day in office circled? It's no secret he's counting down the days. 
Seth Grove
Mail-in ballots
As Pennsylvanians waited almost two weeks for the final vote tallies of the midterm election, the man more responsible for the tardy results than anyone else – Grove, chair of the House State Government Committee – made sure that by denying county commissioners the ability to pre-canvass mail-in ballots, such delays would be inevitable. By doing so, he guaranteed that questions of election integrity will keep him in the spotlight for as long as he continues to prevent pre-canvassing.
Summer Lee
Mike Doyles
Lee ran a history-making campaign that ended up with her becoming the first Black woman elected to Congress in Pennsylvania. Her success began and ended with Mike Doyle: When U.S. Rep. Mike Doyle, the dean of the state's congressional delegation, announced his retirement, that opened the door for Lee's candidacy. And for her to walk through that door, she needed to defeat a Republican opponent – also named Mike Doyle. In this election cycle, no one can better answer "What's in a name" than Rep.-elect Lee.