Satire/Odd News
What's in and out this year
Here's what's politically hot – and not – in 2023.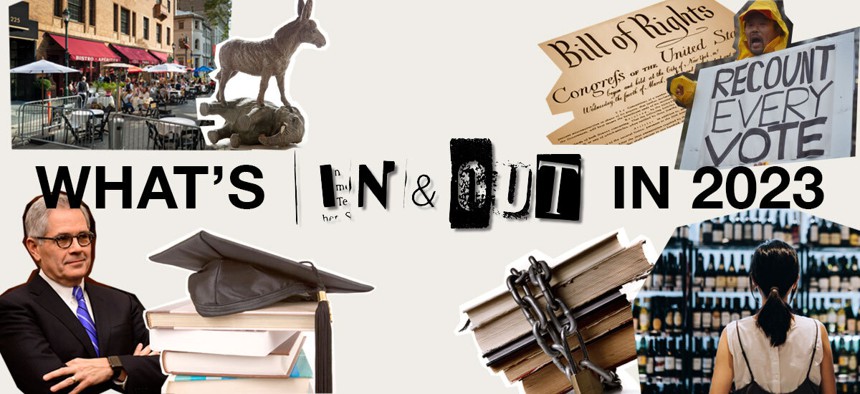 It's a new year – the perfect time to let you know what political trends to expect in 2023 and what's being left behind. You could agree or disagree with a few of our observations, but we're just calling 'em like we see 'em.
OUT

IN

Claiming the state House is yours

Democrats made a bold move late last year when they claimed control of the state House. Three vacancies and one sticky Speaker situation later, Harrisburg state representatives await February's special elections for a true majority.

Constitutional amendments

In its attempt to create a two-year lookback window for lawsuits involving childhood sex abuse, the Senate passed a constitutional amendment package tying the victim's legal window to voter ID and legislative authority measures.

Impeaching a duly elected official

Turns out it's not so easy to impeach someone at the local level when you're in the state capital. Philly DA Larry Krasner's impeachment trial has been postponed and GOP lawmakers are appealing a Commonwealth Court questioning the legality of it.

2020 recounts

Under pressure from conspiracy theorists and election deniers, Lycoming County officials recently completed a hand recount of the 2020 presidential election. The result? Seven fewer votes for former President Donald Trump.

Four-year degrees

College isn't for everyone. State schools may soon offer a technical school option for students interested in K-12 education – and Gov. Josh Shapiro made his first executive order removing the four-year degree requirement for state employees.

Book bans

School board meetings are all the rage, sometimes literally. Central Bucks School District teachers have now joined student and parent protests after the district's Republican-led school board has sought to pass policies some say are transphobic.

Streeteries

Even a pandemic silver lining can't last long. Philadelphia's streeteries are dwindling as few restaurants participated in the city's convoluted application process to keep their outdoor dining spaces open. 

Bump in alcohol prices 

Inflation strikes again. The PLCB raised prices on more than 3,500 of its products by 4%, giving just 10 days notice on the price hike, which took effect earlier this year. Talk about bottle shock!