Capitol Beat
Pennsylvania, flush with cash, could see surplus go down the drain
Financial experts say COVID relief funds should be reserved for one-time uses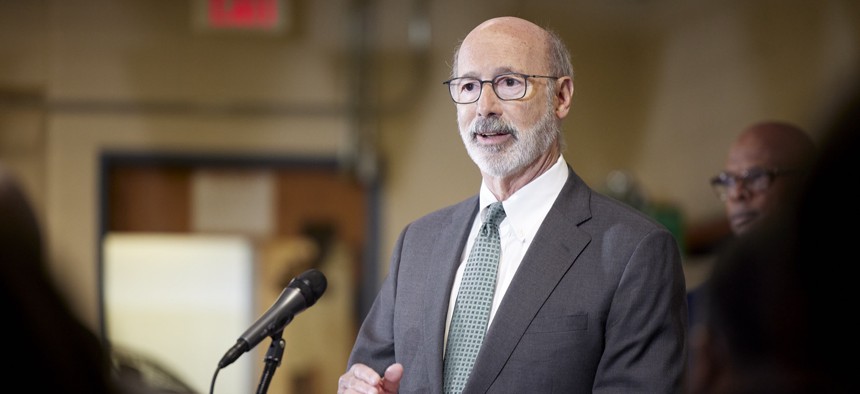 Despite record inflation and economic challenges posed by COVID-19, Pennsylvania is in a good financial position thanks to higher than anticipated revenue collections and a nest egg of federal coronavirus dollars – and Gov. Tom Wolf wants you to know it. 
With Wolf's time in office nearing a close, his office has routinely touted the state's revenue collections, which have exceeded expectations throughout 2022. In a recent interview with City & State, Wolf said he'll be the first governor since Dick Thornburgh in 1987 to pass on a budget surplus to his successor, adding that the state will still have enough money to boost funding for education before he leaves office. 
While Republicans will be quick to argue that they have fended off efforts by Wolf to raise taxes, Wolf took credit for helping turn around the state's finances, noting that the state has put money into its Rainy Day Fund and enacting increases in education funding during his time in office. 
"The cupboard was bare. We weren't paying our bills and we had taken money out of things that the state should never have taken money out of, like education. We're not doing that anymore, and we can afford to do even more than we're doing," Wolf said. 
According to the Pennsylvania Treasury, the state has over $2.8 billion in its Budget Stabilization Reserve Fund, more commonly known as the Rainy Day Fund. Wolf said he has no plans to transfer any money out of the fund. 
Wolf's administration announced in early May that the state's year-to-date General Fund collections hit $40.7 billion, which was $4.5 billion above estimates. And Wolf's administration said that if his proposed budget was approved in its entirety, the state would still have a $3.3 billion budget surplus. 
Republicans have been reluctant to acquiesce to Wolf's budgetary requests. In his 2022 executive budget proposal, Wolf is asking state lawmakers for a $1.25 billion increase in basic education funding, as well as $300 million for the state's Level Up initiative. Wolf said the budgetary reserves could pay for those increases and more. 
"That's really an important message because I don't want to raise taxes, I want to reduce taxes. I want to help people," the governor added. "We can do that by actually investing and making sure that our schools are doing well, that they have the opportunities, that their roads are not creating all kinds of problems for the suspension system in their car. We can do all those things because we have the financial wherewithal to do that and that is really important."
But as consumers grapple with higher prices due to inflation, Republicans, who control the General Assembly, think the state should take a cautious approach to spending surplus funds and federal relief money. 
House Republican Caucus spokesperson Jason Gottesman said earlier this month that the U.S. economy's first-quarter contraction underscores "the need to use caution when putting together a fiscally responsible spending plan."
"The benefits of any surplus dollars and remaining federal funds should be cautiously appropriated to mitigate against a looming economic downturn and related revenue shortfall, especially when the artificial means by which the federal government has propped up the economy are no longer in place," Gottesman said in a statement. "We are fiduciaries of taxpayer dollars and Pennsylvanians depend on us to use their money wisely and for their benefit."
A new report from The Volcker Alliance, a nonprofit founded by former Federal Reserve Board chairman Paul Volcker, found that states using federal relief dollars for recurring expenses, including Pennsylvania, "are at risk of encountering a so-called fiscal cliff once the cash runs out."
"In particular, the allocation of lump-sum payments for revenue replacement may imperil budgets when federal funding is exhausted," the report reads. 
According to the state's mid-year budget presentation from December 2021, the state has spent $4.2 billion of its $7.3 billion in state and local fiscal recovery funds. That includes a $3.8 billion transfer into the General Fund to support "government programs," according to the presentation. 
The vague nature of how that money is being spent irked Beverly Bunch, a professor at the University of Illinois Springfield's School of Public Management and Policy who wrote the report. 
"I think the main thing that caught our eye with Pennsylvania was a $3.8 billion transfer to the General Fund with no disclosure of how it's going to be used," Bunch said. "Part of trying to avoid a cliff is knowing what's being used for one-time projects such as capital, versus what is for recurring (expenses), and then you watch those recurring ones."
Bill Glasgall, the senior director of public finance at The Volcker Alliance, told City & State that Wolf isn't wrong when he paints a rosy picture of the commonwealth's expenses. 
"Sales taxes are strong. Gambling revenue is strong. There's a lot of cash and so the governor is absolutely right. But what's going to happen when what the Federal Reserve is doing now slows the economy and the federal funding runs out?"
The Volcker Alliance report highlighted a range of recommendations for state officials to consider, including developing plans to avoid fiscal cliffs, identifying other funding sources available when using COVID-19 funds for recurring expenses and improving transparency on how state and local relief funds are being used. 
If the state relies too heavily on federal relief funds for recurring expenses, it could result in the state facing a fiscal cliff and needing to figure out whether to cut programs or find new funding sources for them, Bunch noted. 
"The concern is that the programs would have to be cut back or new funding sources would have to be identified. The best-case scenario is that revenues keep going at the state level, and this is a moot point," Bunch said. "But if the coronavirus got worse, or if the economy tightens up and the revenues are down or decreased, that's the cliff – and we're trying to get state officials to avoid that cliff."