Campaigns & Elections
Independent voters make a case before state committee for inclusion in primary elections
Legislation to allow unaffiliated voters to participate in primary elections has gained more bipartisan support in Harrisburg.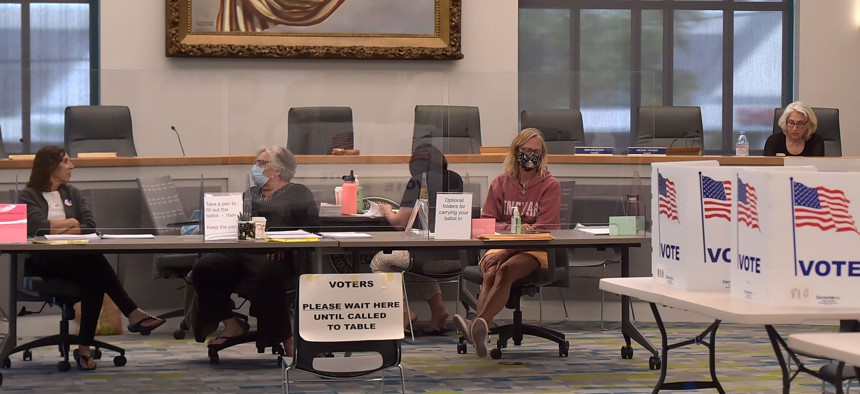 Amid all the focus on upcoming elections for governor and U.S. Senate, members of both parties are keeping an eye on how elections are run. One particular election reform that's garnered bipartisan support over the last few years is the concept of open primaries. 
The House State Government Committee held a public hearing Tuesday morning to examine open primary policies and state Rep. Chris Quinn's bill seeking to allow unaffiliated voters to participate in party primaries. 
"As Pennsylvania becomes more and more politically polarized, partisanship has become more relevant than ever in our politics. Primaries are the marquee elections that determine who represents us in Washington, Harrisburg and in our local communities," Quinn said.
There are an estimated 1.3 million registered voters in the commonwealth who are independent or unaffiliated. Quinn, a Republican from Delaware County, introduced House Bill 1369 last year to allow independent voters to participate in a party's primary election. And while it's certainly not the first time the General Assembly has given open primaries consideration, the committee's public hearing reveals a renewed interest in the policy. 
The commonwealth is one of just nine states to have closed primaries. State Sens. Dan Laughlin, a Republican from Erie County, and Maria Collett, a Democrat from Montgomery County, introduced similar proposals in the Senate. 
The bills would allow independent voters to choose to cast their primary votes on either Republican or Democrat ballots, but voters who are registered with either party will still be required to vote along party lines. A previous proposal, brought up by former state Sen. Joe Scarnati, passed through the Senate in 2019 by a 42-8 vote. 
Testifiers in favor of open primaries made the case that independent voters are being taxed for primary election operations, meanwhile being left out of the process. Moreover, they argued, many recent legislative elections have resulted in just one candidate running unopposed in November. 
"Almost 60% of Pennsylvania residents live in legislative districts where the outcome is decided in the primary, not in the general election," said John Opdycke, president of Open Primaries, a national nonprofit which strives to have more inclusive election systems. "If you are an independent voter living in one of those legislative districts, that means you have no say in who represents you in Harrisburg. Opening primaries is not simply a question of fairness for independents. It's a question of being able to cast a meaningful ballot given that the primary is the only election in so many parts of Pennsylvania." 
State Rep. Paul Schemel, a Republican from Franklin County, dispelled claims that having open primaries would resolve inequities related to taxation without representation. While recognizing the accessibility issues independent voters face, Schemel argued that primary elections are designed for political parties to elect their candidates and independent voters aren't allowed to participate in them for that very reason. 
"(Many voters) look at the primary election as the first round of voting, when actually the primary election is the political parties – which are organized political parties – selecting who their candidate will be for the general election," Schemel said. "I have a difficult time getting around why it is that individuals who don't belong to that party would have any interest or right to demand to be part of the process of selecting who that party's nominee will be."
During the hearing, committee members also considered potential issues related to opening up primary elections to all voters. One particular concern was with independent voters choosing the "weakest link," or an unpopular candidate from one particular party, to give the other party's candidate a better chance in the general election. That form of "strategic voting," Opdycke said, is uncommon. 
"The evidence shows that very few voters respond to (strategic voting). The boogeyman of strategic voting is somewhat of an overstatement," Opdycke said. "More importantly, this bill does not say that Democrats can vote in a Republican primary, or Republicans can vote in the Democratic primary. This simply says that voters that do not want to join a political party reserve the right to cast a ballot on primary day and to choose a Democratic ballot or Republican ballot."
Jennifer Bullock, coordinator of Independent Pennsylvanians, emphasized that independent voters come from all walks of life and are not inclined to vote down-ballot. 
"We are 16% of the electorate," Bullock said. "We are veterans who are independent at high rates because of the value of serving the country, not a party. We are young people who are independent at high rates because young people want to participate yet are figuring things out and don't want to be locked in … We are state employees who feel strongly that they can best do their job if they stay out of party politics."
Quinn's legislation has bipartisan co-sponsors including state Reps. Jared Solomon, Mike Schlossberg, Todd Stephens, Mark Rozzi, Christina Sappey, Nancy Guenst and Jim Struzzi. 
With such broad support among both members and voters in the state, Bullock and other testifiers urged the House to take this first step toward opening primary elections. If enacted, Pennsylvania would become the 10th state to establish open primaries for unaffiliated voters.