Capitol Beat
Wolf signs $2 billion tax credit package that boosts natural gas industry
The bill was negotiated behind closed doors and drew ire from both sides of the aisle.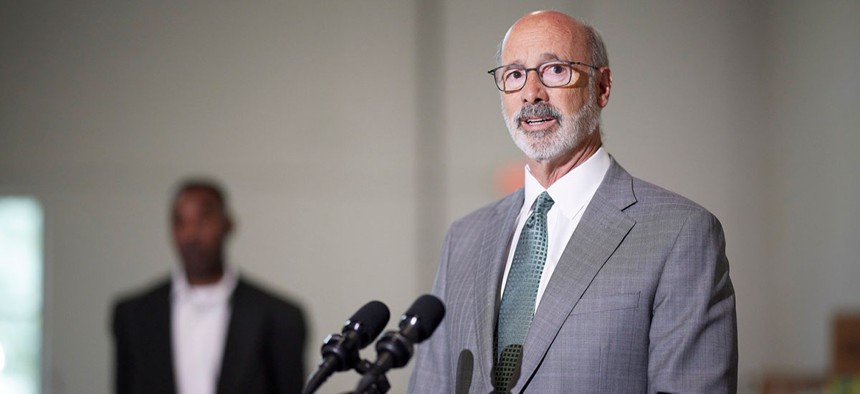 In what may end up being a final parting gift to the state's energy industry, Gov. Tom Wolf on Thursday signed into law a bill that would provide nearly $2 billion in tax credits for hydrogen production, milk processing, semiconductor manufacturing and petrochemical producers. 
In a statement explaining his support for House Bill 1059, Wolf defended his administration's efforts to combat climate change, while touting hydrogen's potential to reduce carbon emissions. 
"I recognize that in order for hydrogen to play a meaningful role in reducing emissions, we must ensure that the hydrogen used is truly 'clean' through stringent emissions standards," Wolf wrote. "We must also commit to strong and equitable community protections to prevent impacts to already overburdened communities and to guide benefits to communities that need them. Each of these imperatives is addressed in HB 1059."
He added that businesses in Pennsylvania are preparing applications to take advantage of billions in federal funding allocated for the development of hydrogen hubs, which the U.S. Department of Energy defines as a "network of hydrogen producers and consumers, and the connective infrastructure located in close proximity."
The bill drew concerns from Democrats and Republicans alike for the speed at which it was moved through the General Assembly, but ultimately was approved with bipartisan support in the state House and Senate. 
The tax credit package, dubbed the PA EDGE program, aims to attract a hydrogen hub to Pennsylvania by providing up to $50 million in tax credits each year to companies that buy hydrogen made in Pennsylvania, as well as companies that buy natural gas in order to make hydrogen. 
The legislation offers a total of $1 billion in hydrogen-specific tax credits over a 20-year period. When factoring in credits for milk processing, semiconductor manufacturing and petrochemical and fertilizer producers, the PA Edge program will allow for a total of $1.97 billion in tax credits over 25 years.