Agriculture
'We need to redouble our efforts': Josh Shapiro renews his fight against the bird flu
The governor and Sen. Scott Martin met with farmers to discuss the latest measures to prevent the spread of the disease.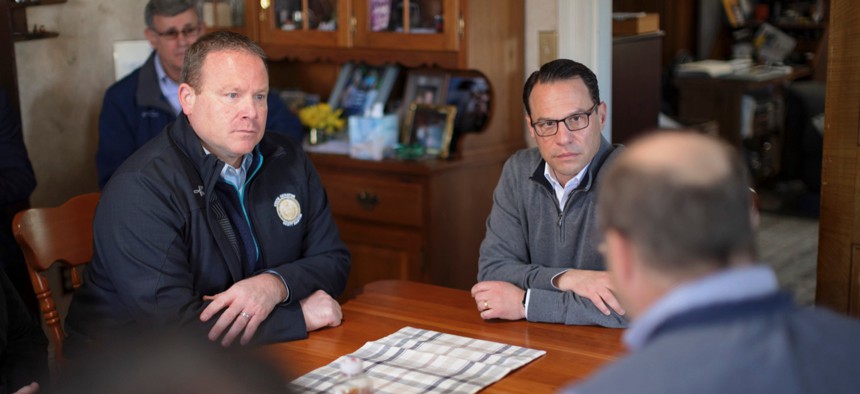 There may be a new administration in town, but that doesn't mean Pennsylvania's fight against highly-pathogenic avian influenza – more commonly referred to as the bird flu – is over.
Far from it. 
Gov. Josh Shapiro and state officials met with farmers in Lancaster County on Wednesday to highlight the state's efforts to prevent the spread of the disease and encouraged farmers to follow crucial biosecurity measures that can prevent the virus from infecting more flocks. 
"We need to redouble our efforts," said Shapiro, who was joined by Lancaster County Republican state Sen. Scott Martin at the Silver Valley Farm in East Earl. "High-path avian influenza doesn't really care what party you're from, doesn't really care where some municipal boundary lies. We need to work together to get it done."
Shapiro and Martin both commended each other for how the administration and legislature have responded to the outbreaks, with Shapiro taking time to tout a $25 million allocation in last year's budget package that includes funding to reimburse losses experienced by Pennsylvania farmers, as well as more money to increase the state's testing capacity.
Martin said the bird flu could negatively impact the state's economy if left unchecked, but said he expects state leaders to work in a collaborative manner not only to address current outbreaks, but prevent them from occurring in the future. 
"The good news is this: Between the industry communications, the absolute responsiveness of the administration – which has been just tremendous – and the governor's team, the citizens of not only this county, but of the commonwealth and for all those who are watching what's happening here in Pennsylvania, they can have confidence," Martin said. 
The first case of bird flu in the commonwealth was identified last April in East Donegal Township in Lancaster County. 
High-path avian influenza doesn't really care what party you're from.
– Josh Shapiro
To date, more than 4.6 million birds have been infected in Pennsylvania, according to data from the U.S. Centers for Disease Control and Prevention. The virus has been detected in 15 counties to date, with Adams, Allegheny, Berks, Bucks, Chester, Dauphin, Lancaster, Lehigh, Mifflin, Monroe, Northumberland, Tioga, Washington, Westmoreland and York counties all experiencing at least one outbreak, per the CDC.
Shapiro said Wednesday that he hopes the legislature will approve more funding outlined in his first executive budget proposal, which he said includes another $25 million for surveillance efforts and $6 million for testing.
The governor added that farmers interested in applying for existing state grant funds are encouraged to fill out a form on the Pennsylvania Department of Agriculture's website.