News & Politics
Pittman: Hundreds of millions in state funding could be at risk without more budget bills
Meanwhile, the leader for House Democrats urged the Senate to advance an already-passed $45.5B spending plan.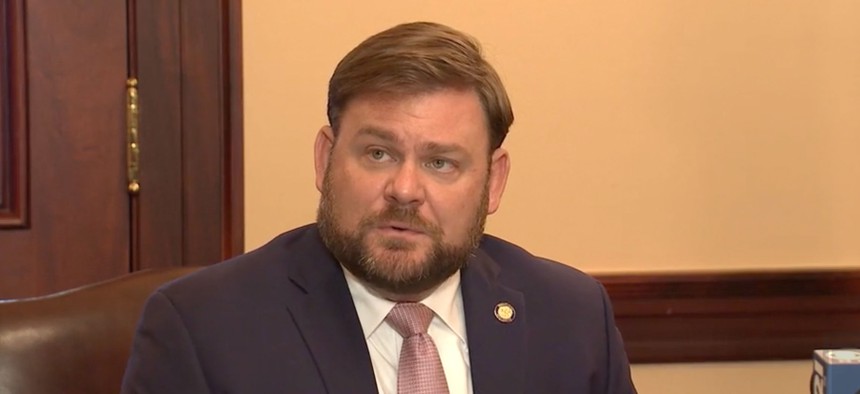 Amid an ongoing budget impasse in Harrisburg, the leader of the Senate Republican Caucus is warning his Democratic counterpart in the state House that hundreds of millions of dollars in funding could be at risk if lawmakers don't fully finalize a state budget. 
In a letter sent to House Democratic Leader Matt Bradford on Tuesday, Senate Majority Joe Pittman wrote that the state budget process is not yet complete and that lawmakers must pass budget-enabling legislation for several major programs and initiatives to be funded. 
"We are now in day eleven of the new fiscal year. We still do not have a completed budget product. Please let me know if you plan to vote on any of the remaining budget implementation legislation. The Senate sees little value in returning to session and allowing House Bill 611 to reach the Governor's desk without addressing the remaining work needed to implement a budget," Pittman wrote. 
In his letter to Bradford, Pittman said many appropriations in the spending plan will "need implementation language before the programs can be funded."
He pointed to the $100 million Pennsylvania Award for Student Success private school scholarship program – which is at the center of the impasse – as a program that could lose out on funding if budget-enacting legislation is not passed. 
"Like the PASS Scholarships line item, there are many new lines contained in House Bill 611 where the General Assembly has not statutorily provided for adequate standards or guidance to spend the money that has been appropriated," Pittman wrote. "A few examples include, but are not limited to, Indigent Defense, Foundations in Industry and Teacher Stipends."
Pittman said other programs, including the Whole Home Repairs program and Level Up education funding, could also be impacted in the absence of new budget language. 
He also said that without a change to the current law, "payments to school districts for basic education would be $550 million less than it appears in House Bill 611" due to conflicting budget implementation language. 
After the House adjourned for the summer last week, Bradford told reporters that there's "going to be some period of time where we've got to reset."
Lawmakers have yet to finalize a state budget for the 2023-24 fiscal year, despite both chambers having already approved HB 611. That's because Gov. Josh Shapiro, a Democrat, dropped his support for including the $100 million private school voucher program in this year's budget. 
Shapiro said the step was necessary to curry enough support in the House for the spending plan, but Republicans say Shapiro double-crossed them, pulling his support for something he backed on the campaign trail. 
Since Shapiro pledged to line-item veto the voucher funding, the Senate has not reconvened for session, preventing the bill from being signed in the chamber. It's a mostly procedural step that is currently preventing the spending bill from reaching Shapiro's desk. 
Bradford, in a statement released on Tuesday, said the Senate should return to Harrisburg to sign HB 611. "Senate Republicans should immediately return to Harrisburg and send House Bill 611 to the governor instead of continuing to stand in the way of funding for schools, county human services including drug and alcohol treatment and kids in foster care, and other critical programs and services that support Pennsylvanians," Bradford said. 
"To the extent that the Senate wishes to enact further legislation restricting the administration's authority to spend these dollars, we would be happy to hear what they have in mind, but there is no need or rationale to hold House Bill 611, as it has passed both chambers," he continued. 
The Senate is currently scheduled to return for session on Monday, Sept. 18, while the House's next scheduled session day is on Tuesday, Sept. 26.