News & Politics
Understanding Pennsylvania's ongoing debate over skill games
Lawmakers are weighing the benefits and drawbacks of regulating so-called games of skill.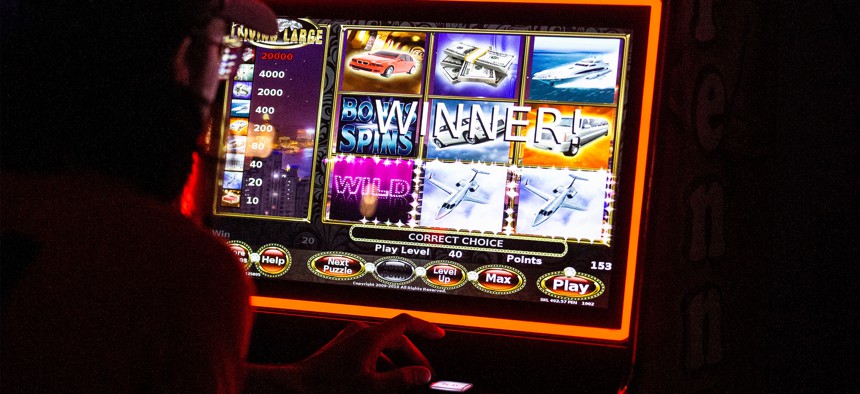 You've probably seen – or even played – skill games like Patriot, Cavalier and Barfly in a bar, a club, a fraternal organization or a convenience store … but what, exactly, are these video gaming machines at the heart of one of the hottest policy debates in Harrisburg?
The machines currently exist in a bit of a legal gray area: They are not regulated by the state's chief gaming law but have been effectively made legal by a series of court decisions over the last several years. 
Proponents say regulating the games will result in more money for the state and serve as a supplemental source of revenue for small businesses, while the skills games industry itself has pushed for a tax on its machines. 
Critics, however, aren't convinced. They fear these machines will divert revenue away from the key state programs, like the Pennsylvania Lottery, which funds prescription assistance, property tax relief and other programs for seniors. The machines have also made enemies of the casino industry, which has argued in court that the unregulated machines have contributed to financial losses for the state's casinos.
After years of court battles surrounding the machines and their legality, a bipartisan group of lawmakers has again introduced legislation to regulate skill games. Here's what you need to know about the debate to tax and regulate the machines.
What are skill games?
Skill games are video gaming machines that resemble digital slot machines or video gaming terminals, but differ from them in terms of how the games are played. 
The games, which are sometimes referred to as "gray games" by critics, are digital gaming machines that have popped up in gas stations, convenience stores, fraternal clubs and organizations, bars and taverns, as well as mini-casinos. 
Courts have ruled that the machines fall outside of the state's gaming law because winnings are based on skill – not on chance, like traditional gambling machines, which have allowed skill machines to proliferate in various locations despite not being regulated by the state.
Players can win cash prizes depending on their level of skill with a particular game, which is often puzzle-oriented. Machines produced under the Pennsylvania Skill brand include games that mirror Tic-tac-toe and Simon Says, according to Pace-O-Matic, a Georgia-based company that develops and licenses the Pennsylvania Skill machines, which are made in Williamsport. 
Are skill games legal?
It depends on whom you ask. 
Proponents of the games say that a series of court decisions has effectively paved the way for the games to operate legally in Pennsylvania, though they're still seeking state oversight. 
In 2014, the Beaver County Court of Common Pleas ruled that evidence presented to the court failed to demonstrate that a skill machine is a gambling device, and the state's Commonwealth Court ruled in 2019 that games produced by Pace-O-Matic fall outside of the state's Gaming Act. 
"The biggest difference is the player controls the outcome," said Mike Barley, a spokesperson for Pace-O-Matic. "Some of our opponents have scoffed at that, but the courts haven't. They've agreed with us."
Still, law enforcement officials and regulators have taken a harder stance on the legality of the games. 
Pennsylvania Attorney General Michelle Henry, speaking to state lawmakers at a budget hearing on March 23, said the Office of Attorney General believes the machines are, at their core, gambling devices. 
"I personally have a hard time calling them games of skill, because it is the attorney general's position (that) these are games of chance and they're gambling machines," Henry said at the hearing. However, she acknowledged, "It's a difficult area to navigate because we've had different court rulings with regard to these machines."
Who supports skill games?
The skill games issue has brought together lawmakers from both sides of the aisle, as well as small businesses, fraternal clubs and lodges, and the manufacturers and developers behind the games themselves. 
Proponents in the Pennsylvania General Assembly say taxing and regulating the games will generate millions in revenue at a time when the state desperately needs it. Republican state Sen. Gene Yaw introduced Senate Bill 706 earlier this year and estimated in a recent op-ed that his proposal could generate $250 million in new tax revenue each year.
Speaking at a press conference in April, Yaw said it's rare to have an industry asking to be regulated. "There is significant tax revenue that we'll gain from skill games," he said. "That seems, to me, to be a pretty easy decision to make. You have an industry that wants to be regulated and wants to be taxed – and we need the income."
Some small business owners have also thrown their support behind the measure, citing the additional revenue that they receive from having the games in their places of business. 
Doug Sprankle, the owner of Sprankle's Neighborhood Markets in Armstrong and Butler counties, said in April that the revenue from skill game machines helps him afford benefits for his employees. "They are a hit and now they pay for health insurance for our full-time staff," Sprankle said. 
The games have also become popular in Veterans of Foreign Wars halls and fraternal clubs, and veterans groups have praised Pennsylvania Skill for its charitable donations, as well. 
Barley said he hopes that any legislative solution will crack down on illegal gaming machines that mimic the court-allowed Pennsylvania Skill-branded machines while still permitting businesses to take advantage of skill machines in a more regulated environment. 
After all, he said, the state is already seeing benefits. "Over 90% of the revenue that's been produced from these games is staying in the state of Pennsylvania," he said. "That benefit really is already there. We're just saying, let's put some guardrails around it, regulate it – and we can pay the state and local governments some additional tax money."
What are the concerns over skill games?
Not everyone is convinced that skill games will be a net positive for the state. In fact, many believe the opposite is true. 
The Pennsylvania Department of Revenue and the Pennsylvania Lottery have been vocal about their concerns with skill games, which they say cut into Pennsylvania Lottery revenue. According to the agency, Pennsylvania Lottery proceeds help fund property tax relief initiatives and low-cost prescription programs for senior citizens. 
Speaking at a state House budget hearing in April, Pennsylvania Lottery Executive Director Drew Svitko said the Lottery expects to lose $170 million as a result of skill games being in locations that also house lottery products, such as scratch-off tickets. "We can prove that we're losing about $170 million over the course of the next year," Svitko said. 
Svitko said the number of skill game machines at retailers that sell lottery products has increased significantly in recent years, jumping from 350 retailers in September 2017 to nearly 3,300 retailers as of April of this year. 
Revenue Secretary Pat Browne said at the hearing that the department "would like to engage in dialogue with the Assembly as to a system of regulation and taxation to put (skill games) on parity with other legal activity that's operating in the commonwealth."
Critics of the games – including the casino industry and state lawmakers – have suggested that skill games could present safety concerns. 
Testifiers at a hearing hosted by the Pennsylvania Senate Democratic Policy Committee on Aug. 23 pointed to a 2020 shooting in Hazleton that left a worker dead after a customer who frequently played skill games in the store robbed the store of $14,000, shooting the store clerk in the process, according to WFMZ. 
Other testifiers showed images and videos of children playing or viewing the games as a way to underscore the need for legislative action. 
"A coordinated effort to end the proliferation of these games is essential," Jeff Morris, the vice president of public affairs and government relations for Penn Entertainment – which owns four casinos in the state – said at this month's Senate hearing. "The plain facts are that these businesses and their so-called skill machines cost Pennsylvania millions in gaming and lottery revenues annually, and simply cannot provide the appropriate oversight that is necessary for a properly regulated and safe gaming industry."
Some have expressed skepticism over how Yaw's bill would regulate the games, as the Department of Revenue would be tasked with regulating them, not the state's Gaming Control Board, which regulates all gaming in the state. 
"It makes absolutely no sense to assign slot machine regulation to the Department of Revenue," Pennsylvania Gaming Control Board Executive Director Kevin O'Toole said during the same hearing. "They are one of the best taxing authorities in the country, but they have no infrastructure to regulate slot machines."
What comes next
The status quo will continue in the absence of a legislative solution from state lawmakers in Harrisburg. 
In addition to Yaw's legislation to tax and regulate the games, which has yet to receive a committee vote, Democratic state Sen. Amanda Cappelletti plans to introduce legislation to ban them outright by classifying them as illegal gambling devices. 
Such an effort would mirror action taken in Kentucky, where Democratic Gov. Andy Beshear signed legislation banning skill games in the Bluegrass State. 
Skill games supporters, however, are hoping for a vote on Yaw's legislation sooner rather than later. 
Barley noted that even those with concerns about skill games want to see more regulation, pointing to testimony offered at the Senate policy hearing. "I want to point out that the majority of testifiers agreed that regulation and taxing skill games is the logical next step for the industry. This will get rid of illegal games, which is the basis of much of the concern that was raised," he told City & State. 
He said Yaw's bill is a logical next step for lawmakers to consider. "Senator Gene Yaw has sponsored a bill, Senate Bill 706, that would do just that. We are hoping to see that bill pass this year," Barley said.