Campaigns & Elections
Pennsylvania to enact automatic voter registration at DMV
The commonwealth joins nearly two dozen other states in automatically registering voters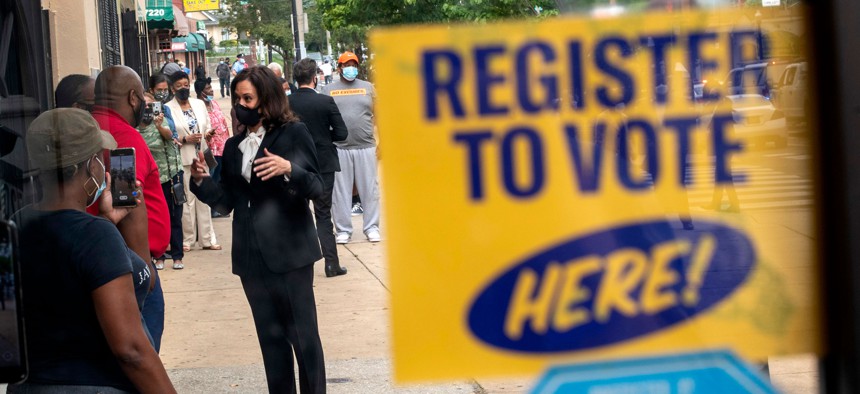 Gov. Josh Shapiro kicked off National Voter Registration Day with a surprise announcement: Pennsylvania will now have automatic registration for eligible voters when they renew or receive their driver's license or ID at a PennDOT or photo license center. 
Shapiro announced the rollout of automatic voter registration in the commonwealth Tuesday morning. Under the measure, residents have to provide proof of identity, residency, age and citizenship when renewing their licenses – the typical personal information required to register to vote. 
"When running for governor, I made a commitment to bring automatic voter registration to Pennsylvania," Shapiro said in a statement, noting it was National Voter Registration Day. "Automatic voter registration is a commonsense step to ensure election security and save Pennsylvanians time and tax dollars."
According to the National Conference of State Legislatures, 23 states and Washington, D.C. have enacted or implemented automatic voter registration, including neighboring states such as Delaware, Maryland, New Jersey and West Virginia. 
The new system would essentially reverse the current system – allowing residents visiting a PennDOT center to renew their license by going through the voter registration process unless they opt out. Currently, residents have to opt in to register. 
"Registering eligible Commonwealth residents to vote during their visits to driver and photo license centers is a commonsense action," Secretary of the Commonwealth Al Schmidt said in a statement. "The voter is already in a state government facility with their identification documentation in hand, and they will have their picture taken and sign their name electronically. Having all of that happen at the same time means the verification process is extremely secure and makes the registration process more efficient."
Senate Republican leadership criticized the move by Shapiro, calling it a "unilateral decision" made "without input by the General Assembly." 
"Voting is a right for properly documented citizens of our state, and with the flood of people crossing our open borders under the Biden Administration, we must be able to ensure those who participate in our voting process are who they say they are," Senate President Pro Tempore Kim Ward, Majority Leader Joe Pittman and State Government Committee Chair Cris Dush said in a statement. "Unfortunately, this move by the governor generates more questions than answers and creates uncertainty for Pennsylvania voters. More importantly, it does little to promote free and fair elections."
The New Pennsylvania Project, a voting rights organization modeled after the New Georgia Project founded by Stacey Abrams in 2014, praised Shapiro's move. 
"The New Pennsylvania Project is grateful that Gov. Shapiro has taken these steps to increase Pennsylvanian's access to the ballot box," New Pennsylvania Project CEO Kadida Kenner said in a statement. "With more than 1.2 million people eligible to vote but unregistered in the Commonwealth of Pennsylvania, today's announcement will undoubtedly help to close the voter registration gap, especially in communities of color where the gap is the most pronounced."
Senate State Government Committee Chair Cris Dush followed up with his own statement Tuesday afternoon. "Our republic thrives when voters are committed and engaged. By making registering to vote a deliberate choice, we ensure that citizens take the time to educate themselves about the issues and candidates, which ultimately leads to a more informed electorate," Dush, a Republican from Jefferson County said. 
"Pre-checked registration accomplishes the opposite – it encourages people to sleepwalk their way into being registered, potentially without understanding the significance of their actions. It risks turning a solemn duty into a thoughtless action, exploiting the system to catch the unwitting, the uncertain and the unintentional, making a mockery of that solemn duty. This is precisely why it is so important to require everyone to show valid identification at the time of voting. Preserving the personal responsibility of registering to vote is not about making things harder; it's about ensuring that the act itself carries the weight and importance it deserves."