General Assembly
Death penalty repeal bill advances in PA House
A state House committee approved the bill with bipartisan support on Tuesday.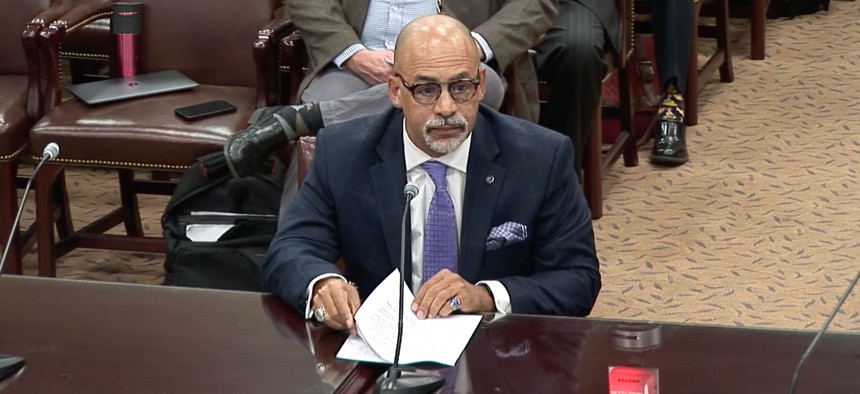 Democratic state Rep. Chris Rabb told colleagues on the House Judiciary Committee on Tuesday that he chose the number "999" for his bill seeking to repeal Pennsylvania's death penalty because "If there's any justification for state-sponsored killing, we have to be more than 99.9% sure that the people we execute did in fact commit the crimes they've been convicted of."
Rabb's bill, House Bill 999, was approved with a mostly party-line vote on Tuesday, earning the support of the committee's 14 Democrats, as well as Republican state Rep. Paul Schemel, the lone GOP "yes" vote on the bill. 
The measure would repeal the death penalty in the commonwealth and formally end the practice. A pause on executions has been in place since 2015 when then-Gov. Tom Wolf suspended the use of the death penalty in Pennsylvania. Earlier this year, Gov. Josh Shapiro said he also won't issue any execution warrants during his term and called on state lawmakers to eliminate the death penalty outright.  
Rabb, speaking to the committee on Tuesday, laid out an abundance of reasons he said lawmakers should support the measure. "If you're a fiscal conservative, it is hard to justify our commonwealth spending $1 billion over the past 35 years putting people on death row who will not actually be executed in light of the ongoing moratoriums put in place by our prior and current governors since 2015," Rabb said. 
"If you are skeptical of big government, do you believe it has earned the moral authority to kill its own citizens?" Rabb continued. "If you believe that retribution is in fact good policy, what say you to all of those Pennsylvanians who were supposed to be executed, but weren't because they were exonerated? Oops? Eleven innocent people have been exonerated for crimes for which they could have been put to death in our commonwealth."
No one has been executed under Pennsylvania's death penalty statute since 1999, when Gary M. Heidnik was executed after being sentenced to two death sentences for the murder of two women he had imprisoned in his home, according to Department of Corrections data. 
Democrats and Republicans alike openly grappled with the difficulty of the issue at Tuesday's committee meeting. 
Democratic state Rep. Chris Pielli, a former corrections officer, said the bill was difficult for him for a number of reasons, but voted for the bill in the end, noting that lawmakers have an opportunity to prevent wrongfully accused people from losing their lives. 
"We can't stop the gruesome collateral damage like the deaths of innocent civilians that we're witnessing now in the Middle East, but we can stop the collateral damage of killing innocent, wrongfully accused defendants by stopping this flawed process," Pielli said. 
According to the Death Penalty Information Center, a nonprofit that shares data and information about capital punishment, 11 people sentenced to death in Pennsylvania have been exonerated since 1973. A 2018 study from the Pennsylvania Joint State Government on capital punishment also reported that since 1973 – across the U.S. – 162 inmates sentenced to death were later exonerated of the charges against them. 
Schemel, who also voted for the bill, took a different view than Pielli did. "I think in wanting to promote within our commonwealth a holistic view of life from beginning to end, dignity is not something we earn. Therefore, it's not something we can lose. Every human life has dignity – even guilty human life has dignity. We can safely prevent individuals from committing additional crimes," he said.
Other lawmakers were unconvinced and stressed that further review of the death penalty and its impacts would prove beneficial for the state. 
Republican state Rep. Rob Kauffman, the minority chair of the committee, voted against the bill, but said the debate over the death penalty is a conversation worth having. 
"My perspective on the issue has migrated over the years, and while I'm not at the point of supporting this legislation today, I do think this is something worth study, worth a further conversation," Kauffman said. He added that lawmakers should examine the cost of the death penalty, as well as what repealing the death penalty would mean for plea bargains in the criminal justice system.
HB 999 now awaits further action by the state House, and would also need to be approved by the state Senate before reaching the governor's desk.