General Assembly
Shapiro unleashes updates to state's Dog Law
The bill increases license fees for dogs and kennels in the commonwealth.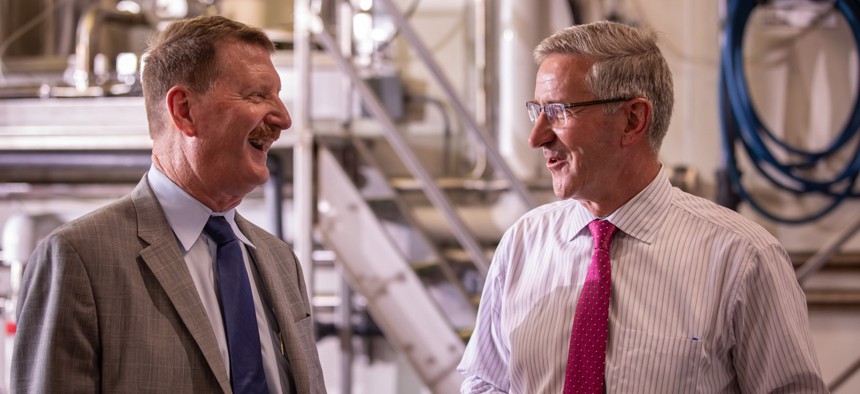 Gov. Josh Shapiro signed a new bill into law this week that makes sought-after updates to the state's Dog Law – a statute regulating dogs and kennels throughout the commonwealth that advocates have long said is in need of a refresh. 
The new law signed by the governor increases fees for annual and dog licenses, as well as kennel fees, and toughens penalties for those who violate the law. 
Animal welfare advocates and a bipartisan contingent of state lawmakers have pushed for Dog Law reforms in recent years, arguing that kennel and licensing fees no longer produce enough revenue to adequately fund the state Bureau of Dog Law Enforcement's duties, which is responsible for overseeing breeders, kennels and other dog-related issues in the state.
With the signing of Senate Bill 746, sponsored by Republican state Sen. Elder Vogel, the state's annual dog license fee will increase from $5 to $7 for all dogs aged 3 months or older, while the cost of a lifetime license will rise from $30 to $50. For owners that are over the age of 65 or have a disability, the fees for annual and lifetime licenses will be $5 and $33, respectively. 
The new law is expected to generate an additional $3.6 million in annual revenue for the state, according to a House Appropriations Committee analysis of the bill. That figure includes a projected increase of $155,000 in revenue from updated kennel fees, which vary based on a kennel's size and classification.
Pennsylvania Agriculture Secretary Russell Redding, who has backed changes to the law in recent years, said in a statement that the bill includes "commonsense changes" to the law that will keep both communities and dogs safe. 
Vogel, the prime sponsor of the legislation, said he was pleased to see the bill reach the governor's desk after so much effort. "This bill has been in the works for several years at this point, and with the diligent discussions with the Department of Agriculture and stakeholders, as well as with the support of my colleagues in both Chambers, I am proud to see this legislation get over the finish line," Vogel said in a statement. 
Leaders of the legislative Animal Protection Caucus also welcomed Shapiro's signature. Democratic state Rep. Melissa Shusterman, who co-chairs the caucus, said in a statement that the added funding from the law should help stabilize the bureau. 
"This legislation will finally stabilize the Bureau of Dog Law Enforcement, which for too long has been overburdened and underfunded," Shusterman said. "It modernizes the dog licensing process and provides more support for the overwhelmed agency, while ensuring those who break the law are properly punished."