Policy
The fight to put some teeth back into dog laws: A City & State investigation
Why dog licenses are key to keeping Pennsylvania's pups – and people – safe.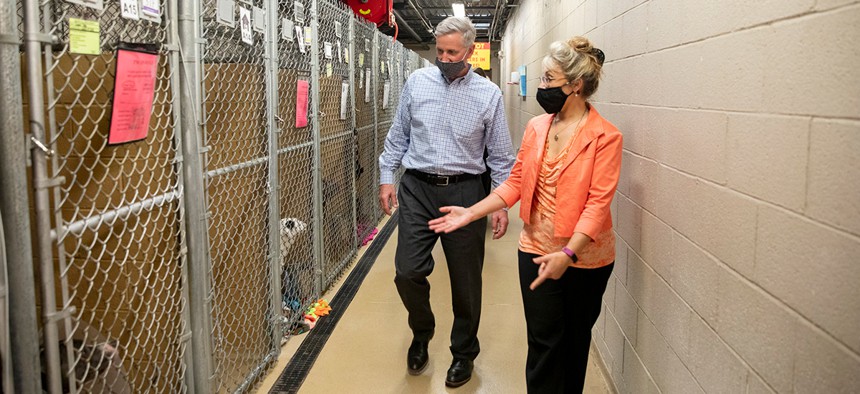 Grace Kelly Herbert has rescued more than 400 dogs from Pennsylvania puppy mills, along with a few cats – and that's just since last summer. 
She's the president and co-founder of Finding Shelter, an animal rescue based in southeastern Pennsylvania, and has been working to rescue dogs for 12 years. The COVID-19 pandemic, she said, has led to a boom in puppy purchases at a time when the state Bureau of Dog Law Enforcement is already struggling to inspect kennels and breeders and make sure the state's Dog Law is being enforced.
And as the bureau faces a fiscal cliff that threatens its ability to effectively inspect facilities and crack down on bad breeders, some, like Herbert, are pushing for change. 
"There's a lot more breeding activity and a lot more places and it's harder when we report kennels – it's harder for them to get somebody out quickly."
For years, the Pennsylvania Department of Agriculture, led by Secretary of Agriculture Russell Redding, has been leading a public push to raise the cost of state dog licenses in order to make sure the state can meet its obligations under the Dog Law, which sets requirements for inspecting kennels, detaining stray dogs and monitoring and seizing dangerous dogs when necessary, among a host of other obligations.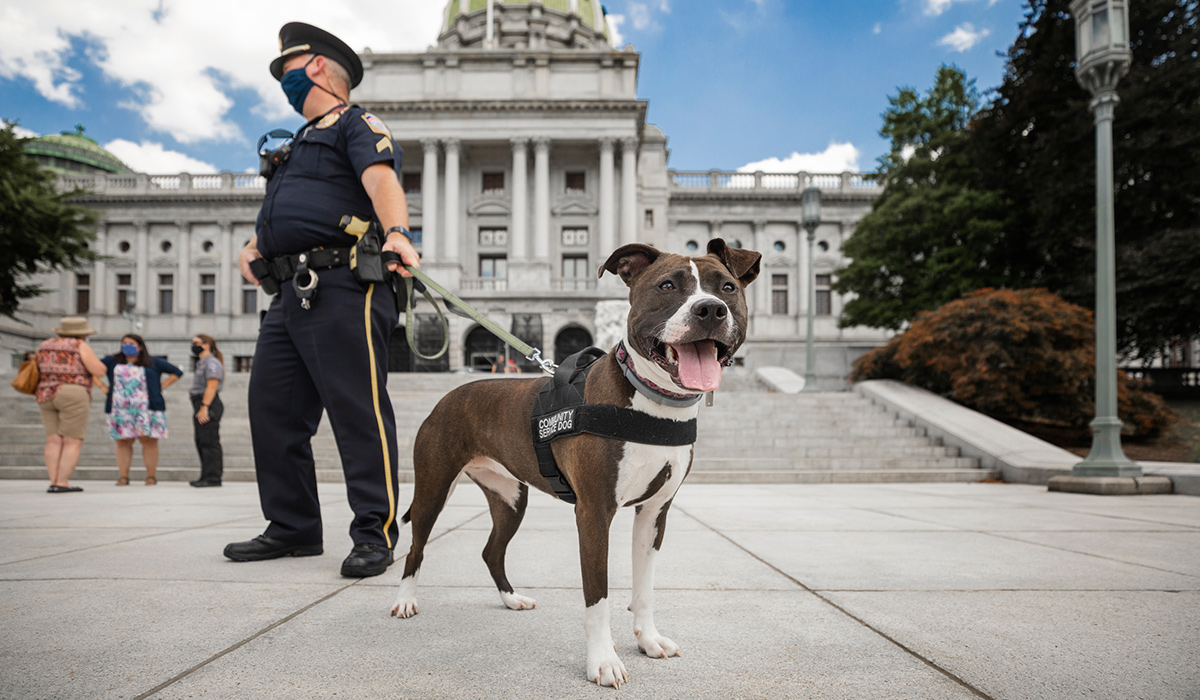 But the bureau's costs have begun to oustrip its revenue, which comes in the form of dog license fees that have failed to keep up with the costs of enforcing the state's dog-related requirements.
In 2021, dog license sales brought in $5.5 million in revenue, while the costs associated with policing the state's Dog Law were more than $5.9 million. The Dog Law Restricted Account, which pays for Dog Law-related costs through kennel fees and license fees, pulled in a total of more than $6.4 million.
But while the numbers appear to display a fund that can afford its obligations under state law, the truth is more complicated. To keep the fund solvent, more than $1.2 million in "administrative overhead" expenses were transferred out of the fund, showing that finances around the state's Dog Law are anything but stable. 
"Every year, we raise this flag that we're going to hit a fiscal cliff. We're there and we're struggling with it," said Redding. 
For one, the state Department of Agriculture lacks the funding to fill vacancies that exist among state dog wardens, leaving some wardens forced to cover multiple counties. Wardens are tasked with inspecting kennels twice a year, securing and transporting strays and watching, and, in some cases, seizing dogs that present a danger to the public. 
Redding said that without a much-needed increase in the price of dog licenses, it will remain a challenge for the department, and the Bureau of Dog Law Enforcement, to meet its requirements under the Dog Law – and that could have an impact on public safety. 
"Dealing with dangerous dogs – dealing with dogs who have rabies or don't have the proper shots to protect them against rabies, the bites that occur there – all of those are the high-priority things," Redding said, noting that the department has been unable go into communities and knock on doors to encourage people to get their dogs licensed. "It's a vicious cycle here of trying to maintain what we're doing, maintain and protect the public and, at the same time, keep your revenues steady."
Other government officials have sounded the alarm on Dog Law funding, as well. Former Auditor General Eugene DePasquale released a special report in February 2020 that found that "a lack of modernized funding makes it impossible for dog wardens to ensure dogs in kennels and boarding facilities are held in humane conditions."
DePasquale recommended a fee increase, and suggested that lawmakers increase penalties against kennels that don't pass their regularly-scheduled inspections. Without a fee increase, DePasquale's office concluded that the Bureau of Dog Law Enforcement "will cease to be able to fulfill its mission: keeping dogs and their human companions safe and healthy."
The state's most recent Dog Law report also lays the issue out in stark terms: "BDLE now relies on a transfer of taxpayer dollars in order to maintain the current level of statutory obligations," the document reads. "Even with taxpayer dollars, BDLE cannot fill critical vacancies, such as Lancaster or Montgomery counties, it only allows BDLE to continue operating at status quo."
The fiscal cliff, Redding says, has been somewhat staved off by funding transfers, which doesn't seem to be a long-term solution to the bureau's lack of funding. Redding said an increase in kennels, a pandemic-driven fascination with pets and a lack of fee increases over time have led to the predicament. 
"It's a fee-dependent bureau," Redding said, noting that the fees for licenses haven't changed in 25 years and kennel fees haven't been updated in 57 years. "All the while, the cost to operate the bureau and staff and put trucks and people in health care – all of that's contributed to the escalating costs and declining or steady revenue."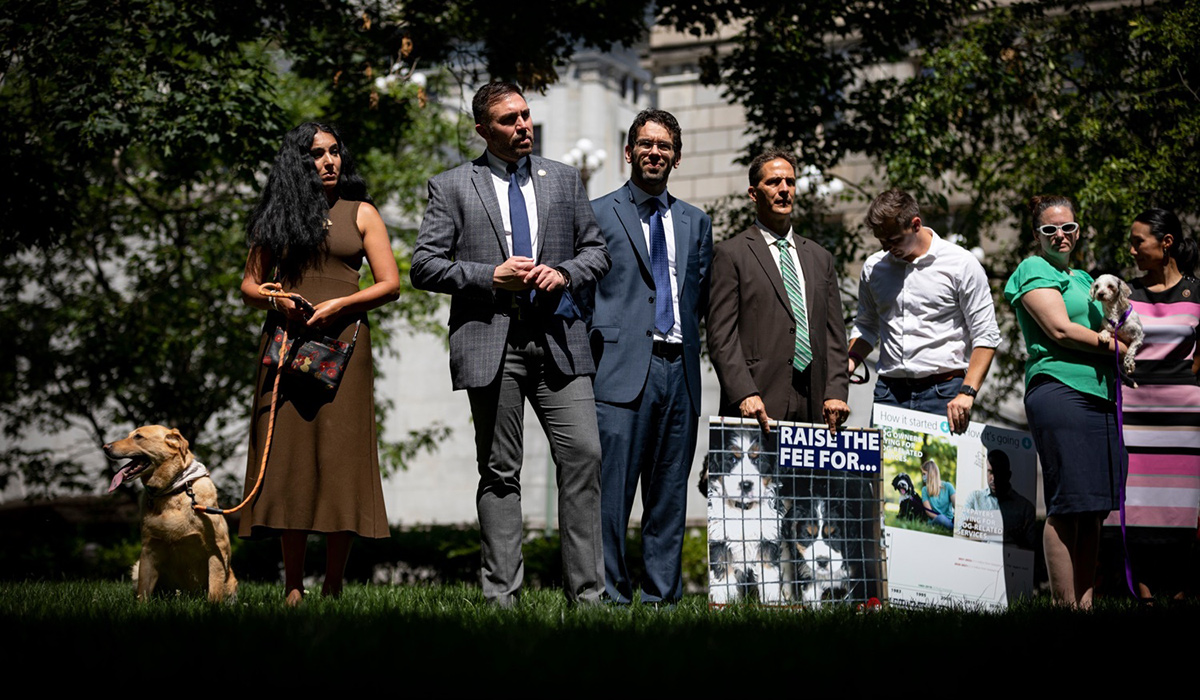 The high-level discussion over dog licenses and kennels does little to capture the on-the-ground reality of the state's lack of enforcement, but Herbert has seen the impacts firsthand. Herbert was the owner of a German Shepherd named Victoria, who was used for breeding at a puppy mill located on a farm. Victoria had a condition called degenerative myelopathy that causes the spinal cord to stop functioning. It eventually led to paralysis. Victoria also was blind in one eye as the result of an injury and was hit by a piece of equipment in a field before being rescued by Herbert after 10 years as a breeding dog. Victoria died in February 2019.
"Those are the types of things where if you are able to do two to three inspections in a year as (the Bureau of Dog Law Enforcement), then your eyes are on those dogs more frequently," she told City & State. "Those wardens would be able to identify things like that, where if they're not there as frequently, then the visits are spaced out and they might not know certain activity that's happening in between their visits."
She said that other dogs she has rescued from puppy mills often have eye injuries, ear infections, dental disease, heart murmurs and other ailments. "Injuries can go without being tended to and if you don't have somebody going in there as frequently or if you call them and say, 'Hey, we need to report this kennel violation,' there might not be somebody who can go out right away," Herbert added.
So, what exactly would a fee increase look like in practice? One bill, Senate Bill 1289, sponsored by Beaver County Republican state Sen. Elder Vogel, would increase the state's annual dog license fees to $8, while also increasing the state's fee for lifetime licenses to $80. The lifetime fee for altered (or spayed and neutered) dogs is currently $31.50, while the fee for unaltered dogs is $51.50. Yearly license fees for altered dogs currently sits at $6.50, and fees for unaltered dogs are a bit higher at $8.50.
Vogel, in an interview with City & State, said that officials at the Department of Agriculture have routinely testified before the Senate Appropriations Committee asking for more money to keep the Dog Law Restricted Account above water – and that it's time other lawmakers listen to them.
"Right now, they're down 14 dog wardens across the state and dog license fees haven't been increased in 26 years. It was 1996, the last time dog licenses were increased here in Pennsylvania," Vogel said. "So, I think 26 years is long enough to go without increasing the license fee. Everything else just goes up by the week, let alone 26 years."Vogel's legislation would also increase license fees for various classes of dog kennels, which the Department of Agriculture estimates could raise more than $175,000 annually. Vogel said those fees in particular haven't been raised in roughly 50 years.
In counties without a dedicated state dog warden, Vogel said that local governments will be forced to respond to more and more dog-related incidents if license fees are raised. 
"The burden falls back on the local townships, local police departments or state police for somebody to come out and catch a dog running down the street someplace," Vogel said. "It's just a very imperative situation that we find the money somehow to get the situation rectified."
At least some of the state's dog wardens have also publicly asked for more money to fund the Bureau of Dog Law Enforcement's day-to-day operations. Megan Horst, the state's Region VII supervisor and dog warden for Lancaster County, wrote in a March 2021 op-ed that the bureau "can't fill critical vacancies" even with funding transfers from other areas of the state budget. 
"An inexpensive dog license makes a big difference in what happens to stray dogs," wrote Horst. "Without a dog license fee increase, who will inspect these kennels? Who will discover these dogs? Without a fee increase through the Legislature, dogs will suffer, and no one will be there to be their voice." 
But even after years of advocating for updates to the state's Dog Law, the changes have yet to materialize, leaving the Bureau of Dog Law Enforcement at a crossroads. Redding told City & State that Gov. Tom Wolf's administration and state lawmakers were "within inches" of reaching an agreement this year to raise dog licensing fees, but that agreement ultimately wasn't included in the state's latest budget package. 
He said that a general wariness over increasing fees, coupled with a belief that the Department of Agriculture should be doing more to get dogs licensed, likely led to the agreement stalling. 
And even if the department ramps up its canvassing operation and goes door-to-door to encourage people to license their pets, the funding problem is likely to continue until state lawmakers approve new dog license prices and enshrine them in state law.
"There's a lot of folks that believe that there's a lot more dogs out there than we license and they ought to be licensed, and then once you get all of those dogs licensed, then you come back and ask for the fee increase. It's just not realistic, and it's not like we haven't been trying," Redding said. "This is not a new phenomenon. This has been a multi-year, multi-administration challenge."
And at least some dog owners, like Herbert, think a small fee increase is more than reasonable. 
"I have a house full of dogs and I run a rescue. I feel like paying our fair share as pet owners to make sure that our communities are healthier and safer is not too much to ask."