Shapiro
Shapiro celebrates launch of police misconduct database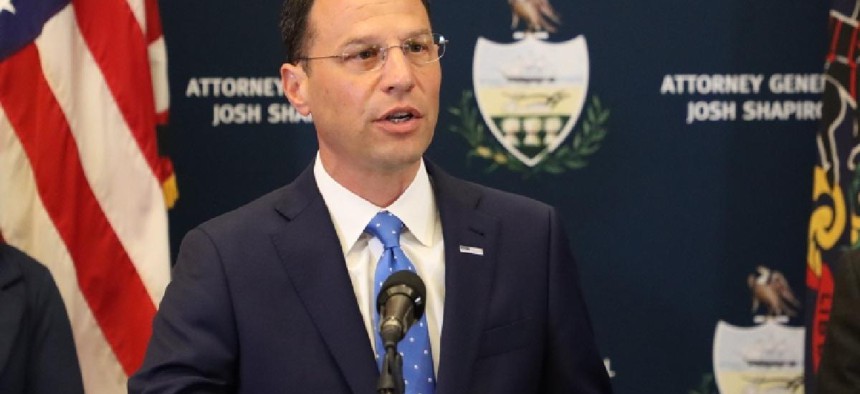 Pennsylvania Attorney General Josh Shapiro and Pittsburgh officials on Wednesday announced the launch of a statewide police misconduct database, one year after the long-awaited police oversight reform bill was signed into law. 
The legislation, House Bill 1841 of 2020, requires all law enforcement agencies to consult the database for information on disciplinary actions, performance evaluations, and attendance records as part of a background check. 
"This database of every municipal police officer in Pennsylvania, and the thousands of other police officers in our Commonwealth, is live for the first time," Shapiro said at the press conference. "Departments will have access to misconduct and disciplinary records of officers that they're seeking to hire and all departments must participate. The public can have more trust in the people who are here to protect them."
The bill was one of several police reforms that Democrats have attempted to push through the Republican-controlled legislature. The police database legislation, alongside a bill that creates new types of training and mental health screenings, was taken up last year after Black Democrats took control of the House chamber in the wake of George Floyd's murder.
Shapiro, who was joined by Pittsburgh Police Chief Scott Schubert; Michelle Kenney, mother of Antwon Rose; and state representatives Ed Gainey, Sara Innamorato, Austin Davis and Emily Kinkead, said those actions sparked the beginning of much-needed change. 
"One year ago, our Commonwealth became one of the first states with a divided government to take real action after the murder of George Floyd," Shapiro said. "Despite the narrative that nothing gets done, and that there is no compromise, the people standing up here today, those they represent, and those they serve alongside, took action and built a framework for progress."
Davis said seeing George Floyd's death "broke all of us" and got Democratic legislators to the point that they couldn't "continue to operate in a system in Harrisburg that continues to ignore us." Taking the rostrum in the House got the Republicans' attention and led to the police oversight reforms being implemented. 
"[The database] is a deposit in the bank of justice, a down payment on a more equitable and just society and a better policing system for all Pennsylvania," Davis said. 
Kenney, whose son Antwon Rose Jr. was fatally shot by Pittsburgh police in 2018, said she's been waiting for something like this since she was pregnant with Antwon. She understands that this is just a start and that other reforms, such as making the database publicly available, are needed going forward. 
"I understand that the public is going to say 'oh, it's only a database, we still have other work to do.' That is so true. But to get this database in the state of Pennsylvania, we have to admit, it is groundbreaking," Kenney said. "If that's not a big deal for you as an individual, it's a big deal for me as Antwon's mom, and it's a big deal for the 111 other mothers who have since stood in my shoes since 2015 in the state of Pennsylvania."