Campaigns & Elections
Conor Lamb's mission is to remake the Senate Democratic primary
In this race, the battle-tested congressman tries to convince voters he can turn Pat Toomey's U.S. Senate seat blue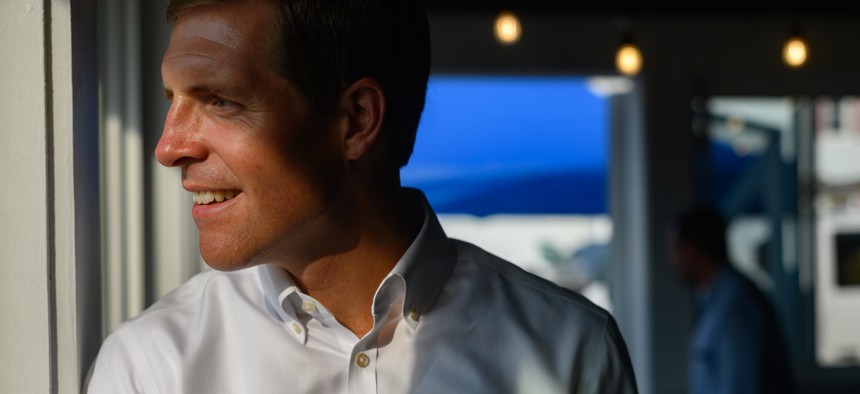 Conor Lamb has won difficult elections before. He's fended off not one – not two – but three Republican challenges in a swing district. He's withstood attacks from former President Donald Trump – and won every single time. 
But the second-term congressman's biggest obstacle to date may come in the form of Pennsylvania's towering, instantly-recognizable lieutenant governor, John Fetterman, who is currently out-fundraising and out-polling Lamb in the state's Democratic primary for U.S. Senate. 
While Fetterman is widely considered the frontrunner in the state's Democratic primary for U.S. Senate, Lamb thinks Fetterman lacks the experience needed to defeat a Republican candidate in November. "In any area of life, when you're trying to choose somebody for a tough job, you look at their experience. John has no experience doing what it takes to beat a Republican this year. I do," he told City & State in an interview.
Lamb believes his own pragmatic approach to policymaking, coupled with his ability to court voters from all across the political spectrum, will be key to flipping outgoing Sen. Pat Toomey's seat later this year. Convincing voters that he's the only chance of turning Toomey's seat blue won't come easy, but it's a challenge that Lamb accepts, and one he says he is ready to face in the leadup to May 17.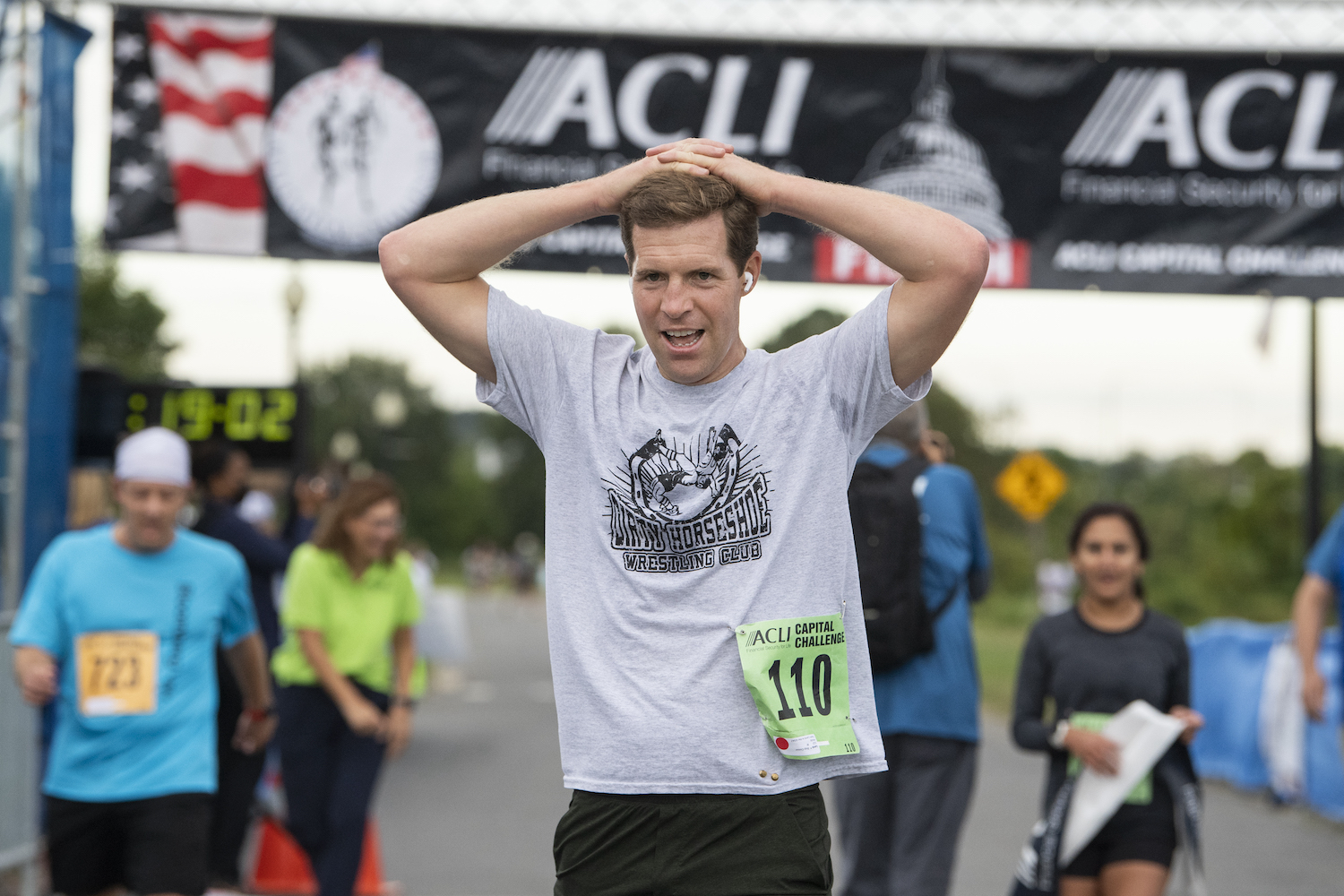 Fetterman entered the calendar year with $5.3 million in the bank, closing 2021 with $2 million more than Lamb, who finished the year with around $3 million in cash in his war chest. Fetterman has also had an advantage in recent polls, with an early March Franklin & Marshall College poll showing Fetterman with a 13-point lead over Lamb, though 44% of Democratic voters said they were undecided. A pro-Lamb super PAC, Penn Progress, also circulated a poll showing Fetterman with a 30-point lead over the incumbent congressman, according to Politico.   
A third poll from The Hill and Emerson College released in late March also had Fetterman leading, this time by 23%. 
But Lamb, at least publicly, isn't fazed by his performance in recent polls. Lamb said he doesn't think "very many polls are reliable this early in a race."
"For political watchers, it seems like this race has been going on for a while, but for normal people, they're just starting to tune in right now," he said. Lamb said he would remain focused on connecting with voters at campaign stops and educating them about his record as a congressman in the state's 17th Congressional District. 
It's a record that Lamb thinks can separate him from another candidate in the race, state Rep. Malcolm Kenyatta from Philadelphia. Compared to Fetterman and Kenyatta, Lamb exhibits a more moderate streak on certain issues. In 2018, Lamb was one of three Democrats who voted for legislation to make certain components of the GOP's 2017 "Tax Cuts and Jobs Act" permanent. He was one of seven Democrats to back a Republican-sponsored resolution opposing a tax on carbon emissions. He also opposes efforts to ban fracking, telling City & State that natural gas is a "tremendous asset" to the nation.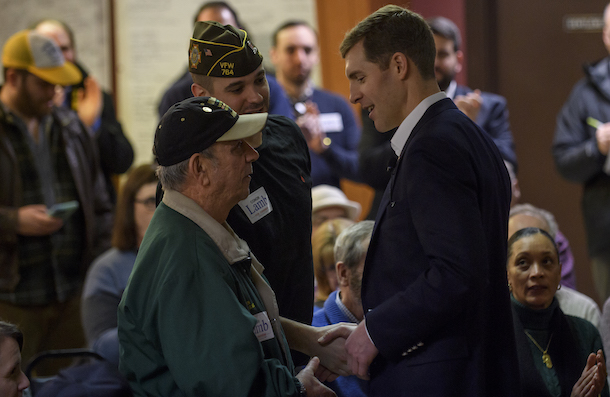 "Natural gas is a tool for both the United States to emit less carbon and the world to emit less carbon because it mostly takes away market share for coal, which admits twice as much CO2 as natural gas," he said. "It also has made energy a lot more affordable for everyday Pennsylvanians – probably saves them about 1,000 bucks a year compared to how it used to be."
But Lamb has also voted in line with his party on a host of other issues, including President Joe Biden's "Build Back Better" plan, and has touted his support for raising the minimum wage, passing Voting Rights legislation, eliminating the filibuster, strengthening background checks for gun purchases and defending abortion access.
Lamb described his political stances as "practical" and said he's driven less by ideology and more by a desire to make "the institutions of government work as effectively as possible on behalf of the people they were supposed to work for."
"I don't bring a lot of ideology to this job or to these campaigns. What I really bring is a willingness to work with anyone at all to achieve the ends that my constituents want," Lamb said. "I'm someone that has worked with Republicans when it's necessary to, say, get an infrastructure bill passed and work with extremely progressive Democrats to try to get Build Back Better passed and include priorities that I really care about, like improving the Medicare program."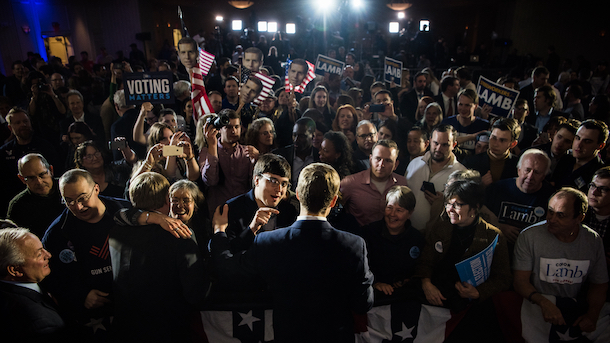 Lamb has made connections in all corners of the state throughout his time on the campaign trail. He's been endorsed by organizations ranging from the Allegheny-Fayette Central Labor Council in the western part of the state to the Philadelphia Democratic Party on the eastern side. From his time criss-crossing the Keystone State, Lamb said Pennsylvanians have expressed worries to him about inflation and the economy, while noting that he has backed bills to lower prescription drug prices, student loan costs and childcare expenses. 
He also listed protecting democracy as one of his top priorities if elected to the Senate. "We really need to protect people's voting rights (and) regularize the transition of power for the next presidential election so that we don't have all this mystery around the electoral votes and everything, and try to do something to just restore a culture of truth telling in our politics. We have to have it."
But before he can cast any votes to expand voting rights or address rising costs as a U.S. senator, Lamb first has to best Fetterman, which will be a mighty feat in its own right. 
J.J. Balaban, a Democratic strategist and admaker who is a partner at Technicolor Political, said it's typically difficult for candidates to build statewide name recognition during their first attempt at running for statewide office. That gave Fetterman an immediate advantage upon entering the U.S. Senate race in 2021, since he had already run for both U.S. Senate and lieutenant governor in the past, Balaban said.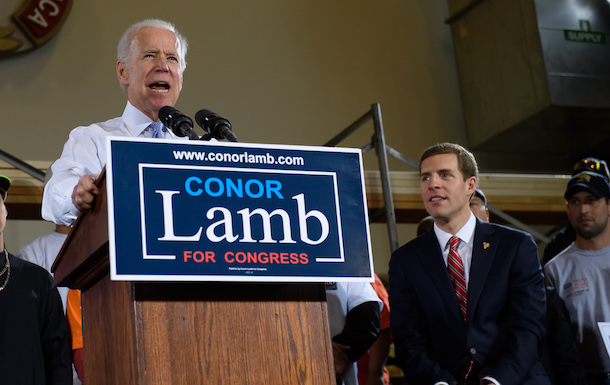 "It looks like Conor Lamb has run a reasonably good campaign to this point, but he started the campaign in a significantly weaker position than John Fetterman," Balaban said. "Pennsylvania, famously, is very difficult for first-time candidates to win statewide. It doesn't mean it never happens. But, famously, candidates have to run and lose before they run and win."
Terry Madonna, a political scientist and former pollster at Franklin & Marshall College, agreed that Fetterman entered the race with a built-in advantage. "Fetterman was elected twice statewide to the lieutenant governor's post, so I think he obviously starts as better-known." Fetterman won two statewide races in 2018, one primary election and one general election on a ticket with Gov. Tom Wolf, but has only been elected to one term as lieutenant governor to date.
Both Balaban and Madonna said Lamb has a few options available to separate himself from the rest of the Democratic field. Madonna said Lamb could highlight his votes on popular pieces of legislation, such as coronavirus aid packages or Biden's Build Back Better initiative. Given Biden's rough approval numbers, Madonna said Lamb could also look to establish himself as an "independent Democrat" who's heavily-focused on Pennsylvania-specific issues. 
Another option is to go negative, a move that could be effective, but that could also carry the consequence of damaging whoever the Democratic nominee is in the fall. 
"One path is to try to disqualify John Fetterman … but it is not necessarily the wisest path," Balaban said. "There is often a cost for going negative in a Democratic primary against a figure like John Fetterman, who is generally well-liked among Democrats."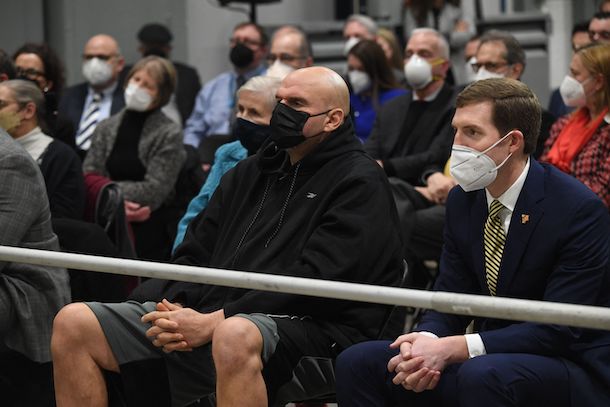 The Democratic primary for Senate hasn't been nearly as contentious as the Republican side, where GOP frontrunners have been lobbing attack ads at each other on TV for months. But there are signs that the race could be heating up, and Lamb hasn't been afraid to throw criticisms Fetterman's way. 
When asked about what his message would be to the state's Democratic primary voters, Lamb had a quick answer: "I am ready for this campaign and this job. John Fetterman is not. Very simple."
"The biggest campaign he's ever run in is a Democratic primary, (in) which he got about a third of the vote. So, two-thirds of the voters in our own party didn't even choose him. He's never beaten a Republican before in a real race. So, as a result, he's never been attacked," Lamb said, noting that Fetterman managed to escape scrutiny for a 2013 incident where he chased and confronted a Black jogger he mistook for a suspect while wielding a shotgun in his hometown of Braddock.
"He's never had incidents like the incident where he held a gun at a young African American man in Braddock – and then said on television afterward that he would do the same thing again. He's never had that aired on TV for weeks at a time, millions and millions of dollars behind it. He's never been attacked or tested in that way. To my knowledge, he's never really done anything to appeal to the types of swing voters that decide these elections," Lamb said.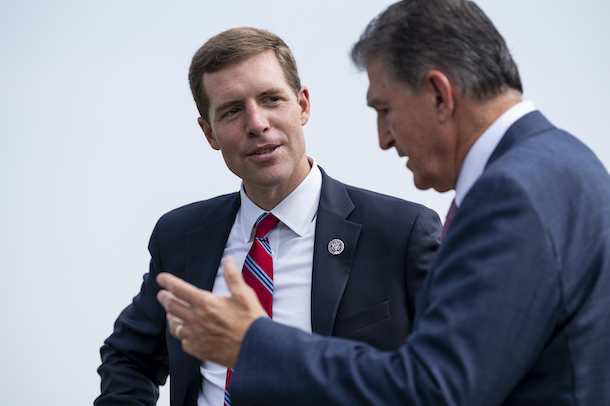 Fetterman's campaign fired back at Lamb's claims, with Fetterman spokesperson Joe Calvello pointing to Lamb's voting record. An analysis from data journalism website FiveThirtyEight found that Lamb's voting record aligned with former President Donald Trump's positions 68% of the time during the 115th Congress, though Lamb's career voting record aligns with Trump-favored positions roughly 22% of the time. 
Calvello also questioned Lamb's electability in a general election, noting that he is behind Fetterman in polling and fundraising. 
"If Conor Lamb is such a winner, why is he losing? He's 30 points down, even losing to us in his own congressional district, while struggling to raise money and begging a super PAC to come save him," Calvello said. "Nothing about Conor's floundering campaign suggests that he would be a strong candidate in the general election, or that he'll be able to excite and turn out voters in a tough year for Democrats. Now, he's arguing that a statewide elected official isn't electable statewide. Good luck with that."
But Lamb says there's room for his campaign to gain momentum in the coming weeks and that when voters hear about his record and his convictions, they'll gravitate toward him over other candidates. 
"He's just a little bit better-known than I am because he's been around and running statewide longer, but as people meet me … I think this race is really going to start to take shape," he said.
This story has been updated.