Capitol Beat
New poll shows Doug Mastriano with 14-point lead in Pennsylvania GOP primary for governor
The state senator is leading the Republican field in nearly every media market.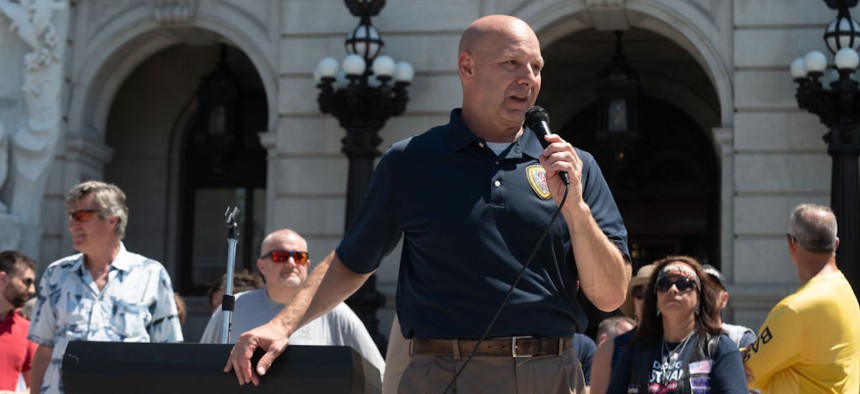 A new poll on Pennsylvania's Republican primary race for governor shows conservative state Sen. Doug Mastriano with a growing lead in the GOP race less than one month out from the May 17 primary. 
The survey, conducted by a Democratic pollster and reviewed by City & State, surveyed 800 likely Republican primary voters between April 18 and April 21. Of the voters surveyed, Mastriano leads the Republican field with support from 28% of voters, a 14-point lead over the next-closest candidate, former U.S. attorney Bill McSwain. 
The poll shows that Mastriano's lead in the race may be growing, as a March poll conducted by the same firm showed Mastriano with support from 20% of voters. 
McSwain, per the April poll, was second with support from 14% of voters, while former U.S. Rep. Lou Barletta came in third with 12%. Delaware County businessman Dave White was fourth with 11%, and two other candidates – former U.S. Rep. Melissa Hart and state Senate President Jake Corman – received 6% and 3%, respectively. The poll also found that 2% of voters would choose another candidate, and that 23% of primary voters are undecided. 
Mastriano, a state lawmaker from Franklin County, rose to prominence as a vocal critic of Gov. Tom Wolf's COVID-19 mitigation measures, often holding large rallies on the steps of the state Capitol to protest coronavirus restrictions. Mastriano continued to build his profile as a supporter of former President Donald Trump and pushed to have the state's 2020 electoral votes rejected by Congress. 
Mastriano also hosted an election-related hearing in Gettysburg in 2020 that amplified Trump's claims of widespread election fraud, which have been refuted by election officials, Trump's Department of Justice and one of his judicial appointees. He also was present in Washington, D.C. on the day the U.S. Capitol was attacked in 2021, but Mastriano said he never entered the Capitol building and left after the protest became violent. 
Mastriano has been subpoenaed by the U.S. House committee investigating Jan. 6, but it's unclear whether he has complied with the request. 
The events appear to have done little to erode Mastriano's support among GOP voters, as his favorability ratings grew from 36% in March to 43% in April, according to the two Democratic polls examined by City & State. 
Mastriano also leads the rest of the field in most media markets, coming in ahead of McSwain in the Pittsburgh designated market area by 3%, while also leading Barletta in media markets outside of Philadelphia and Pittsburgh by 18%. He trails to White in the Philadelphia media market, with Mastriano at 19% and White with support from 21% of likely GOP voters in that market. 
The poll also surveyed voters in the state's GOP primary for U.S. Senate, with the Trump-backed Dr. Mehmet Oz leading the pack with 24%. Former hedge fund executive Dave McCormick came in second with 18%, while conservative commentator Kathy Barnette and former U.S. ambassador to Denmark Carla Sands followed in third and fourth place with 14% and 8%, respectively. 
The poll has a margin of error of +/- 3.5%.