Campaigns & Elections
Jake Corman drops out of governor's race, endorses Lou Barletta
Corman's exit comes as Republicans worry about state Sen. Doug Mastriano's electability in the fall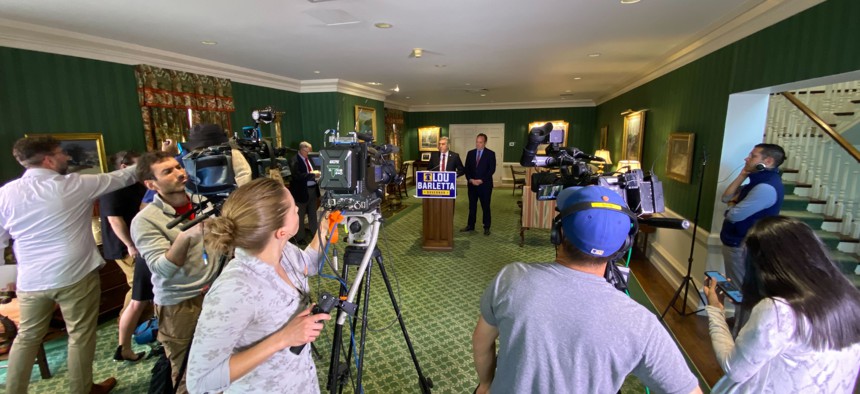 Just days before voters head to the polls and choose nominees in the state's race for governor, state Senate President Jake Corman on Thursday dropped out of the Republican primary race and threw his support behind former U.S. Rep. Lou Barletta. Corman's exit from the race comes amid worries from Republicans that the frontrunner, state Sen. Doug Mastriano, won't be able to win in a general election against presumptive Democratic nominee Josh Shapiro, the lone Democrat in the race.
"Lou Barletta is the man at the right time, the right place, for the people of Pennsylvania and I'm happy here today to support him," Corman said during a press conference in Harrisburg Thursday morning, referencing Barletta's experience as a mayor and member of Congress. "I would ask the voters to think about when they get into that booth, who offers us the best chance to win. I think that's Lou."
Both Corman and Barletta downplayed questions about whether Corman's decision to drop out was made to stop Mastriano from securing the GOP nomination. Barletta said he has avoided attacking other candidates in the race and said the Republican Party's focus should be on defeating Shapiro in November. "I personally like Doug Mastriano. It has nothing to do with him or any other candidate," Barletta said. "I believe I'm the best person to bring our party together. I like to say that I can get support in a bar room and a boardroom. I have a history of beating Democrats, and at the end of the day, that's what matters. That's why we all put our name on the ballot in the first place." 
Corman had already explored dropping out of the race earlier this year, but changed his mind after speaking with former President Donald Trump, who reportedly urged Corman to stay in. 
But to date, Trump has not endorsed a gubernatorial candidate, and with Mastriano leading in public polls, some Republicans think the party needs to support a candidate other than him. 
Sam DeMarco, chair of the Republican Committee of Allegheny County, wrote on Twitter Wednesday that he doesn't believe Mastriano can win in the general election, citing a recent poll from the Pittsburgh-based Osage Research.
"I don't believe he can win and am concerned that with this type of lead, Shapiro will spend much of the money he's raised going after our State Senate & House candidates," DeMarco tweeted. The poll referenced by DeMarco shows Shapiro with an 8-point lead over Mastriano among swing voters. 
Mastriano has led the Republican primary field by double digits according to two public polls released this week. A Fox News poll unveiled this week showed Mastriano with support from 29% of Republican primary voters, giving him a 12-point lead over Barletta, who was second with 17%. 
Similarly, a poll released this week by the Trafalgar Group had Mastriano leading Barletta 27.6% to 17.6%. Delaware County businessman Dave White was third with 15%, while former U.S. attorney Bill McSwain placed fourth with 14%.
Mastriano has attracted controversy throughout the race, with the Franklin County state senator facing questions over his ties to QAnon, a far-right conspiracy theory and movement, and for his efforts to install an alternate slate of electors for the 2020 presidential election, which prompted a subpoena from a U.S. House committee investigating the Jan. 6, 2021 attack on the U.S. Capitol. Other Republicans in the race jumped on Corman's withdrawal and said his endorsement of Barletta underscores the need for new blood in Harrisburg. 
"It's no surprise that career politician Jake Corman, who implemented the highest gas tax in America, has chosen to endorse fellow career politician Lou Barletta, who is also a steadfast supporter of higher gas taxes," said James Fitzpatrick, McSwain's campaign manager. "Alliances between career politicians will do nothing but protect the status quo in Harrisburg."Bob Salera, the campaign manager for White, made a similar point: "This is the swamp endorsing the swamp," he said.