News & Politics
McSwain highlights crime-fighting agenda ahead of May 17 primary
The former U.S. attorney says Pennsylvania needs a conservative outsider to handle law-and-order issues.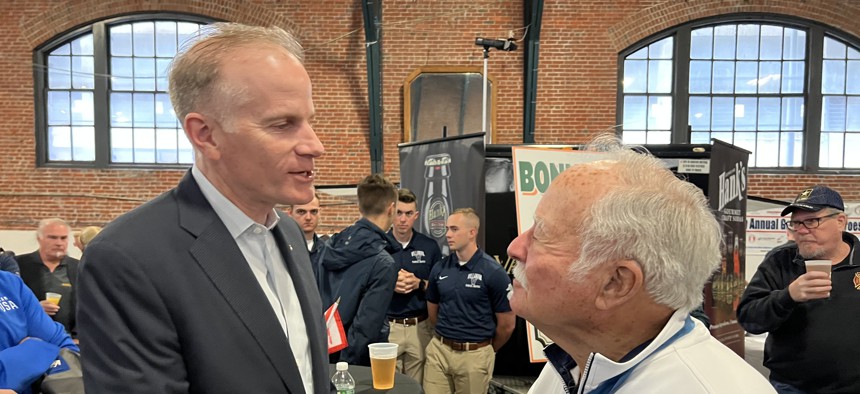 GOP gubernatorial candidate Bill McSwain is making his final pitch to voters ahead of next Tuesday's GOP primary for governor by highlighting his commitment to reducing crime if Republican voters choose him as the party's nominee. 
During a press conference featuring members of McSwain's coalition of law enforcement families supporting his gubernatorial bid, the former U.S. attorney said he would advocate for increased police funding and use the governor's office as a bully pulpit to fight for policies that stop crime. 
"When the police are unfairly vilified and they are unfairly criticized by all sorts of different organizations – but especially when they're criticized by their public officials – they're on their heels. When they're on their heels, crime spikes. When they feel supported in their mission and feel supported by public officials, then they're on their toes – they're proactive, and crime inevitably plummets."
McSwain also said he would support efforts to amend the state constitution to allow a governor to appoint Philadelphia's district attorney, as opposed to letting Philadelphia voters continue to choose the city's district attorney in regular elections. 
McSwain countered claims that the idea is radical, noting that in New Jersey, the state's governor appoints all county prosecutors, who are then confirmed by the state Senate. 
"I want to give everybody in Pennsylvania a voice in that because Philadelphia does not exist in isolation," McSwain said. "You can't just dig a moat around Philadelphia or put a wall around Philadelphia and separate it from the rest of the state. It is bad for the entire state if Philadelphia is known as the murder capital of the country, which is what it is right now."
Philadelphia has been plagued by its murder rate, which has increased every year since 2016. The city surpassed 562 murders in 2021; gun-related robberies also rose last year, according to data from the Philadelphia Police Department. 
McSwain said replacing embattled Philadelphia District Attorney Larry Krasner could be one solution to addressing crime in the city. "I'm talking about one district attorney who's not doing his job," he said. "I only want to appoint one district attorney because that particular city is in crisis – and it's not anti-democratic at all, either – it's putting the question to the voters of Pennsylvania."
McSwain, however, would have little input on proposed constitutional amendments, as the governor's office is largely cut out of the process of amending the state constitution. 
The GOP gubernatorial hopeful also looked to create distance between himself and GOP front-runner state Sen. Doug Mastriano, who is leading the Republican primary field, according to a new poll from The Trafalgar Group that was released on Monday. 
McSwain criticized Mastriano over a bill he authored that would publicize certain private health information if signed into law, and also hit Mastriano over votes to approve budgets negotiated between Gov. Tom Wolf and Republican legislators.  
"He has consistently voted for Tom Wolf's ballooning state budgets. He has advocated for a COVID registry, for example, which would waive HIPAA protections and broadcast people's private medical information out to the world," McSwain said. "So I don't think he has a conservative record, and what we need is a conservative outsider to go into Harrisburg to shake things up and make the hard decisions that our state needs to get back on track."