Budget
Trump says Pennsylvania budget should be 'tied' to bill expanding poll watcher access
The former president is wading into conversations about the state budget.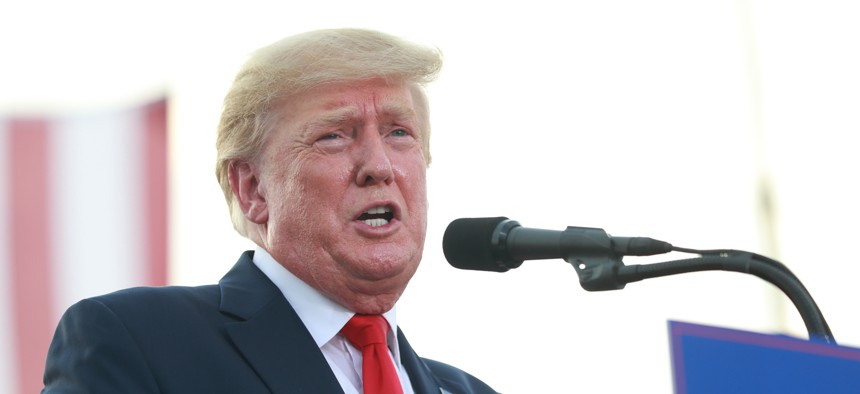 Donald Trump has entered the chat – the ongoing chat about Pennsylvania's next state budget, that is.
The former president, still pushing conspiracy theories about the 2020 election, waded into conversations surrounding state budget negotiations this week, calling on Republicans in the Pennsylvania General Assembly to tie a controversial election bill to the state budget, a move that could imperil progress on a budget that is already late. 
Trump, in a statement released this week, praised a bill from state Sen. Doug Mastriano – who the former president endorsed in the state's race for governor – that would expand the access that partisan poll watchers have at election precincts across the state. Trump said that the proposal should be linked to the state's yet-to-be-unveiled budget agreement. 
"This, and other Election Integrity measures like banning drop boxes, no private funding, Voter ID, and same day voting with paper ballots, should be tied to the State Budget," Trump wrote in a statement where he pushed allegations of cheating in Philadelphia elections. "Republicans must get tough and smart if they want to win (easily) Pennsylvania!"
Mastriano thanked Trump for his support on Twitter, and said: "We will secure elections in Pennsylvania!"
We will secure elections in Pennsylvania! Thank you for supporting our legislation, President Trump. pic.twitter.com/LUcAk1pyBj

— Doug Mastriano (@dougmastriano) June 29, 2022
Trump's statement drew quick condemnation from Democrats, including state Rep. Malcolm Kenyatta from Philadelphia, who said the bill is an effort to "make voter intimidation legal in Pennsylvania."
"I'm once again asking Donald Trump to keep Pennsylvania out of his seditious-ass mouth," Kenyatta said. 
The legislation would expand the number of poll watchers that a candidate may appoint, and allow poll watchers to observe election administration in any county in the state, removing a provision that currently prohibits poll watchers from observing polling places outside of their home county. 
The bill does not allow poll watchers to interfere in ballot counting or other election operations, and would raise penalties for poll watchers who intimidate voters or disrupt the duties of election officials. The measure would also beef up penalties for county officials and workers who prevent poll watchers from observing at precincts and other locations. 
The bill has also concerned some government watchdog groups, with the potential for voter intimidation being their primary worry. Deidre Lesesne, the development coordinator for the Voter Empowerment Education & Enrichment Movement, said Mastriano's bill "puts voters and election-day (workers) at risk of intimidation." That sentiment was shared by Khalif Ali, the executive director of Common Cause Pennsylvania:
"There is no legitimate reason to allow partisan poll watchers to be assigned to polling places hundreds of miles away from their own residence," Ali said, adding that the bill "gives bad faith partisan operatives from other parts of the commonwealth the opportunity to challenge the eligibility of voters, make poll workers' jobs more difficult, and disrupt the count of ballots."
I'm once again asking Donald Trump to keep Pennsylvania out of his seditious-ass mouth.
State Rep. Malcolm Kenyatta
Elizabeth Rementer, a spokesperson for Gov. Tom Wolf, railed against Trump for continuing to make baseless claims about the 2020 election. "The administration is disappointed to see that the former president is continuing to further the same election lies that have undermined confidence in our democratic process and directly led to the attacks on our nation's Capitol on January 6," Rementer said in an email. "It is long past time for this nonsense to stop and Senator Mastriano's continued efforts to further these lies legislatively are just one of many reasons he is not qualified to be governor."
Rementer did not say whether Wolf would sign Mastriano's poll watcher legislation, but said "the governor is focused on finalizing a budget that moves Pennsylvania forward and makes needed and historic investments in education."
A spokesperson for House Republicans declined to comment on Trump's statement.
Erica Clayton Wright, a spokesperson for the Senate Republican Caucus, didn't say whether there would be any effort from Republicans to use Mastriano's legislation as leverage in state budget negotiations, but said that Trump's concerns about election security are shared by Pennsylvanians. 
Clayton Wright said lawmakers are "working on a fiscally sound budget that invests in our people."
"Former President Trump's statement is reflective of the position held by a majority of Pennsylvanians," Clayton Wright said. "The (General Assembly) will continue to try and work in a bi-partisan manner to address an issue that is vital for Pennsylvanians to have confidence in our election process."
Mastriano's legislation, Senate Bill 573, was approved by the state House this week, and now awaits a signature or veto from Wolf.