Campaigns & Elections
Charlie Dent and other former GOP officials endorse Josh Shapiro for governor
Dent says Shapiro's opponent, Doug Mastriano, is 'a threat to the rule of law and the constitutional order.'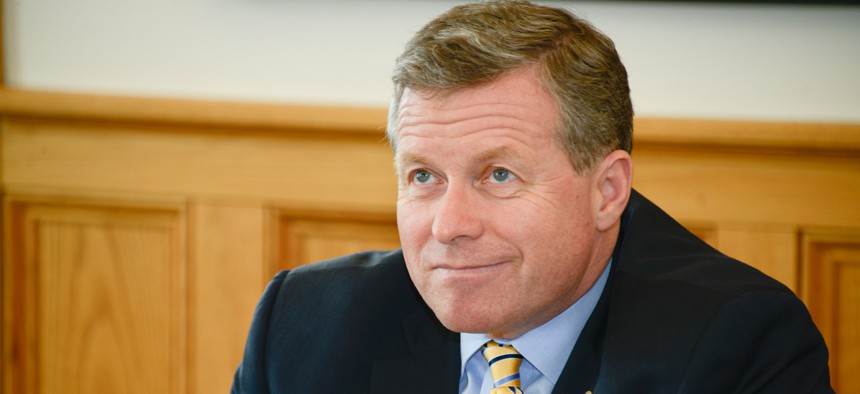 Pennsylvania gubernatorial hopeful Josh Shapiro may have picked up his biggest endorsements to date, earning the support of nine former Republican officials who are bucking their party to support the Democratic attorney general's campaign for governor. 
Among those supporting Shapiro is Charlie Dent, a former GOP U.S. Representative who represented the Lehigh Valley for 13 years before retiring in 2018. The band of Republicans also includes another former congressman, a former speaker of the Pennsylvania House of Representatives, a former Republican lieutenant governor and other state and local GOP leaders. 
The Republicans cast Shapiro as the only candidate in the race that can unite the state, though the endorsement was as much a rebuke of Republican candidate Doug Mastriano as it was a show of support for Shapiro. 
Mastriano, who has been endorsed by former President Donald Trump and peddled false claims that the 2020 presidential election was corrupt and marred by fraud, was elected as the Republican Party's nominee for governor in May. Mastriano won despite attempts to slow his campaign by other Republicans in the race, and his win has appeared to alienate at least some Republicans who view him as too extreme to be elected governor. 
Dent said Shapiro would unite the state, and that his focus on the economy, education and public safety "is what Pennsylvania needs now."
"Doug Mastriano, on the other hand, is an extremist who is a threat to the rule of law and the constitutional order," Dent said in a statement wherein he endorsed Shapiro. 
The other Republicans backing Shapiro's bid include former U.S. Rep. Jim Greenwood, former state House Speaker Denny O'Brien, former state Supreme Court Justice Sandra Schultz Newman, former state Reps. Dave Stell and Lita Cohen, former lieutenant governor Robert Jubelirer, Lawrence County Board of Commissioners Chair Morgan Boyd and former Montgomery County GOP Chair Ken Davis. 
Josh has integrity and always works to bring people together. We may not always agree on every policy position, but that is to be expected … Doug Mastriano, on the other hand, is an extremist who is a threat to the rule of law and the constitutional order.
O'Brien touted Shapiro's work in the General Assembly to advance ethics reforms and said Shapiro's work as attorney general demonstrates an ability to work across the aisle. O'Brien said Mastriano "continues to divide us and waste time and taxpayer money on his conspiracy theories and plans to upend Pennsylvania's elections." Schultz Newman also piled on, calling Mastriano extreme and divisive. "His priorities are completely wrong," she said.
In a statement, Shapiro thanked the nine Republicans for supporting his campaign and promised to work with leaders across the political spectrum. 
"In order to meet this moment and address the challenges facing Pennsylvania, Republicans, Independents and Democrats must come together – and I am grateful to receive the endorsement of so many Republican leaders who recognize the stakes of this governor's race," Shapiro said. "I have a proven track record of bringing people together to deliver real results, and as governor, I will bring leaders together from both sides of the aisle to cut taxes and bring down costs, keep our families safe, and take our commonwealth forward."
Mastriano has picked up a slew of endorsements himself since launching his campaign, racking up support from Trump, former National Security Adviser Gen. Michael Flynn, Gun Owners of America, former Trump attorney Jenna Ellis, conservative commentator Kathy Barnette and state Reps. Rob Kauffman and Stephanie Borowicz, among others.