News & Politics
This week's headlines: Oz goes viral over crudités and Mastriano challenges Shapiro to multiple debates
Here is a roundup of the week's hottest political news.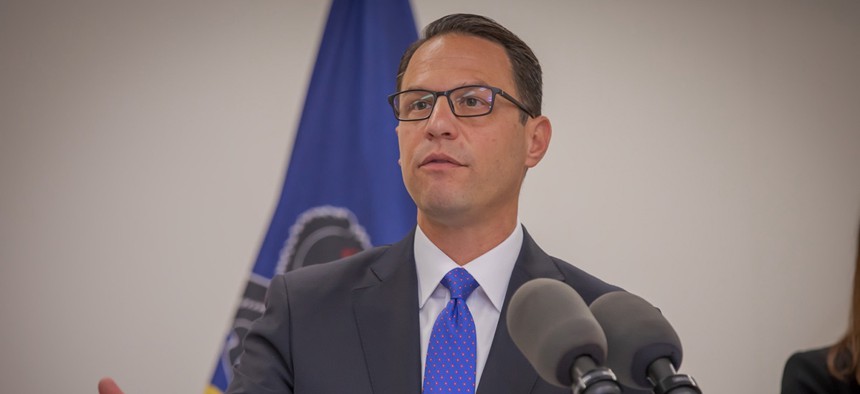 There have been a number of political sitcoms and dramas that have captivated viewers and provided entertainment for those interested in the day-to-day drama of politics. If this year's midterm election cycle is any indication, Pennsylvania could provide plenty of inspiration for the nation's next political production. This week alone, the state saw a U.S. Senate candidate go viral thanks to a vegetable-themed video, gubernatorial candidates sparring over how best to organize debates and two former judges forced to pay $200 million in compensation to victims they put in for-profit prisons in exchange for illegal payments. For more about this week's top stories, continue reading. 
Dr. Oz goes viral with veggie video
Sometimes, going viral in a political campaign can be a very good thing for a candidate. Other times, it can work against political hopefuls. Republican Senate candidate Dr. Mehmet Oz experienced the latter this week when a video of him shopping for crudités ingredients and mispronouncing the name of a local grocery store chain went viral. Oz was ripped on social media for the gaffe, and his opponent, Lt. Gov. John Fetterman, pulled in more than $500,000 in campaign contributions after the video made the rounds on social media. Oz has since addressed the goof-up, chalking up the mispronunciation to exhaustion from the campaign trail. 
Doug Mastriano challenges Josh Shapiro to two debates – with conditions
State Sen. Doug Mastriano, Pennsylvania's GOP nominee for governor, wants to debate his general election opponent, Attorney General Josh Shapiro, under a set of predetermined conditions that Shapiro's campaign has already criticized. This week, Mastriano challenged Shapiro to two 90-minute debates in October, with the locations and moderators selected by the candidates. Mastriano said he wants a "level playing field" and accused media outlets of serving as "unpaid advocates" for Democratic candidates. Shapiro's campaign called the proposal from Mastriano "unserious" and an "obvious stunt" to avoid questions. 
"Kids for Cash" judges ordered to pay victims over $200 million
Two former Pennsylvania judges involved in the so-called "Kids for Cash" scandal, which saw judges send children to for-profit jails in exchange for illegal payments, were ordered this week to pay more than $200 million to hundreds of people as a result of a civil suit, according to The Associated Press. This week, a judge ordered the disgraced judges – Mark Ciavarella and Michael Conahan – to pay out $106 million in compensatory damages and $100 million in punitive damages to nearly 300 victims, many of whom were first-time offenders for crimes like petty theft, jaywalking and truancy, among other minor offenses.
Tom Wolf attempts to ban use of conversion therapy
Gov. Tom Wolf is in the twilight of his career as governor, but that didn't stop him from taking action this week to try and discourage the use of conversation therapy on LGBTQ Pennsylvanians. Wolf signed an executive order directing state agencies to discourage the use of methods that seek to "change an individual's sexual orientation or gender identity," though Wolf acknowledged that his executive action doesn't go as far as he would like. He called on lawmakers to approve legislation that would ban conversion therapy in the state, and said in the interim, an executive order is "the best I can do absent that legislation."