Policy
The debate over debates: Oz, Fetterman continue to feud over details
Both candidates have outlined conditions they want in their first meeting.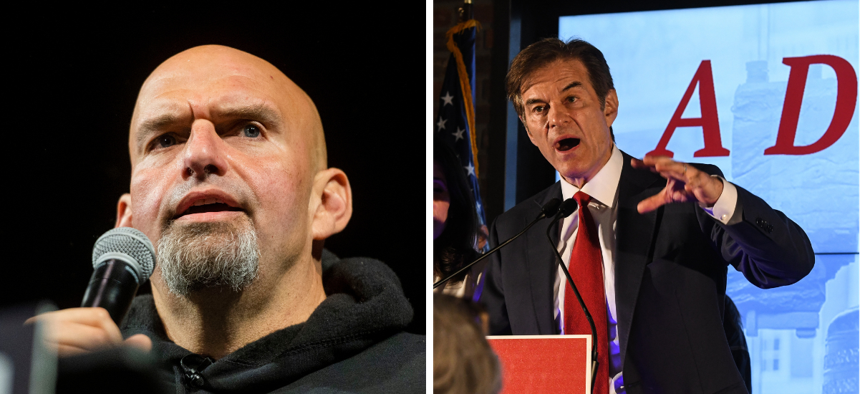 Pennsylvania's two major candidates for U.S. Senate appear to have agreed on the time and place for their first televised debate of the general election cycle – but they are having a hard time agreeing on how long the event will last. 
Lt. Gov. John Fetterman, the state's Democratic nominee, announced Wednesday that he accepted an invite to debate GOP nominee and celebrity physician Dr. Mehmet Oz on Oct. 25 in Harrisburg, hosted by media corporation Nexstar, which has four television stations in Pennsylvania – a meeting to which Oz had already agreed. Shortly thereafter, Oz's campaign released a statement of its own noting that Fetterman had asked for closed captioning to assist him with auditory processing issues he has experienced since having a stroke in May, along with two practice sessions to get used to the system. 
Oz's campaign responded with three conditions of its own: that the moderator explain Fetterman's use of a closed-captioning system; that the debate be extended from 60 to 90 minutes; and that practice session questions not resemble any questions that may be asked at the debate. Rebecca Katz, senior advisor to the Fetterman campaign, accused Oz of "trying to move the goalposts" to avoid taking questions on issues like abortion. 
"Oz agreed to a 60-minute Nexstar debate. Then we agreed to a 60-minute Nexstar debate. Now, suddenly 60 minutes isn't good enough, and he's demanding 90," Katz said in a statement. "Let's be real: If we agreed to 10 debates, Oz would be demanding 20. He's going to keep trying to move the goalposts, because this is his only play."
On Thursday, Oz campaign manager Casey Contres said in a statement that the campaign agreed to the Fetterman campaign's request for a closed-campaigning system, as well as the two practice sessions – but insisted that the debate be extended to 90 minutes to account for delays that the closed-captioning system might cause. 
"The Oz campaign agreed to a 60-minute debate on Oct. 5 without closed-captioning. Now, the Fetterman campaign wants a 60-minute debate with closed-captioning. That's literally the dictionary definition of moving the goal posts," Contres countered.  
Let's be real: If we agreed to 10 debates, Oz would be demanding 20. He's going to keep trying to move the goalposts, because this is his only play.
- Rebecca Katz
As of Thursday evening, both the Fetterman and Oz campaigns are still sparring over how long the debate will last. 
Joe Calvello, a spokesperson for the Fetterman campaign, said Fetterman will participate in a 60-minute debate, noting that both candidates initially agreed on the timeframe. 
"We are doing the 60-minute debate, which has been agreed to," Calvello told City & State in an email. "Maybe Dr. Oz needs the additional time to finally figure out where he stands on a national abortion ban, but we're ready to go. See you on the 25th."
Oz's campaign was insistent that the debate be expanded to 90 minutes. 
"We were told by Nexstar that they are perfectly capable of doing 90 minutes. We really are at a loss to understand why John Fetterman would not want to debate for 30 more minutes, particularly since we accommodated his demand for a cumbersome closed-captioning system," said Oz spokesperson Brittany Yanick. "It makes no sense, unless he's not really interested in debating."
The Nexstar debate is slated to air on nine local TV stations across the state, including in Philadelphia, Pittsburgh, Harrisburg, Johnstown, Scranton, Wilkes-Barre and Erie. It will also be livestreamed by other Nexstar affiliates. A spokesperson for Nexstar did not immediately respond to City & State's inquiry about the status and length of the debate.