Campaigns & Elections
Fetterman's doctor says he is 'recovering well' and has 'no work restrictions'
The Democratic Senate candidate's campaign released a new letter from his doctor detailing his health on Wednesday.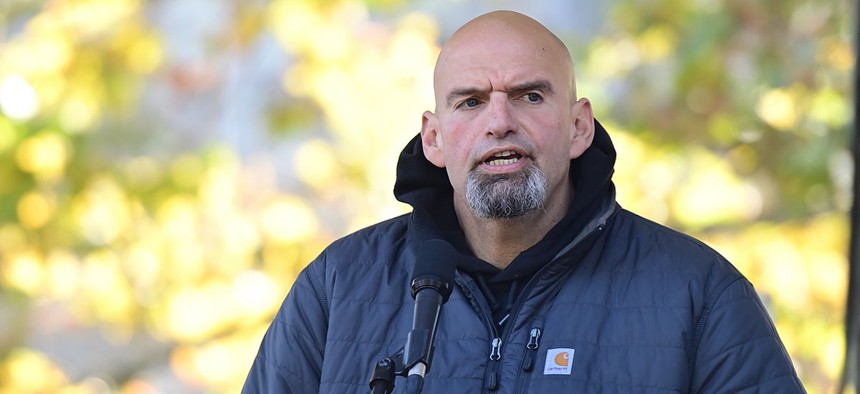 As Democratic Senate nominee and Lt. Gov. John Fetterman's lead in the polls appears to wane, his campaign on Wednesday released a new doctor's note defending Fetterman's health at a time when his fitness for office has become a line of attack from his Republican opponent, Dr. Mehmet Oz. 
The medical report, which was written by the University of Pittsburgh Medical Center's Dr. Clifford Chen, says Fetterman is "recovering well" from his stroke in May and that his health "has continued to improve."
Chen said Fetterman's speech appeared to be normal during an Oct. 14 visit, while noting that the lieutenant governor "continues to exhibit symptoms of an auditory processing disorder which can come across as hearing difficulty." Speech therapy has improved Fetterman's communication in the months that have followed his stroke, Chen added. 
"His communication is significantly improved compared to his first visit assisted by speech therapy which he has attended on a regular basis since the stroke," Chen wrote. Fetterman has also been taking heart medication to prevent additional strokes. 
Unfortunately, for Dr. Oz, I'm ready to serve and continue to get better every single day.
– John Fetterman
"Overall, Lt. Governor Fetterman is well and shows strong commitment to maintaining good fitness and health practices," Chen wrote. "He has no work restrictions and can work full duty in public office."
The release of the letter comes a day after Oz and 15 other doctors called on Fetterman to release medical records to "provide Pennsylvanians with the transparency they are owed." Oz released medical records of his own last month. 
Fetterman suffered a stroke on May 13, just a few days before Pennsylvania's Democratic primary election for U.S. Senate, which Fetterman won handily. The stroke was a result of atrial fibrillation, an irregular heart rhythm that can lead to complications. 
"Unfortunately, for Dr. Oz, I'm ready to serve and continue to get better every single day," Fetterman said in a statement Wednesday. 
Fetterman senior adviser Rebecca Katz said the visit brought "nothing but good news."
"By all measures, John is making great progress in his recovery and doing everything he needs to do to live a healthy life," Katz said in a statement. 
Oz's campaign has stepped up criticisms surrounding Fetterman's health in recent weeks, pressuring Fetterman to release medical records and accusing him of dodging questions about his health. 
Oz's campaign responded to the news by hitting him over his criminal justice reform work as chair of the state Board of Pardons. Oz spokesperson Rachel Tripp also suggested that Fetterman should agree to a second debate with Oz. 
"That's good news that John Fetterman's doctor gave him a clean bill of health. The bad news is that John Fetterman still supports releasing convicted murderers out on the streets and has zero explanation for why he didn't pay his taxes 67 times," Tripp said in an email. "And now that he apparently is healthy, he can debate for 90 minutes, start taking live questions from voters and reporters, and do a second debate now too."
The two are set to square off in their first and only scheduled debate before the general election on Oct. 25, where Fetterman will use closed captioning to assist him with auditory processing.
This story has been updated to include comment from the Oz campaign.