Campaigns & Elections
Here's what Doug Mastriano said – and didn't say – in his concession speech
Mastriano wished Gov.-elect Josh Shapiro well and said the state is in need of election law changes.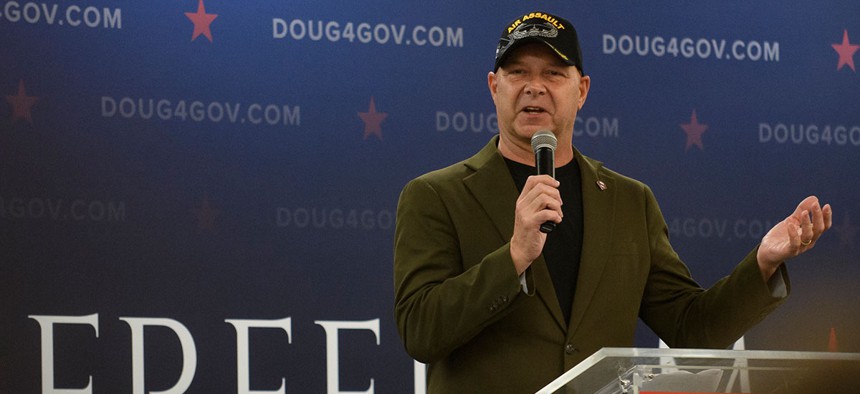 Doug Mastriano, the Trump-backed conservative state senator who was this year's Republican nominee for governor in Pennsylvania, has finally put questions to bed about whether he will concede.
In a Facebook Live video Sunday night, Mastriano and his wife, Rebbie, thanked supporters for backing the campaign during this year's election cycle, and officially accepted defeat, telling viewers that his opponent, Democratic Attorney General Josh Shapiro, will be the state's next governor. 
"As difficult as it is to accept the results, there is no other course but to concede, which I do, and I look to the challenges ahead," Mastriano said during the livestream. "Josh Shapiro will be our next governor and I ask everyone to give him the opportunity, and to pray that he makes the decisions that are beneficial for the state and not necessarily for his party that he leads well – because it affects all our lives."
Shapiro, the state's Democratic nominee, was declared the winner on election night by a series of media outlets, including The Associated Press, Fox News and NBC News, among others. 
Unofficial results from the Pennsylvania Department of State show Shapiro with a 14-point lead over Mastriano, with Shapiro notching 56% of the vote, compared to Mastriano's 42%. 
Mastriano's willingness to accept the results was called into question after he embraced false claims about the results of the 2020 presidential election. He also spearheaded efforts to audit those election results using an obscure legislative committee, but was ultimately stripped of the committee chairmanship after feuding with state Senate President Pro Tempore Jake Corman. 
Mastriano has also drawn the focus of the U.S. House committee investigating the Jan. 6, 2021 attack on the U.S. Capitol, which subpoenaed Mastriano for information about a plan to send an alternate slate of presidential electors to Washington, D.C., as well for information about his presence on the U.S. Capitol grounds that day. 
Freedom, obviously, is a very special thing that we take for granted. So we need to keep this 2.2 million-voter movement alive.
– Doug Mastriano
But despite his past history surrounding elections, on election night, speaking from his campaign's watch party in Camp Hill, Mastriano signaled that while he would wait for all results to be counted, he would accept the results. "What the people of Pennsylvania say, we will, of course, respect that," he told supporters. 
A spokesperson for Shapiro said Monday that Mastriano has not contacted or called Shapiro. 
Mastriano did hint that he has another announcement coming in the near future centered around the grassroots base that propelled him to run for governor. 
In his concession speech, Mastriano also said the state is in need of election reforms. He didn't say what specific reforms he thinks are needed, but Mastriano supported the elimination of mail-in ballots and the implementation of a universal voter ID requirement during the election cycle. 
Mastriano will remain in the state Senate, where he pledged to act as a backstop against Democratic policies: "We will be the firewall standing up for the people of Pennsylvania," he said. 
Details were scant during the livestream, but more about Mastriano's future could be revealed in the coming days, with the state senator promising to provide an update "in a few days."
"Freedom, obviously, is a very special thing that we take for granted. So we need to keep this 2.2 million-voter movement alive," he said. "Stand by for further information."