Campaigns & Elections
Shapiro begins gubernatorial transition
The Democratic governor-elect announced three transition appointments and shed light on his future as attorney general.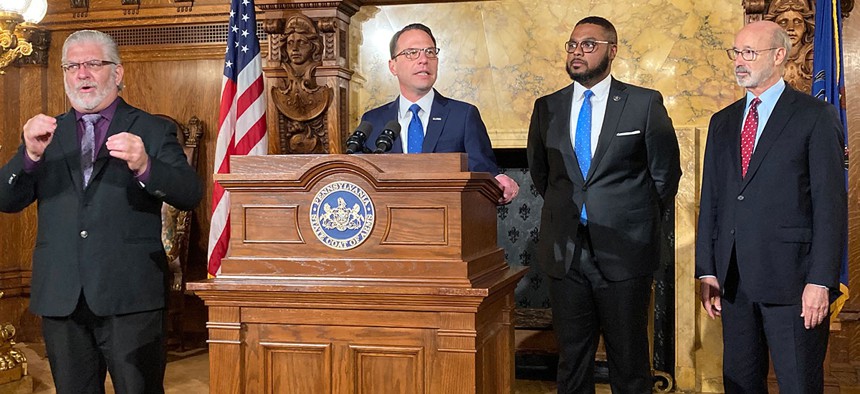 Gov.-elect Josh Shapiro announced the first phase of his gubernatorial transition on Wednesday, promising to build an administration that reflects the state's geographical and ideological diversity, and outlining three key appointments to his transition team. 
Joined by Lt. Gov.-elect Austin Davis and outgoing Gov. Tom Wolf, both of whom are Democrats, Shapiro vowed to make education, public safety and the economy his top priorities once he takes office. 
Shapiro also said that he plans on continuing to serve as the state's attorney general until he is sworn in as governor, setting the stage for the governor-elect to select his own replacement.
Here are some of the highlights from Shapiro's first press conference as governor-elect. 
Some transition housekeeping
The governor-elect said that three members of his campaign staff will be overseeing the transition. 
Akbar Hossain, who served as the Shapiro campaign's policy director, will serve as executive director of the transition. Amanda Warren, who was the campaign's finance director, was appointed as the inauguration's executive director and will be in charge of Shapiro's inauguration. Shapiro said Manuel Bonder, the campaign's press secretary, will be director of communications for both the transition and the inauguration. 
The people of this commonwealth came together and they spoke up in a decisive and historic way, standing up to extremes, defending real freedom, searching for common ground.
– Josh Shapiro
Shapiro added that his staff will be rolling out transition-related infrastructure in the coming weeks, including a transition leadership board, another board focused on inauguration day planning and several committees that will advise his prospective administration on policy matters. 
He said that more staffing announcements related to the transition and his administration will be announced in the near future. 
Picking his own replacement
Shapiro said he will serve in his current role as attorney general until he is sworn in as governor, a move that will give him the opportunity to pick his own replacement. 
Under state law, an absence at attorney general is filled by the governor, who is tasked with nominating a replacement to fill out the rest of the term, which the state Senate must then approve by a two-thirds majority. Until that vacancy is filled, the first deputy attorney general will lead the office. 
Shapiro said he will provide more information about who he will nominate at a later date. "I'll make some announcements in the coming weeks as to my intention on nominating someone to the Senate for consideration as attorney general," he said.
Claiming a mandate, planning on collaboration
On policy matters, Shapiro claimed a clear mandate while also promising to work with legislative leaders on both sides of the aisle. "The people of this commonwealth came together and they spoke up in a decisive and historic way, standing up to extremes, defending real freedom, searching for common ground," Shapiro said. "That is my mandate – that is our mandate – to lead forward."
To that end, he shared that he has already spoken with incoming Senate President Pro Tempore Kim Ward. "I'm looking forward to working with her," he said. "We had a very good and constructive dialogue."
Regarding his initial focus on education, Shapiro pledged to reduce reliance on standardized tests and place a greater emphasis on vocational and technical training. In the public safety realm, he said, his administration will release a plan to incentivize the hiring of more police officers. He also said he will put together a work group to examine how to move forward on a plan to regulate carbon emissions in the state. 
"That mandate I have is not just an electoral mandate: What I've heard clearly from voters is they want us to get things done in this building, to take off the red jersey and blue jersey and come together around the principles that are going to matter most to the good people of Pennsylvania," Shapiro added, striking a tone of bipartisanship. 
Wolf promises smooth transition
Wolf expressed a great deal of optimism as Shapiro prepares to take over. 
"I'm really looking forward to living in Pennsylvania where the governor is Josh Shapiro and the lieutenant governor is Austin Davis," he told reporters following the press conference. "I have every confidence that they're gonna make the right decisions."
Shapiro said he looks forward to working with Wolf as the transition takes shape. 
"He and his administration have made clear that they want to work with our transition to help us be able to hit the ground running," he said.