News & Politics
The candidates running to run Allegheny County
A handful of Democratic candidates have entered the race to replace Allegheny County Executive Rich Fitzgerald.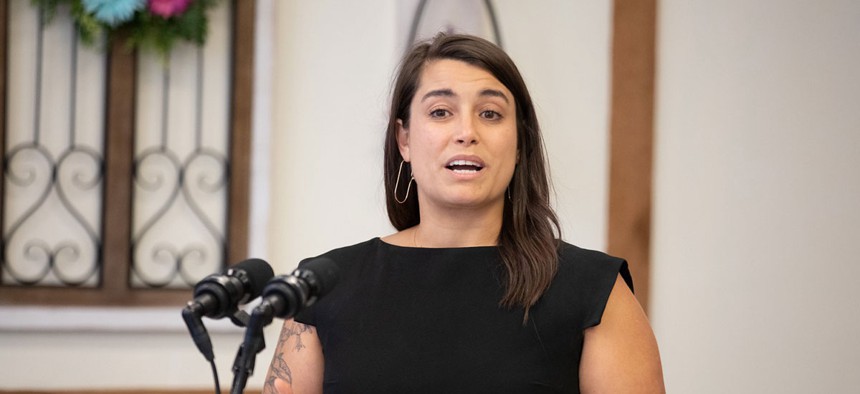 Now that the midterms are over, all eyes are on Allegheny County's top prize in 2023: the county executive's office. 
Five candidates have already put their names in the running to be the county's chief executive – a top executive branch role. The Allegheny County executive approves and vetoes legislation, oversees administrative departments, helps develop an annual budget and submits ordinances and other proposals to Allegheny County Council for consideration. 
Voters will select party nominees for county executive on May 16, 2023, with the general election slated for Nov. 7, 2023. Below are all of the candidates – all of whom are Democrats so far – who have announced they are running to replace current Allegheny County Executive Rich Fitzgerald.
Sara Innamorato
State Representative 
Sara Innamorato, a two-term, progressive state representative, is looking to make the jump from state lawmaker to county executive after four years representing the 21st House District. At her campaign launch, Innamorato pledged to bring down costs, expand access to housing, create jobs in renewable energy and address the root causes of crime. Innamorato promised to bring a "responsive, efficient, transparent and user-friendly government" to the county if elected.
Michael Lamb
Pittsburgh City Controller
No stranger to politics in Allegheny County, Michael Lamb has served as Pittsburgh city controller since 2008, making him the city's top financial watchdog. He also served as Allegheny County prothonotary – a position he successfully lobbied to eliminate – and ran unsuccessfully for Pennsylvania auditor general in 2019. In a recent interview with WESA, Lamb touted his ability to "unite different interests" and reflected on his work to reform government in the region. As for what sets him apart from other candidates, Lamb said he has "the perseverance and the persistence to get something done."
Liv Bennett
Member of Allegheny County Council
A local organizer and member of Allegheny County Council, Liv Bennett is hoping her roots in the county will help propel her to the county executive's office. Bennett launched her campaign on Dec. 12, reflecting on her work on County Council to ban conversion therapy, prohibit fracking in county parks and establish a police review board, according to Pittsburgh City Paper. As county executive, Bennett wants to reform the Allegheny County Jail, improve access to public transit and strengthen public safety, per her campaign website. 
Dave Fawcett
Trial lawyer and former member of Allegheny County Council
Oakmont resident Dave Fawcett announced his campaign for Allegheny County executive on Dec. 15, hoping to put his skills as a trial lawyer and former Allegheny County Council member to use in a new role. In a statement announcing his candidacy, Fawcett said he would bring "battle-tested leadership" to the county executive's office, and listed job creation, further developing the region's transportation systems and reducing gun violence as some of his top priorities. 
Erin McClelland
Project manager at the Allegheny County Department of Human Services
Erin McClelland spent 15 years as a substance abuse and mental health counselor and now works at the county's Department of Human Services as a project manager. McClelland sees the county executive's office as her next career move, promising to bring "high-energy passion, vigilant prudence and extensive process and policy knowledge" to the position – a position that McClelland hopes to use to reform and modernize county government in a manner that addresses the needs of Allegheny County residents. 
This story will be updated as more candidates enter or exit the race.