News & Politics
Mark Rozzi eyes Pittsburgh for first stop of statewide listening tour
The House Speaker announced a tour last week to hear from residents on gridlock in Harrisburg.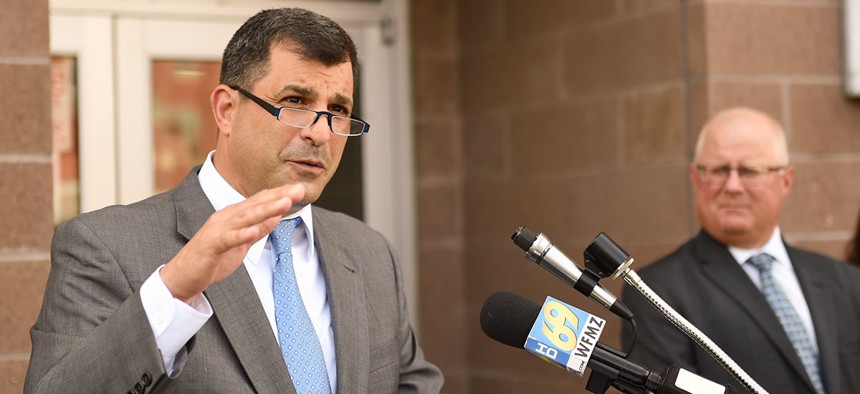 With legislative business in the General Assembly effectively at a standstill due to gridlock in the state House, House Speaker Mark Rozzi will be embarking on a statewide listening tour to hear from residents about how to solve the impasse – and he's picked Pittsburgh as his first stop.
Rozzi announced that the first listening tour session will be held in Pittsburgh on Wednesday, Jan. 25 at the Carnegie Mellon University Tepper School of Business at 6 p.m. The session, which will include a public comment period at the end, will be held at the Simmons Auditorium at 4765 Forbes Ave. in Pittsburgh. 
With control of the House closely divided between Democrats and Republicans, lawmakers have been unable to agree on operating rules for the chamber, meaning the House is currently unable to form committees or advance legislation. Additionally, lawmakers have not yet passed a constitutional amendment creating a two-year window for child sex abuse survivors to sue their abusers – a chief priority of Rozzi's that was the subject of a special session scheduled for earlier this month. 
"To help us break this gridlock, I have decided to seek the counsel of those most often neglected: the people of Pennsylvania," Rozzi said in a video message announcing the tour. "In the coming weeks, I will be touring the commonwealth to hear directly from our citizenry on how they think the House can best move forward and heal the divides that exist due to the hyper-partisan politics of Harrisburg."
I pledged to be an independent Speaker of the House and I will be an independent Speaker of the House.
– House Speaker Mark Rozzi
Rozzi also reaffirmed his plans to lead the chamber as an independent, or at least, with an independent streak, after he was unexpectedly elected speaker of the House earlier this month. 
"I pledged to be an independent Speaker of the House and I will be an independent Speaker of the House. While some want to focus on my independence in terms of party politics, my commitment is to the people of Pennsylvania," he said in the video.
Members of Rozzi's bipartisan work group, which he formed in an attempt to end the ongoing impasse, will be in attendance at the Pittsburgh listening tour session, Rozzi's office said in a press release, though it did not specify who.
The lawmakers will also be accompanied by "representatives from interested groups and survivors of childhood sexual assault" who will also discuss House operating procedures and how to advance the constitutional amendment, according to the announcement. 
A House GOP spokesperson did not immediately comment on the listening tour.
Senate lawmakers advanced a set of constitutional amendments, including the two-year window for civil suits, earlier this month, but Rozzi has vowed not to pass any other measures until the constitutional amendment for sex abuse survivors is approved. The package of amendments, contained in Senate Bill 1, also include a measure to establish universal voter ID requirements for elections in the state constitution, as well as a constitutional amendment that would give more power to the General Assembly to block state regulations from taking effect. 
Rozzi signaled in his video that he doesn't support the voter ID component of Senate Bill 1, calling it "another constitutional amendment that would make it harder for everyone to vote."