News & Politics
Joanna McClinton becomes first female House Speaker after Mark Rozzi resigns
Rozzi said he was resigning because he accomplished what he wanted to do – and to make way for McClinton.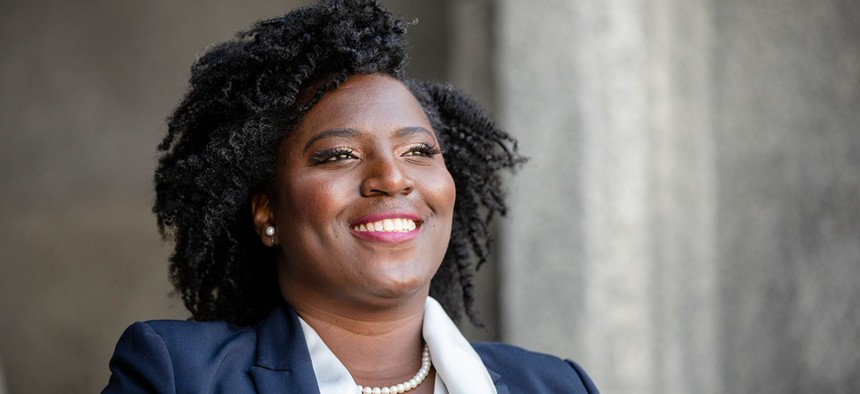 On the last day of Black History Month, the Pennsylvania House of Representatives elected the first woman – a woman of color – as speaker in the chamber's more than 200-year history. State Rep. Joanna McClinton took over the role from state Rep. Mark Rozzi, who stepped down from the speakership after two tumultuous months of partisan fighting and gridlock. 
"The decision was easy and the choice was clear," Rozzi said, handing the gavel over to McClinton after her swearing-in Tuesday afternoon. McClinton was elected speaker with 102 votes, along party lines, with 99 Republicans voting for state Rep. Carl Metzgar from Somerset County. 
Last week, House lawmakers approved two separate policies designed to provide legal relief to victims of childhood sexual abuse, capping off a fiery week for the chamber's new Democratic majority. Members advanced the measures through a narrowly divided chamber during a special session after weeks of inaction. Creating that temporary window for victims has been a defining issue for Rozzi, who was abused by a Catholic priest as a teen. 
With the two measures passed, and Democrats in the clear House majority following three special election wins, Rozzi said he was resigning because he accomplished what he wanted to do – and to make way for McClinton. 
I'm prepared. My sleeves are rolled up to do the work off the floor so we have a very productive time when we are on the floor.
– Joanna McClinton
"I was not elected for this office, and I will not stand in the way of the woman who was," Rozzi said. McClinton, who cites her Pentecostal upbringing as a source of motivation, began her speaker remarks with several 'thank yous,' stating that she couldn't have gotten this far without her family, faith and community members. 
"I'm so very grateful for all who have come before me and all who have fought and sacrificed and persevered so that one day this opportunity could come," McClinton said. "From our great speaker K. Leroy Irvis to the first Black woman ever elected to House leadership, Rosita C. Youngblood, there has been a great sacrifice for these types of opportunities to arise, and I'm wise enough to understand it's only on their shoulders that I'm standing here today." 
GOP legislators raised concerns about Rozzi and Democrats' ability to lead throughout the last two months amid the inaction, while other Republicans questioned the constitutionality of the statutory window for sexual abuse victims. Upon Rozzi's resignation, House Republican Leader Bryan Cutler said the chamber is in need of a change. 
"As former speaker of the House and the twice-elected leader of the House Republican Caucus, I know that trust is the basis of a successful legislative leader and provides the ability to move our chamber forward. Unfortunately, despite the attempt to find a unique solution for an evenly divided House, Rep. Rozzi openly broke that trust essentially from the moment he was elected," Cutler said in a statement. "Right now, the House is in dire need of a reset, and I remain committed to working with anyone who is willing to work with us to find solutions. However, the only way we will be able to move forward is by lowering the temperatures that have risen due to an unforeseen lack of integrity that has set back our ability to work across the aisle."
McClinton touched on similar procedural issues during her remarks. She asked her colleagues across the aisle to "give her a chance" to show what she can do. 
"Give me the chance and the opportunity to do the work off the floor to get to know you, to find out what your priorities are, to get to know what you're passionate about," McClinton said. "I'm prepared. My sleeves are rolled up to do the work off the floor so we have a very productive time when we are on the floor."