News & Politics
PA House approves measures to provide legal relief for sex abuse victims
The vote brought a contentious week in the state House to a close, but leaves more uncertainty for abuse survivors.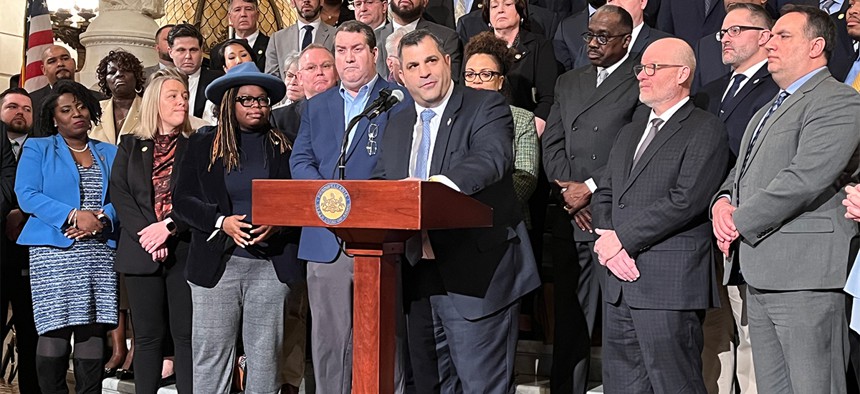 Lawmakers in the House of Representatives on Friday approved two separate policies designed to provide legal relief to victims of childhood sexual abuse, capping off a fiery week for the chamber's new Democratic majority. Members advanced the measures through a narrowly divided chamber during a special session after weeks of inaction.
Both policies would give victims of childhood sex abuse – for whom the statute of limitations has expired – a two-year temporary window to file civil lawsuits against their abusers. 
The proposal has been a major priority of House Speaker Mark Rozzi, who was raped by a priest when he was 13 years old. In a press conference following Friday's House vote, Rozzi said the vote underscores the chamber's support for sex abuse victims.
"First off, I want to say to all the victims and survivors out there that we have your backs," Rozzi said. He noted that both measures – a statutory bill and constitutional amendment – will require action from the state Senate before they can advance.
If Senate lawmakers approve House Bill 1, the constitutional amendment, voters will have the chance to approve or reject the proposal in November. If the Senate approves House Bill 2, legislation which would create the two-year window in statute, it could reach the governor's desk as early as next week. This depends on whether or not the Senate decides to schedule special session days to consider the proposals. 
Currently, the Senate has no special session days scheduled. Senate Majority Leader Joe Pittman said in a statement that the chamber has "fulfilled and completed our commitment to address the issue of statute of limitations for child sex abuse victims and a special session remains unnecessary."Pittman also took a shot at Rozzi, claiming that his decision to call lawmakers back to session in late February was politically motivated. 
"The unwillingness of the Speaker to convene until after the House special elections took place clearly shows he chose to set his priority concern aside for the political benefit of House Democrats," Pittman said. "There is no valid justification for preventing voters from having a direct voice on voter identification, regulation reform and opening the statute of limitations for child sexual abuse survivors through constitutional questions. The only reason these questions will not appear on the May ballot is because of the inaction of the Speaker of the House."
These actions raise serious concerns about how the Democratic majority is operating, and if they can be trusted to guide our chamber forward this session.
– House Republican Leader Bryan Cutler
Earlier this year, Senate lawmakers approved Senate Bill 1, a package of constitutional amendments that includes the two-year window, as well as language that would require voters to show ID in order to vote and give lawmakers more power to halt gubernatorial regulations. 
Shortly after being elected speaker, Rozzi promised not to consider any other legislation until the two-year window was approved by the chamber. Gridlock and inaction followed, as the chamber was unable to agree on operating rules or form committees for several weeks. Operating rules for regular session have not yet been approved. 
Democrats, including Rozzi, celebrated the passage of HB 1 and HB 2 following Friday's session, and while both measures earned bipartisan support, Republicans throughout the day expressed concern with how Democrats have run the chamber since seizing the majority this week.
Democrats approved a special session rule package on Tuesday that prevented the rules from being amended once they were approved. Republicans tried to amend the rules to form a House Ethics Committee during the special session, but the effort was defeated. Democrats also cut off debate on the two rules resolutions on Tuesday.
House Republican Leader Bryan Cutler questioned Democrats' ability to lead the chamber following this week's special session. "These actions raise serious concerns about how the Democratic majority is operating, and if they can be trusted to guide our chamber forward this session," Cutler said in a statement. 
Other Republicans expressed reservations with the statutory window, questioning its constitutionality. Cutler said the constitutional amendment was his preferred option, and voted for it, but against the statutory window. 
GOP state Rep. Jim Gregory, also a survivor of sexual abuse who voted for both measures, said HB 1 "will give the voters a chance to vote their conscience." Gregory added that Friday's vote will "hopefully mark the final time" House lawmakers need to vote on the legislation – a reference to an error at the Pennsylvania Department of State that prevented the measure from making the ballot in 2021.
If that means that the churches get bankrupt, so be it. If that means we've got to build them back up brick by brick to make them whole again, that's what we'll do.
– House Speaker Mark Rozzi
Republican state Rep. Eric Nelson, who voted against both proposals on Friday, called childhood sexual abuse "horrendous" on the House floor, but made clear his fears that the measures could bankrupt local school districts.
"Our members, and the citizens that they represent, should know and understand that the revised version removes sovereign immunity for school districts and governmental entities. The original one that Pennsylvania citizens should have voted on, which I supported, it didn't contain that language, and that is enormous," he said. 
"This means civil lawsuits seeking uncapped financial damages are going to be able to move forward … This isn't a criminal justice issue. This is a version that seeks financial justice. Specifically, uncapped financial settlements against our public schools," he added. 
Rozzi downplayed the financial impacts of the legislation, particularly on institutions like the Catholic Church, which was the focus of a grand jury investigation led by the Attorney General's office. 
"If that means that the churches get bankrupt, so be it. If that means we've got to build them back up brick by brick to make them whole again, that's what we'll do," he said. "The victims deserve compensation, and that's going to be between the victim and the perpetrator and the institution."
Rozzi and survivors are now setting their sights on another institution: the state Senate, where the bills await further action. 
Shaun Dougherty, the president of SNAP, a network that provides support for people who have been abused by clergy, thanked House lawmakers for advancing the two measures, and urged survivors to focus their energy on persuading Senate lawmakers to take up the two pieces of legislation. 
Gov. Josh Shapiro's office praised House lawmakers for advancing the legislation, calling it a "critical step towards helping survivors receive the day in court they deserve."
"The Senate has taken action to support survivors and advance justice in Pennsylvania before – and it is the governor's hope that they will do so again now," he said in a statement. 
And Rozzi, who said he expects survivors to begin reaching out to Senate lawmakers next week, said the justice survivors are seeking is within reach, placing the onus on the upper chamber. 
"I urge the Senate to take this up next week when they come into session," he said. "They can easily gather into special session. They can do the dual path just like we just did. They can put the constitutional amendment on the ballot for November, but they also can pass House Bill 2, a statutory bill, and deliver justice for survivors next week."