Philadelphia Mayor's Race 2023
Rebecca Rhynhart is running to be Philly's 100th mayor – the first female to lead the city
The former city controller has made her mastery of the city's finances a leading message throughout her campaign.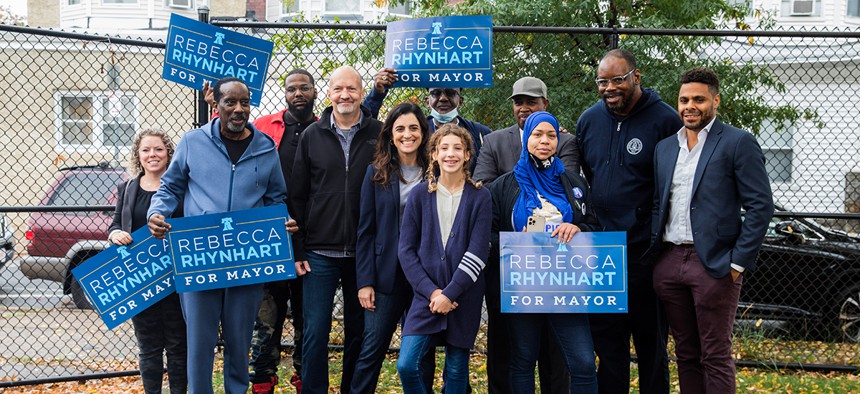 Even without the label of an establishment candidate and the backing of a wealthy donor, Rebecca Rhynhart knows all about money in politics. 
The former City Controller seeking to become the city's 100th mayor – and its first female chief executive – has made her understanding of the city's finances a leading message throughout her campaign. 
"There's no one running for mayor that knows the city's budget the way I do, that knows the city's operations and what works and what doesn't the way I do," Rhynhart told City & State in an exclusive interview. She said for the city to institute proper reforms, it will take more than throwing money at the problems. 
"To me, this is not about just putting more money into it," Rhynhart said. "This is about smarter spending. This is about making operational changes so that we're best utilizing the resources we have."
And while smart spending is the central theme of Rhynhart's campaign, her journey didn't begin working for the City of Philadelphia.
Prior to her time in city government, Rhynhart spent years working in the private sector. She began as a textbook salesperson, moving into financial services for Fitch Ratings before making her way to Wall Street and Bear Stearns.  
Her role at Bear Stearns, she said, gave her the unique opportunity to work with city governments across the country and begin to understand their operations. 
"What I saw there was that local governments across the country often didn't make the best decisions for themselves financially, and it's because they didn't have the same knowledge that Wall Street had," Rhynhart said. 
In 2008, Rhynhart brought that experience to Philadelphia, taking over as city budget director under then-Mayor Michael Nutter. She was named chief administrative officer in 2016 under Mayor Jim Kenney and stayed in the position for a year until she ran for City Controller. She pulled off a surprise upset in the race for City Controller when she knocked off the three-term favorite, Alan Butkovitz, and became the first woman to hold the position. She hopes to do it again in 2023.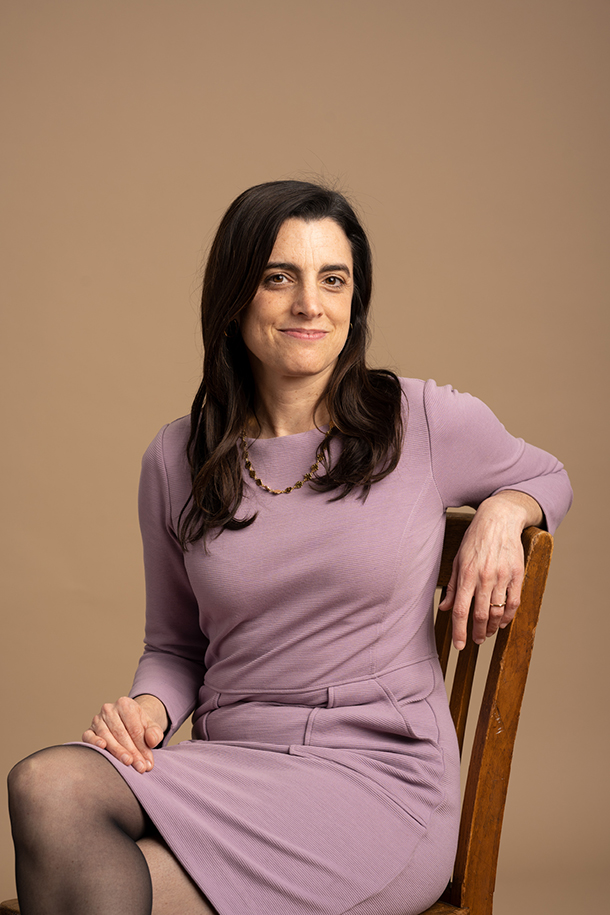 Once in the role of City Controller, Rhynhart became one of Kenney's fiercest critics. She continually criticized the city's response to rising gun violence and outlined various deficiencies in the city's operations through audits of the police department, sanitation services and more.
Rhynhart launched her mayoral campaign in October, making the announcement standing alongside her husband, David McDuff, and daughter, Julia Bright, at Nichols Park in West Philadelphia. She launched her campaign a week after her office released the results of an eight-month audit of the police department that cited inconsistent tactics and strategies, slow response times and outdated systems among the several issues hampering the police department's response to the city's gun violence crisis. 
"I've worked on gun violence and being a voice against the inhumane conditions in our prison system. I've done analysis on inequities in service delivery," Rhynhart said during her October announcement. "But as controller, that's where my power ends. As mayor, I can make these changes happen."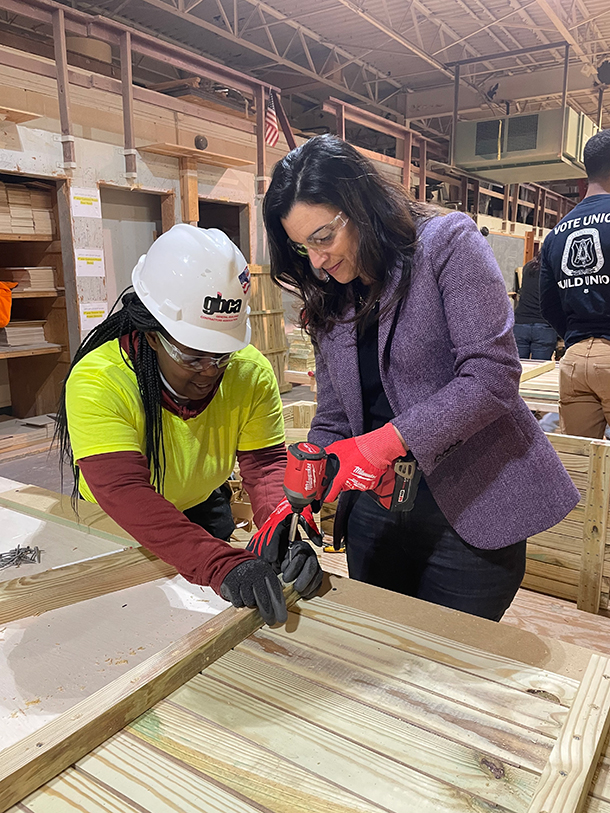 To kick off 2023, Rhynhart was endorsed by former Mayor John Street, who has praised her experience as a fiscal watchdog as a reason she can "basically hit the ground running."
Mustafa Rashed, a Democratic political consultant, told City & State that when it comes to public safety, Philadelphians want someone who can get the city's communities on the same page.
"The public safety crisis is the number 1, 2, 3, 4 and 5 issue right now," Rashed said. "The electorate is looking for someone who can grasp the issue, be a collaborator, be a convener, and make sure everyone is in the right place to solve the issue."
I've worked on gun violence and being a voice against the inhumane conditions in our prison system. I've done analysis on inequities in service delivery. But as controller, that's where my power ends. As mayor, I can make these changes happen.
– Rebecca Rhynhart
Rhynhart's public safety plan includes proposals such as declaring a citywide emergency and new ideas outlined in the audit she conducted as city controller. A significant part of her six-point plan, she said, is a focus on community policing and coming up with "robust" diversionary programs. 
"I believe it's possible to move forward and have a systemic change in policing, while at the same time supporting the hard working officers that are doing an incredibly difficult job," Rhynhart said, adding that the police should reorganize its workforce, get more officers on the streets and prioritize monitoring crime hotspots in the city. 
Rashed, commending her previous report on the Economic Impact of Homicides, said Rhynhart utilized her role as city controller to create "a platform to talk about fiscal responsibility."
"One of the more compelling pieces of data I've seen, probably ever, was the cost of each murder in the city," Rashed told City & State. "That sort of (report) takes away from this abstract, very tragic human life and shows it's a cost to our city and cost to the economy whenever we tragically lose someone."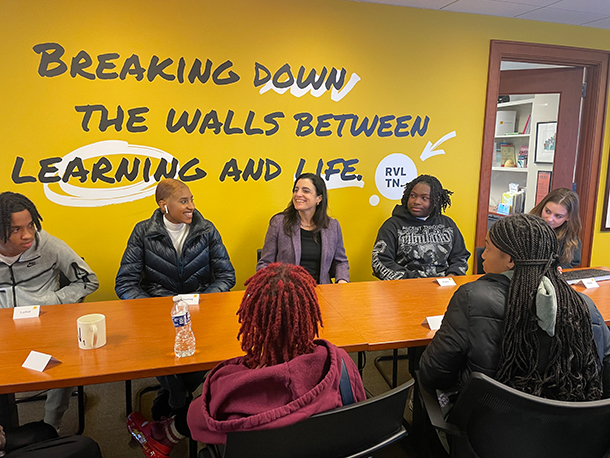 In a city where the majority of the population is made up of people of color, Rhynhart said she recognizes her identity and wants to be a mayor to all Philadelphians. 
"My work has shown that I care about all Philadelphians, that I'm committed to fighting racial injustice, and that I'm committed to making a city government that has true equity … My fighting spirit is definitely an embodiment of Philadelphia," Rhynhart said. "I've taken on the status quo. I fight for change. To me, that is Philly. And that's also why Philly deserves a better government."
–––
4 quick questions with Rebecca Rhynhart:
What is your stance on having an elected school board? As mayor, I would appoint a school board that shares my vision for improvement in our schools. And I would establish accountability metrics for improvement and would expect my school board to share the vision that I have for the schools.
Would you consider a rent control system? There is an affordability issue. I think that there have been issues with rent control in other places, so I would look at different solutions to that issue. I will be open to rent subsidies and I think that from an affordability and homeownership perspective, we need to look at various different ways to keep people in their homes.
Would you look to reform the soda tax? I supported the soda tax because I supported the three programs that it was intended to fund … I think that the overall tax structure of the city needs to be looked at. We need to look at all aspects of our tax structure to come up with holistic and very purposeful changes to be fair to residents and to encourage business growth at the same time.
How would you prioritize getting the city back to 2 million residents? We need to make the city safe because we lose thousands of residents each year from safety concerns … And we have to improve the schools. That's absolutely necessary. But I believe strongly that Philadelphia is an amazing city. We have so many great things about our neighborhoods, restaurants, arts and culture and sports teams. We have an awesome city. We need a mayor to truly lead through and fix these issues.