News & Politics
Josh Shapiro says his education spending plan will give kids 'a fair shot'
Shapiro's visit to Allegheny County on Tuesday marks the second stop on a statewide tour.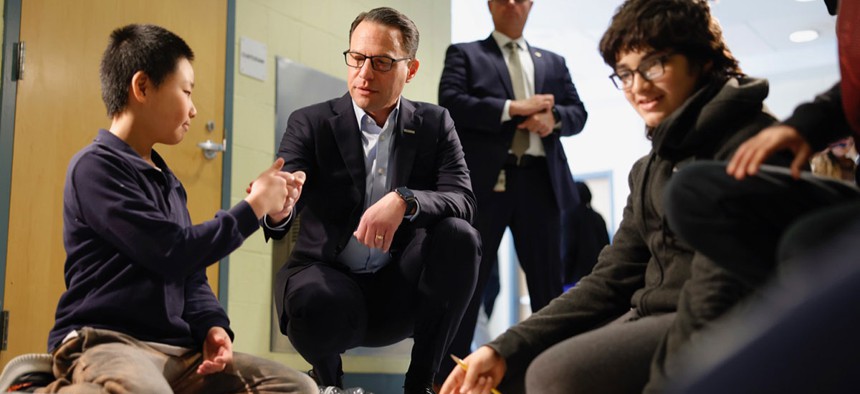 By Marley Parish
Tamara Sanders-Woods welcomed Gov. Josh Shapiro and Allegheny County leaders with a traditional African tribal greeting on Tuesday: "And how are the children?"
The phrase recognizes the high value placed on the young, the Pittsburgh Colfax K-8 principal said. The traditional response is: "All the children are well," she explained, meaning peace and safety prevail, and "the priorities for protecting the young are in place."
But during Shapiro's stop in Allegheny County to discuss his plan to address the educator staffing shortage and proposed investments in K-12 classrooms, Sanders-Woods urged leaders to ask: "And how are the educators?"
"To find a quick answer to that question, you need only to have a conversation with anyone in the education field who works in a building or district that is understaffed, underfunded, and, or with limited resources to equitably and appropriately support specific student needs – yet still making the impossible possible," she said.
Tuesday's visit from Shapiro, a Democrat, to Allegheny County marks his second stop as part of a statewide tour to tout his proposed spending plan, which he unveiled to lawmakers earlier this month, that allocates more than $1 billion in new education funding. 
He has also suggested a new tax credit, rewarding up to $2,500 a year for three years to new teachers – hoping it alleviates the increased burden on existing educators and attracts more people to commonwealth classrooms.
"A big focus of my budget is making sure that every young person in Pennsylvania, every child of God, gets a fair shot here in this commonwealth," Shapiro said. "One of the best ways we can ensure that they get a fair shot is by investing in our public schools across Pennsylvania."
Referencing a Commonwealth Court order directing the governor, lawmakers and educators to reform how the state funds K-12 schools, Shapiro said bringing the funding model into constitutional compliance requires "millions and millions if not billions of more dollars" over several years.
"It's important that we allocate those resources in a fair and equitable way and that we make sure that we're tackling some of the biggest challenges that we face right now," he said. "And that's exactly what my budget is designed to do."
The governor's proposed budget includes a $567.4 million increase in basic education funding and a $103.8 million increase in special education funding. It also allocates $100 million for reducing and remediating environmental hazards in schools and invests $38.5 million to provide every Pennsylvania student with free breakfast.
Democratic U.S. Rep. Summer Lee celebrated Shapiro's proposed $44.4 billion spending plan, saying it will ensure students learn in a safe environment with resources to turn to when they need help, including increased access to mental health services. She added that the governor's budget would help students prepare to learn if they start their day with no-cost breakfast.
"As long as school is compulsory, it should be compulsory to feed those students," she said.
One of the most pressing issues facing Pennsylvania educators is the staffing crisis, a nationwide problem exacerbated by the COVID-19 pandemic.
Since 2010, Pennsylvania has seen a 66% decline in Instructional I teaching certificates, the state's most basic teaching accreditation awarded to graduates who pass their certification tests, issued to in-state graduates. Data from the Department of Education also reflect a 58% decline in certificates issued to those planning to work out-of-state.
Pittsburgh Mayor Ed Gainey said elected leaders need to find a way to make the education field attractive again, adding that sometimes, the solution is to incentivize the profession through something such as the proposed tax credit.
"I know that these teachers are putting in a lot of great work. But sometimes, they need help in the classroom, too," Gainey said. "Coming out of a pandemic, we know a lot has changed. And the more resources we have for our teachers, the more we make teaching attractive again, the more our children succeed."
Marley Parish is a reporter for the Pennsylvania Capital-Star, where this story first appeared.